Concerted functions of HDAC1 and microRNA-574-5p repress alternatively spliced ceramide synthase 1 expression in human cancer cells.
Bottom Line: Moreover, an alternatively spliced variant CerS1 mRNA (CerS1-2) was detected mainly in cancer cells or primary tumour tissues compared to controls, which was targeted by miR-574-5p for degradation.A specific 3'UTR-targeting site, localized within the retained intron between exons 6 and 7, was identified, and its mutation, or miR-574-5p knockdown prevented the degradation of CerS1-2 mRNA.Accordingly, knockdown of CerS1 partially protected cancer cells from MS-275/miR-574-5p siRNA-mediated growth inhibition.
Affiliation: Department of Biochemistry and Molecular Biology, Medical University of South Carolina, SC, USA.
Show MeSH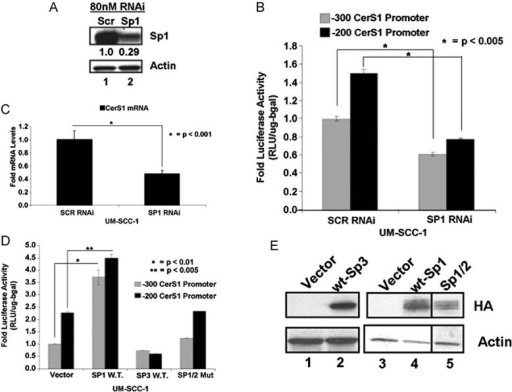 © Copyright Policy
getmorefigures.php?uid=PMC3376837&req=5
Mentions: We then defined the roles of AP2 or Sp1/Sp3 transcription factors, whose recognition sequences are present in the optimal core promoter of CerS1, spanning the −200 and −80 region. To determine whether AP2 and/or Sp1/Sp3 play a role in the regulation of CerS1 promoter activity, their expression was down-regulated using siRNAs, and then effects of their knockdown on the promoter activity of CerS1 (containing the +1 to −200 or +1 to −300 regions) were examined. Knockdown of AP2-α and -γ using siRNAs, which decreased their expression approximately 60–80% compared to scrambled (Scr) non-targeting siRNAs, measured by Q-PCR, did not significantly affect CerS1 promoter activity (data not shown). However, knockdown of Sp1 using siRNAs decreased its expression approximately 70%, as measured by Western blot (Fig 2A), and caused a significant decrease (around 50%, p < 0.05) in CerS1 promoter activity (Fig 2B), which was also consistent with decreased CerS1 mRNA (Fig 2C), measured by Q-PCR, in response to knockdown of Sp1. In reciprocal experiments, overexpression of wt-Sp1-HA, but not wt-Sp3-HA, enhanced the core promoter activity of CerS1 (containing the +1 to −200 or +1 to −300 regions) around 3.5- or 2-fold, respectively, compared to vector-transfected controls (Fig 2D). Expression of an inactive mutant of Sp1-HA (Moorefield et al, 2004), whose transactivation/DNA-binding domain was exchanged with the DNA-binding domain of Sp2 (Sp1/2), did not have any significant effect on the CerS1 promoter activity (Fig 2D). Expression of Sp1, Sp3 and Sp1/2, containing HA-tags at their C-termini, were confirmed by Western blotting using an anti-HA antibody compared to controls (Fig 2E, lanes 2–5 and 1, respectively). Actin served as a loading control (Fig 2E, lower panel). In addition, because ceramide decreased the acetylation of Sp3 at the K551 residue by HDAC1 (Wooten-Blanks et al, 2007), which then down-regulated the promoter of telomerase reverse transcriptase (hTERT), we examined effects of ectopic expression of wt-Sp3 and its acetylation-deficient (K551Q) or acetylation-mimic (K551R) mutants (Wooten-Blanks et al, 2007) on CerS1 promoter activity in UM-SCC-22A cells. Expression of Sp3 or its acetylation mutants (K551Q or K551R) had no significant effect on the CerS1 promoter (Fig S2A of Supporting Information). Expression of wt-, K551Q- or K551R-Sp3 containing an HA-tag on their C termini, was also confirmed by Western blotting (Fig S2B of Supporting Information). Overall, these data suggest that Sp1, but not Sp3, plays an important role in the transactivation of the CerS1 core promoter.