Is optical imaging spectroscopy a viable measurement technique for the investigation of the negative BOLD phenomenon? A concurrent optical imaging spectroscopy and fMRI study at high field (7 T).
Bottom Line: Often accompanying positive BOLD fMRI signal changes are sustained negative signal changes.These experiments suggested that the negative BOLD signal in response to whisker stimulation was a result of an increase in deoxy-haemoglobin and reduced multi-unit activity in the deep cortical layers.Furthermore their study utilised a homogeneous tissue model in which is predominantly sensitive to haemodynamic changes in more superficial layers.
Affiliation: Centre for Signal Processing in Neuroimaging and Systems Neuroscience (SPiNSN), Department of Psychology, University of Sheffield, Western Bank, Sheffield S10 2TN, UK. A.J.Kennerley@shef.ac.uk
Show MeSH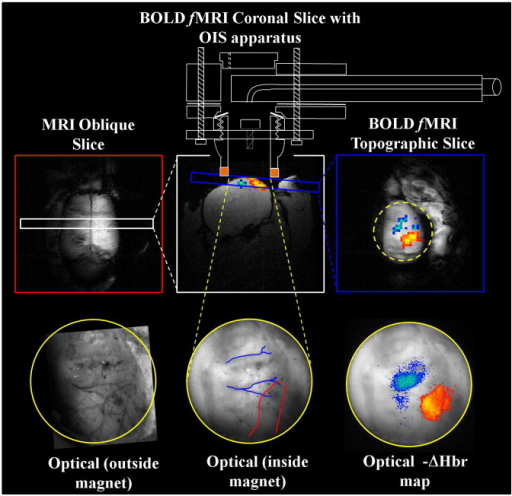 © Copyright Policy
License
getmorefigures.php?uid=PMC3368428&req=5
Mentions: Optical imaging spectroscopy (2D-OIS) is a well-established technique for monitoring changes in blood volume (Chance, 1991) and saturation. The imaging technique has found application in the investigation of the underlying mechanisms of the haemodynamic response to increased neuronal activation particularly in animal models (Berwick, 2005, Grinvald et al., 1991, Jones et al., 2001, Malonek and Grinvald, 1996, Malonek et al., 1997, Martin et al., 2002, Mayhew et al., 1999, Nemoto et al., 1997). In the current study 2D-OIS was used to measure changes in the concentration of total, deoxy- and oxy-haemoglobin (HbO2, Hbr and HbT respectively). The cortex was illuminated with a white light source built into a switching galvanometer system (Lambda DG-4 Sutter Instruments Company) using 4 wavelength filters (λ — 495 ± 31, 587 ± 9, 559 ± 16 and 575 ± 14 nm). Image data capture within the 310 mm bore of a 7 Tesla magnet (Bruker BioSpecAvance, B/C 70/30 system) used a modified non-magnetic endoscope (Endoscan Ltd, London. Fig. 1c). The 50 K fibre optic bundle had an active diameter of 1 mm and a 7 mm object at a distance of 9.12 mm exactly filled the window. The endoscope tip was a plastic square shaped sleeve ~ 100 mm long so it could be fixed rigidly to the Perspex banjo (Fig. 1b). The active circular window was 6 mm in diameter. This allowed imaging of the whole cranial window and therefore the concurrent technique did not require prior localisation of the area of activation. The endoscope was attached to both the Galvanometer (for light transmission) and a CCD camera (for light reception). The frame rate of the CCD camera was 32 Hz, giving an 8 Hz effective frame rate for each wavelength. The spectrographic data were recorded with a 2D spatial resolution of ~ 80μm * 80μm. Spectral analysis is based upon the path length scaling algorithm (PLSA) described previously (Mayhew et al., 1999) incorporating either a homogeneous or heterogeneous tissue model; the later based on 3 Tesla MRI data (Kennerley et al., 2009). The four wavelength image data set was analysed given the known absorption coefficients for Hbr and HbO2 as well as parameterising Monte Carlo simulations of light transport through the two different tissue models with baseline volume and blood oxygen saturation values (Kennerley et al., 2009). This 3D simulation tracks photon transport via a medley of events such as absorption, remittance, scattering and undisturbed propagation to give an estimate of the path length through which the photon has travelled. The distributions of path lengths for a large number of photons were simulated for a range of different tissue parameters (absorption coefficient, scattering coefficient and anisotropy parameter — determining direction change following scattering) over a range of wavelengths. The computed data is entered into a lookup table (LuT). The estimated path-lengths were then used in the Beer–Lambert Law which relates the attenuation of light to the path-length, absorption coefficient and concentration of specific chromophores, to determine changes and produce 2D maps of concentration of HbO2, Hbr and HbT (Fig. 2) as a mean across stimuli (see Experimental design).