Early B-cell factors 2 and 3 (EBF2/3) regulate early migration of Cajal-Retzius cells from the cortical hem.
Bottom Line: Here, we show that Ebf transcription factors are expressed in forebrain signalling centres-the septum, cortical hem and the pallial-subpallial boundary-known to generate CR cells.Accordingly, using in vitro preparations, we demonstrated that both Ebf2 and Ebf3, singly or together, control the migration of CR cells arising in the cortical hem.These findings provide evidence that Ebfs directly regulate CR cell development.
Affiliation: Department of Cell and Developmental Biology, University College London, UK.
Show MeSH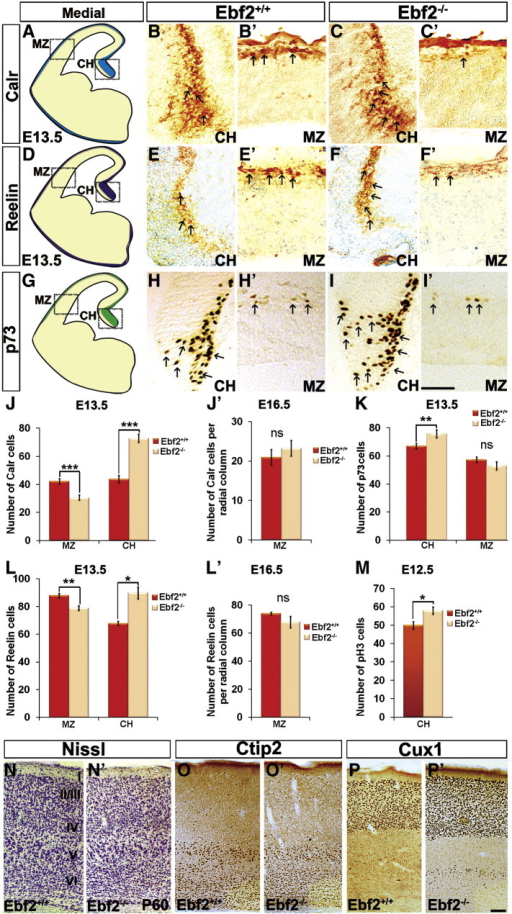 © Copyright Policy
License
getmorefigures.php?uid=PMC3368273&req=5
Mentions: The development of CR cells was analysed by tracking the number and position of CR cells, using CR subpopulation markers p73, Calr and Reelin. As Ebf2 matched perfectly the expression of Reelin in the CH (Fig. 1F), but not in the septum and PCx (Figs. 1G–I), we focused our analysis only on CH-derived CR cells. Firstly, at E13.5, Calr+ cells, regardless of genotype, were found in the MZ and CH (Figs. 4A–C′, arrows). However, cell counts revealed a significant reduction in the number of Calr+ cells in the MZ of Ebf2−/− mice compared to w-t controls (Fig. 4J; Ebf2+/+ 42 ± 2, Ebf2−/− 31 ± 2; n = 6; p < 0.001). At the same time, more Calr+ cells were found in the CH of mutant animals, suggesting a possible problem in the migration of CR cells from this region into the cortex (Fig. 4J; Ebf2+/+ 44 ± 3, Ebf2−/− 73 ± 3; n = 6; p < 0.001). Similarly, Reelin immunoreactive cell numbers (Figs. 4D–F′) were found to be significantly reduced in the MZ and increased in the CH of Ebf2−/− mice (Fig. 4L; MZ, Ebf2+/+ 88 ± 2, Ebf2−/− 79 ± 2; n = 3; p < 0.01; CH, Ebf2+/+ 68 ± 1, Ebf2−/− 90 ± 1; n = 3; p < 0.05). Moreover, the number of p73 cells (Figs. 4G–I′), one of the best-described CR cell marker (Meyer et al., 2002, 2004; Tissir et al., 2009) was increased in the CH but not altered (Fig. 4K; MZ, Ebf2+/+ 55 ± 2.4, Ebf2−/− 51 ± 1.4; n = 3; CH, Ebf2+/+ 64 ± 1.8, Ebf2−/− 73 ± 2.1; n = 3; p < 0.01). Cajal–Retzius cell migration in pallial regions is terminated by E16.5 and, by this time, all such cells are positioned within the cortical MZ. Surprisingly, Calr- and Reelin-staining did not reveal any reduction in CR cell numbers in Ebf2−/− animals at this stage (Figs. 4J′,L′; Calr, Ebf2+/+ 21 ± 3, Ebf2−/− 23 ± 2; n = 3; Reelin, Ebf2+/+ 70 ± 3, Ebf2−/− 65 ± 4; n = 3), indicating a transitory defect in the arrival of CR cells into the cortex. Intriguingly, we found a significant increase in cell proliferation in the CH, revealed by phospho-3-histone (PH3) immunoreactivity, in Ebf2−/− mice compared to control littermates, only at E12.5 (Fig. 4M; pH3, Ebf2+/+ 50 ± 2, Ebf2−/− 58 ± 2; n = 3).