Early B-cell factors 2 and 3 (EBF2/3) regulate early migration of Cajal-Retzius cells from the cortical hem.
Bottom Line: Here, we show that Ebf transcription factors are expressed in forebrain signalling centres-the septum, cortical hem and the pallial-subpallial boundary-known to generate CR cells.Accordingly, using in vitro preparations, we demonstrated that both Ebf2 and Ebf3, singly or together, control the migration of CR cells arising in the cortical hem.These findings provide evidence that Ebfs directly regulate CR cell development.
Affiliation: Department of Cell and Developmental Biology, University College London, UK.
Show MeSH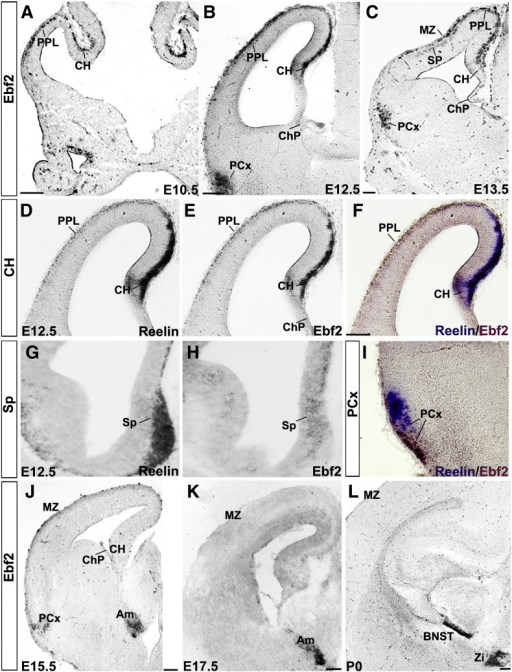 © Copyright Policy
License
getmorefigures.php?uid=PMC3368273&req=5
Mentions: Although Ebf2 is transiently expressed in post-mitotic forebrain neurons (Garel et al., 1997), its role in the developing cerebral cortex has never been established. In the present work, we first describe in detail the pattern of Ebf2 expression during mouse forebrain development. Forebrain sections, ranging in age from E10.5 to newborn, were analysed using in situ hybridization. Ebf2 expression was first detected in the CH and preplate (PPL) at E10.5 (Fig. 1A). At E12.5, its expression was extended to piriform cortex (PCx), which is part of the mantle zone of the ventral pallium (Fig. 1B), and septum (Fig. 1H). At this age, the expression of Reelin, a marker of CR cells, matched the expression of Ebf2 in the PPL, CH and septum (Figs. 1D–H). Interestingly, Ebf2 expression did not coincide with Reelin expression in the PCx (Fig. 1I); thus, we hypothesised that Ebf2+ signal in this area does not represent CR cells, but rather fibers of the lateral olfactory tract (Corradi et al., 2003). According to Imayoshi et al. (2008), the ChP gives rise to a subpopulation of Lhx5+ and Reelin+ CR cells that eventually migrate into the PCx. However, in agreement with our hypothesis, Ebf2 was not expressed in the ChP (Figs. 1B,C,E,J). At E13.5, Ebf2 was still expressed in the septum (not shown), CH, marginal zone (MZ) and subplate (SP) layers, both derivatives of PPL and PCx (Fig. 1C). A general downregulation of the Ebf2 gene occurred in the MZ and CH at E15.5, whereas its expression in the PCx and subcortical nuclei persisted (Figs. 1J,K). At P0, Ebf2 expression was detected only in the zona incerta and bed nucleus of stria terminalis (Fig. 1L).