Effects of acute tryptophan depletion on prefrontal-amygdala connectivity while viewing facial signals of aggression.
Bottom Line: However, whether lowering 5-HT alters the dynamic interplay between the PFC and the amygdala has not been directly tested in humans.Data from 19 subjects were available for the final analyses.We provide strong support for neurobiological accounts positing that 5-HT significantly influences PFC-amygdala circuits implicated in aggression and other affective behaviors.
Affiliation: Unità di Ricerca Neuroimmagini, Consiglio Nazionale delle Ricerche, Catanzaro, Italy. l.passamonti@isn.cnr.it
Show MeSH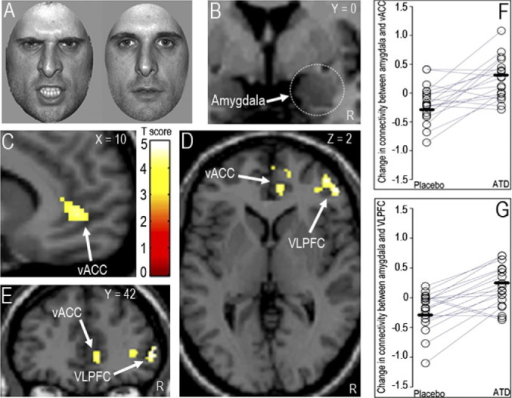 © Copyright Policy
License
getmorefigures.php?uid=PMC3368260&req=5
Mentions: Despite no effect on local brain activity, self-reported mood, fMRI task performance or ratings of facial expressions (Supplement 1), the PPI for the right amygdala seed and for angry vs. neutral faces and ATD vs. placebo comparison identified the right vACC and VLPFC (MNI local maxima, vACC: x 10, y 44, z 2; T = 4.1; p < .04, FWE, svc; VLPFC: x 52, y 42, z 2; T = 5.0; p < .01, FWE, svc, Figure 1C-E). Of note, these were the only two regions in the whole brain showing a change in connectivity with the right amygdala as a function of viewing angry faces and ATD. A similar effect was found when using the left amygdala seed, although at a lower threshold (see Supplement 1). Importantly, ATD significantly reverted the negative change in PFC–amygdala connectivity identified under placebo (for angry vs. neutral faces; Figure 1F–1G). Furthermore, these results were driven by the angry face context, because the PPI for angry vs. sad produced similar results to those identified for angry vs. neutral and for both the right and left amygdala seed (see Supplement 1), whereas no significant effects were found for the sad vs. neutral PPI. The investigation of the interaction between treatment and reward drive demonstrated a significant PPI for the right amygdala seed and for angry vs. neutral in the vACC (x 8, y 46, z 4, T = 4.6, p < .05, FWE, svc; Figure 2A–2B). Individuals with high reward drive displayed the highest magnitude of the ATD effect relative to placebo (Figure 2C). Finally, no brain areas were identified for the opposite comparison (placebo vs. ATD) for each contrast (angry vs. neutral, angry vs. sad, sad vs. neutral). For connectivity effects under placebo and ATD separately, for the ATD by sex interaction and for the effect of plasma tryptophan levels, see Supplement 1.