On the Control of TCR Phosphorylation.
Affiliation: MRC Human Immunology Unit, Nuffield Department of Clinical Medicine, John Radcliffe Hospital, University of Oxford Headington, Oxford, UK.
This results in a net increase in the number and/or half-life of phosphorylated immunoreceptor tyrosine-based activation motifs (ITAMs) present in the CD3 subunits of the TCR (Smith-Garvin et al., )... Signaling via tyrosine-containing motifs phosphorylated by Src tyrosine kinases is not unique to the TCR complex; in fact, a large number of receptors present in lymphocytes likely signal in the same manner (Davis and van der Merwe, )... The possibility that positively charged residues present in the CD3ε and CD3ζ cytoplasmic domains interact with the cell membrane offered a novel explanation: that membrane association prevents kinase access to the TCR (Xu et al., )... However, mutation of these positively charged residues does not lead to receptor phosphorylation and has little or no effect on T-cell development (Deford-Watts et al., ; Fernandes et al., )... One possible explanation for this is that, if they occur at all, transient interactions of the relatively long and flexible CD3 cytoplasmic domains with the cell membrane could increase the frequency of productive encounters between ITAMs and the active sites of tyrosine kinases, whose positions are largely fixed by N-terminal membrane attachment... For now, whether or not receptors and kinases are pre-segregated within the membrane prior to triggering remains an open question... Further supporting this idea, receptor-type PTPs such as CD45 account for ∼10% of the cell surface protein content in a T-cell (Williams and Barclay, ), and have broad specificity (Barr et al., ) and very high catalytic activity (Fischer et al., )... Such effects might not be restricted to antigen receptors, or lymphocytes... Such a system would be highly sensitive to changes in the levels of expression of each individual component, and should respond with compensatory changes that return the status quo... We found that shRNAs that acutely down-regulate CD45 in Jurkat T-cells rapidly induce strong, Src kinase-dependent TCR phosphorylation and T-cell activation... Small-angle X-ray solution scattering and molecular dynamic simulations have revealed that unphosphorylated forms of Src kinases mainly adopt two distinct states in solution, with around 84% of Src or Hck assuming a closed/inactive conformation and 16% an open/active state; phosphorylated Tyr Src forms a single, closed conformation (Bernadó et al., ; Yang et al., )... Nika et al. have used the levels of phosphorylation of Tyr and Tyr to make inferences about the distribution of Lck states in vivo, and concluded that up to 40% of Lck is constitutively active... Classical "feed-forward" regulation of this type is observed for c-Src, Hck, and the closely related Fes and Abl kinases (see e.g., Alexandropoulos and Baltimore, ), but does it apply to Lck? We have found that phosphorylated CD3 ITAM-derived peptides strongly activate Lck measured with enolase as substrate (R... A final point is that Src kinase SH2 domains seem unique among the SH2 domains expressed by T-cells insofar as the purified SH2 domains bind the tyrosine-phosphorylated motifs of most receptors we have tested in surface plasmon resonance-based assays (J.
No MeSH data available.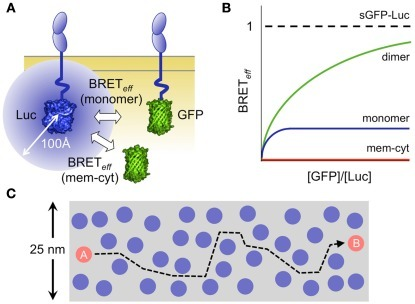 © Copyright Policy - open-access
License
getmorefigures.php?uid=PMC3345363&req=5
Mentions: Another proposed mechanism protecting the TCR from random phosphorylation is based on the physical segregation of the complex from Src kinases, predicated on the existence of "lipid rafts" (He and Marguet, 2008). Recently, in situ ultra high-resolution approaches, i.e., stimulated emission depletion far-field fluorescence microscopy and fluctuation correlation spectroscopy, were used to study the "nano-scale" organization of membrane lipids in situ (Eggeling et al., 2009). This showed that domains containing sphingolipids and glycosylphosphatidylinositol-anchored proteins, i.e., lipid rafts, might be as small as <20 nm diameter and very short-lived (∼10–20 ms; Eggeling et al., 2009). Whether such structures nevertheless prevent the interaction in resting cells of, e.g., receptors and Src kinases, could be probed using Förster resonance energy transfer (RET; Figure 1A), which is highly sensitive to random and non-random interactions of proteins within membranes, at roughly this length-scale (<10 nm; James et al., 2006). For now, whether or not receptors and kinases are pre-segregated within the membrane prior to triggering remains an open question.