The interleukin-6 receptor as a target for prevention of coronary heart disease: a mendelian randomisation analysis.
Bottom Line: Blockade of the interleukin-6 receptor (IL6R) with a monoclonal antibody (tocilizumab) licensed for treatment of rheumatoid arthritis reduces systemic and articular inflammation.However, whether IL6R blockade also reduces risk of coronary heart disease is unknown.UK Medical Research Council; British Heart Foundation; Rosetrees Trust; US National Heart, Lung, and Blood Institute; Du Pont Pharma; Chest, Heart and Stroke Scotland; Wellcome Trust; Coronary Thrombosis Trust; Northwick Park Institute for Medical Research; UCLH/UCL Comprehensive Medical Research Centre; US National Institute on Aging; Academy of Finland; Netherlands Organisation for Health Research and Development; SANCO; Dutch Ministry of Public Health, Welfare and Sports; World Cancer Research Fund; Agentschap NL; European Commission; Swedish Heart-Lung Foundation; Swedish Research Council; Strategic Cardiovascular Programme of the Karolinska Institutet; Stockholm County Council; US National Institute of Neurological Disorders and Stroke; MedStar Health Research Institute; GlaxoSmithKline; Dutch Kidney Foundation; US National Institutes of Health; Netherlands Interuniversity Cardiology Institute of the Netherlands; Diabetes UK; European Union Seventh Framework Programme; National Institute for Healthy Ageing; Cancer Research UK; MacArthur Foundation.
Show MeSH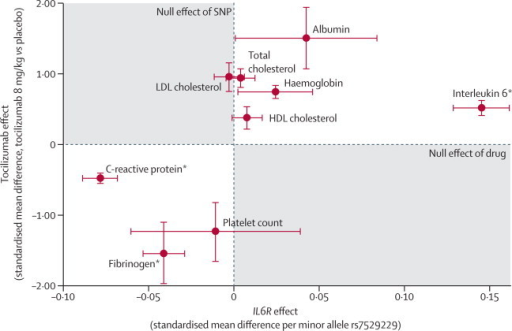 © Copyright Policy
License
getmorefigures.php?uid=PMC3316968&req=5
Mentions: The blood markers interleukin 6, soluble IL6R, C-reactive protein, fibrinogen, and total, LDL, and HDL cholesterol were available in both genetic studies and tocilizumab treatment trials allowing a direct comparison of IL6R genotype and IL6R blockade (table). The minor allele of rs7529229 and treatment with tocilizumab showed directionally concordant effects; each was associated with reduced C-reactive protein and fibrinogen and increased interleukin 6 and soluble IL6R (table, figure 2). Tocilizumab treatment increased circulating total, HDL, and LDL cholesterol, and triglycerides, but the IL6R rs7529229 SNP, by contrast, showed no significant association with any of these lipid fractions (table, figure 2). In randomised trials, tocilizumab increased concentrations of albumin and haemoglobin and decreased erythrocyte sedimentation rate (ESR), platelet count, and serum amyloid A (table). The effect of rs7529229 was directionally concordant with that of tocilizumab on albumin, haemoglobin, and platelet count (table, figure 2). Data for ESR were unavailable in the genetic studies, but plasma viscosity (reflected by ESR) was lower in carriers of the rs7529229 minor allele (mean difference per allele −2·16×10−3 mPa.s, 95% CI −3·86×10−4 to −3·94×10−3, p=0·02; five studies, 15 589 individuals). Absence of data for serum amyloid A in the genetic analysis precluded comparison with tocilizumab treatment. In comparison of tocilizumab treatment with the rs7529229 variant, the direction of effect was concordant for nine of the ten biomarkers (table, figure 2), and greater than expected under the hypothesis of no concordance (binomial test, p=0·01).