N-myc downstream regulated gene 1 modulates Wnt-β-catenin signalling and pleiotropically suppresses metastasis.
Bottom Line: Wnt signalling has pivotal roles in tumour progression and metastasis; however, the exact molecular mechanism of Wnt signalling in the metastatic process is as yet poorly defined.Importantly, restoring NDRG1 expression by a small molecule compound significantly suppressed the capability of otherwise highly metastatic tumour cells to thrive in circulation and distant organs in animal models.In addition, our analysis of clinical cohorts data indicate that Wnt+/NDRG-/LRP+ signature has a strong predictable value for recurrence-free survival of cancer patients.
Affiliation: Department of Medical Microbiology, Southern Illinois University School of Medicine, Springfield, IL, USA.
Show MeSH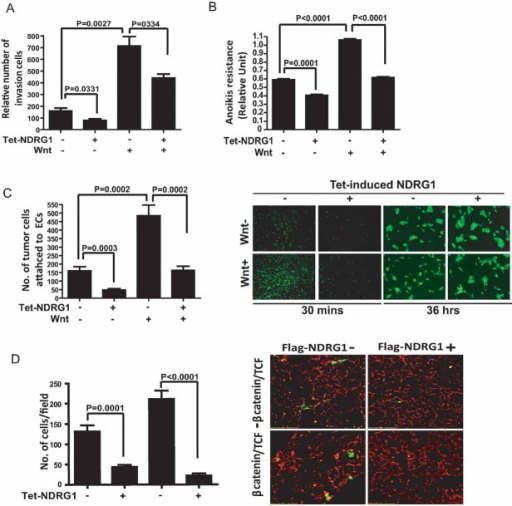 © Copyright Policy
getmorefigures.php?uid=PMC3306556&req=5
Mentions: Because Wnt/β-catenin signalling affects various stages of tumour progression, we next examined the effect of NDRG1 on metastasis cascade through blocking the Wnt signalling. We found that over-expression of NDRG1 did not affect cell viability in monolayer culture; however, it significantly suppressed the colony-forming ability of tumour cells under the anchorage-independent condition (Supporting Information Fig S2A), suggesting that NDRG1 affects invasiveness and outgrowth of tumour cells when they infiltrate into distant organs. The Wnt-β-catenin signalling also plays a critical role in the EMT, a process vital for endowing malignant tumour cells to acquire motility and invasive as well as survival abilities during dissemination (Polyak & Weinberg, 2009). We found that an addition of Wnt to PC3mm/Tet cells, which normally exhibited a characteristic epithelial cobblestone-like morphology, converted them to be more fibroblastic morphology whereas induction of NDRG1 expression partially reverted these cells to epithelial morphology (Fig 3A). This morphological change was accompanied by up-regulation of E-cadherin and membrane β-catenin (Fig 3B), as well as down-regulation of EMT-regulatory factors Slug, Twist, Vimentin and Fibronectin (Fig 3C). Besides its role as a hub of Wnt-mediated transcriptional events, β-catenin at the cytoplasmic membrane serves as a core component of cadherin–catenin adherent junctions between adjacent epithelial cells (Heuberger & Birchmeier, 2010). As shown in Fig 3B (right panel), we indeed observed that Wnt treated cells showed relocalization of β-catenin from cytoplasm to nucleus compared with the non-treated control cells; however, induction of the NDRG1 expression substantially decreased cytoplasmic/nuclear β-catenin, suggesting that NDRG1 re-activates GSK3β, thereby promoting proteasome-mediated degradation of cytosol β-catenin. We also found that NDRG1 suppressed Wnt-induced mesenchymal traits in MCF7/Tet cells (Supporting Information Fig S2B-E). Moreover, we demonstrated that high expression of NDRG1 gene was positively correlated with the expression of E-cadherin but not with Vimentin in a panel of prostate and breast cancer cell lines, reflecting the correlation of NDRG1 expression with epithelial phenotype (Fig 3D). These data indicate negative regulatory role of NDRG1 in EMT process through modulation of Wnt signalling, which partly account for the metastasis suppressor function of NDRG1. As shown in Fig 4A, the activation of Wnt signalling led to more than fourfold increase in the invasivenesss of PC3mm/Tet cells, which was significantly blocked by NDRG1 expression. Notably, majority of NDRG1-expressing cells showed cortical actin distribution whereas Wnt-treated cells showed condensed stress fibres and invadopodia-like structures around the periphery of cells (Supporting Information Fig S2F). We also found that PC3mm/Tet cells cultured in suspension exhibited anoikis-mediated cell death; however, addition of Wnt significantly enhanced cell viability, while NDRG1 expression restored the occurrence of anoikis (Fig 4B). Beside the intrinsic ability to evade anoikis, metastatic tumour cells also have an ability of adhering to endothelial cells which provides critical support for survival during dissemination. We found that, when PC3mm/Tet cells were co-cultured with mouse lung microvessel endothelial cells, Wnt treatment significantly increased the number of PC3mm/Tet cells to the endothelial cells by more than threefold compared to the non-treated cells whereas the ectopic expression of NDRG1 significantly decreased the number of attached cells even in the presence of Wnt (Fig 4C, left panel). Furthermore, consistent with the notion that NDRG1 expression is correlated with epithelial cell type, we found that NDRG1-expressing cells attached to endothelial cells showed apparently more differentiated phenotype with tight intracellular adhesion (Fig 4C, right panel).