Role of ghrelin in food reward: impact of ghrelin on sucrose self-administration and mesolimbic dopamine and acetylcholine receptor gene expression.
Bottom Line: Utilizing the GHS-R1A antagonist JMV2959, we demonstrated that blockade of GHS-R1A signaling significantly decreased operant responding for sucrose.We further investigated ghrelin's effects on key mesolimbic reward nodes, the ventral tegmental area (VTA) and nucleus accumbens (NAcc), by evaluating the effects of chronic central ghrelin treatment on the expression of genes encoding major reward neurotransmitter receptors, namely dopamine and acetylcholine.Ghrelin treatment was associated with an increased dopamine receptor D5 and acetylcholine receptor nAChRβ2 gene expression in the VTA and decreased expression of D1, D3, D5 and nAChRα3 in the NAcc.
Affiliation: Department of Physiology, Institute of Neuroscience and Physiology, The Sahlgrenska Academy at the University of Gothenburg, Sweden. karolina.skibicka@neuro.gu.se
Show MeSH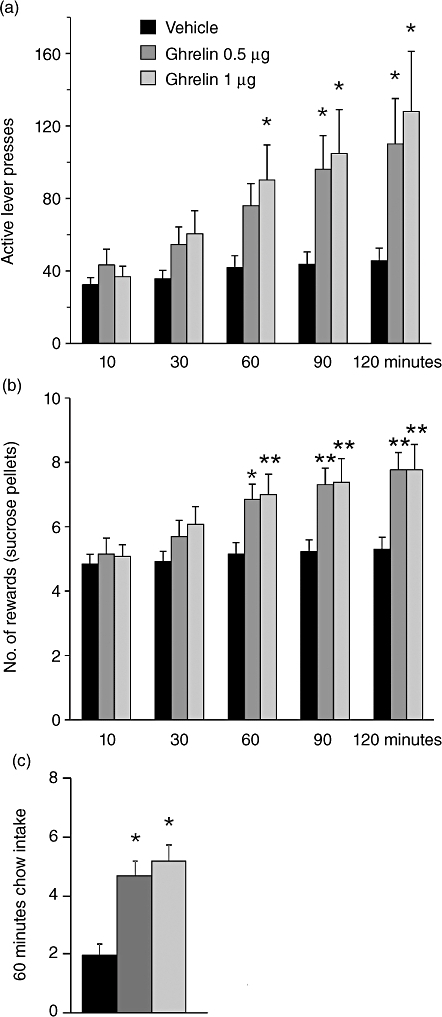 © Copyright Policy - open-access
License
getmorefigures.php?uid=PMC3298643&req=5
Mentions: Here, we employ a paradigm utilized in addiction research to assess the role of ghrelin in natural sweet food motivation and reinforcing properties of sugar. Specifically, to determine the role of peripheral ghrelin administration on sucrose reward efficacy, we examined sucrose self-administration in a progressive response schedule in the rats 20 minutes after IP injection of vehicle or ghrelin. All measures of operant behavior were significantly increased in the rats after acute peripheral ghrelin injection: active lever pressing (P < 0.05 for all time points), number of sugar pellets earned (P < 0.005 for all time points) and 120 minutes break point (P < 0.005, 32.53 ± 3.4 and 41 ± 4.3 for vehicle and ghrelin, respectively; Fig. 1a,b). The literature primarily supports a central site of action for ghrelin's orexigenic effect. However, GHS-R1A is also expressed outside of the CNS in sites relevant for food intake control, for example, on the vagus nerve; therefore, it can not be ruled out that part of the observed effects of IP ghrelin are mediated by those peripheral receptors. Central injection of a low volume and dose of ghrelin, however, stimulates only the CNS GHS-R1A. Therefore, in order to determine a direct CNS effect of ghrelin on sucrose reward efficacy, we performed a parallel study in which vehicle or ghrelin were administered by third ventricle injection, also 20 minutes prior to the operant paradigm. Consistent with a central site of effect hypothesis, acute ICV ghrelin injection to rats (both 0.5 µg and 1.0 µg doses) significantly increased all of the aforementioned measures of operant behavior (Fig. 2a,b). The time course of the active lever responses in the ICV ghrelin study revealed that while the effect emerged slowly during the 10- and 30-minute time points, it reached significance at 60 minutes [active lever: 10 minutes F(2, 24) = 0.94, P = 0.41, 30 minutes F(2, 24) = 3.13, P = 0.06, 60 minutes F(2, 24) = 5.86, P < 0.01, 90 minutes F(2, 24) = 6.42, P < 0.01, 120 minutes F(2, 24) = 6.03, P < 0.01; rewards earned: 10 minutes F(2, 24) = 0.26, P = 0.78, 30 minutes F(2, 24) = 2.76, P = 0.08, 60 minutes F(2, 24) = 8.31, P < 0.005, 90 minutes F(2, 24) = 10.16, P < 0.001, 120 minutes F(2, 24) = 11.93, P < 0.001; and break point: F(2, 24) = 7.22, P < 0.005 (17.31 ± 1.53, 33.15 ± 5.52, 36 ± 6.95 for vehicle, 0.5 µg and 1.0 µg ghrelin, respectively)], a time course consistent with other reports of ghrelin-induced feeding latency when delivered by this route (Faulconbridge et al. 2003). In both experiments, activity at the inactive lever was minor and did not differ significantly between the different treatment groups (IP 4.1 ± 1.1, 4.1 ± 1.1 for vehicle and ghrelin, respectively; ICV 3.9 ± 1.1, 2.1 ± 0.7, 3.5 ± 1.6 for vehicle, 0.5 µg and 1.0 µg ghrelin, respectively), suggesting that the treatment does not produce unspecific non-goal directed changes in activity. Immediately after operant testing, the rats were returned to their home cages and allowed free access to chow; the rats injected with ghrelin, whether given peripherally (P < 0.05) or centrally [F(2, 24) = 12.64, P < 0.001], nearly doubled their chow intake during the first hour as compared with the vehicle-treated groups (Figs 1c & 2c). In line with previous data (Faulconbridge et al. 2003) indicating that most of the hyperphagic effect of acute central ghrelin injection takes place within three hours after the injection, no effect on chow intake was noted in our study at three to 24 hours after ICV administration of either dose of ghrelin [17.4 ± 1.12, 18.42 ± 1.34, 19.12 ± 1.43 vehicle, 0.5 µg and 1.0 µg ghrelin, respectively, F(2, 24) = 2.27, P = 0.13].