Tension is required but not sufficient for focal adhesion maturation without a stress fiber template.
Bottom Line: As myosin II activity drives stress fiber assembly and enhanced tension at adhesions simultaneously, the extent to which adhesion maturation is driven by tension or altered actin architecture is unknown.We show that perturbations to formin and α-actinin 1 activity selectively inhibited stress fiber assembly at adhesions but retained a contractile lamella that generated large tension on adhesions.We propose that stress fiber assembly at the adhesion site serves as a structural template that facilitates adhesion maturation over a wide range of tensions.
Affiliation: Institute for Biophysical Dynamics, University of Chicago, Chicago, IL 60637, USA.
Show MeSH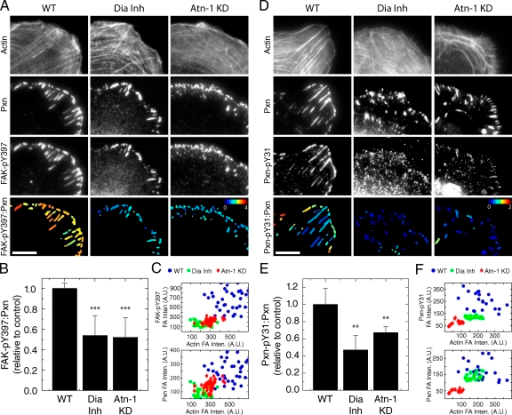 © Copyright Policy - openaccess
License 1 - License 2


getmorefigures.php?uid=PMC3275371&req=5

Mentions: During focal adhesion assembly, focal adhesion size and tension on the adhesion plaque increase concomitantly (Riveline et al., 2001; Stricker et al., 2011). Here, we found that inhibiting RSF assembly reduced the focal adhesion size but did not impair the tension sustained at focal adhesions. To assess how inhibition of RSF assembly affected other metrics of focal adhesion maturation, we sought to determine the extent of canonical posttranslational modifications to focal adhesion–signaling proteins characteristic of myosin-mediated maturation. During myosin-mediated focal adhesion maturation, FAK is recruited to adhesion plaques, undergoes autophosphorylation at tyrosine 397 (FAK-pY397), and then mediates the phosphorylation of Pxn at numerous sites, including tyrosine 31 (Pxn-pY31; Webb et al., 2004; Ballestrem et al., 2006; Zaidel-Bar et al., 2007). Cells were fixed and immunostained for Pxn and either phosphorylated FAK (FAK-pY397) or phosphorylated Pxn (Pxn-pY31; Fig. 5). To compare the extent of Pxn and FAK phosphorylation between the three conditions, we used quantitative image analysis to calculate the ratio of FAK-pY397:Pxn and Pxn-pY31:Pxn (Fig. 5, A, B, D, and E). The level of FAK-pY397 was reduced to 50% that of control cells for both perturbations to formin activity and Atn-1 expression (Fig. 5 B). This is consistent with a reduction in the overall amount of integrin-mediated signaling to FAK, as is found in nascent adhesions (Shi and Boettiger, 2003). The levels of pY31-Pxn were reduced to ∼45 and 60% that of control for the Dia Inh and Atn-1 KD cells, respectively (Fig. 5 E), and are comparable with the levels observed in nascent adhesions (Zaidel-Bar et al., 2007; Pasapera et al., 2010). The reduction of FAK-pY397 and Pxn-pY31 in Dia Inh and Atn-1 KD cells was confirmed with Western blot analysis of whole-cell lysates (Fig. S4, A–C). Therefore, despite the high tension sustained at focal adhesions, the loss of RSFs resulted in a reduced amount of tyrosine phosphorylation to key focal adhesion proteins that are prominent signatures of myosin-mediated adhesion maturation. Although these posttranslational modifications are widely presumed to occur as a consequence of myosin-generated tension (Geiger et al., 2009; Gardel et al., 2010; Parsons et al., 2010), our data show that tension, in the absence of stress fiber architecture, is not sufficient to promote these classical hallmarks of focal adhesion signaling in U2OS cells. Consistent with this hypothesis, we observed a strong correlation between the actin density at the focal adhesion plaque and the density of Pxn, pY31-Pxn, and pY397-FAK (Fig. 5, C and F). The reduced F-actin density observed at focal adhesions in Dia-inhibited or Atn-1 KD cells is concomitant with reduced density of focal adhesion proteins.