Single Walled Carbon Nanotubes Exhibit Dual-Phase Regulation to Exposed Arabidopsis Mesophyll Cells
ABSTRACT
---
Herein we are the first to report that single-walled carbon nanotubes (SWCNTs) exhibit dual-phase regulation to Arabidopsis mesophyll cells exposed to different concentration of SWCNTs. The mesophyll protoplasts were prepared by enzyme digestion, and incubated with 15, 25, 50, 100 μg/ml SWCNTs for 48 h, and then were observed by optical microscopy and transmission electron microscopy, the reactive oxygen species (ROS) generation was measured. Partial protoplasts were stained with propidium iodide and 4'-6- diamidino-2-phenylindole, partial protoplasts were incubated with fluorescein isothiocyanate-labeled SWCNTs, and observed by fluorescence microscopy. Results showed that SWCNTs could traverse both the plant cell wall and cell membrane, with less than or equal to 50 μg/ml in the culture medium, SWCNTs stimulated plant cells to grow out trichome clusters on their surface, with more than 50 μg/ml SWCNTs in the culture medium, SWCNTs exhibited obvious toxic effects to the protoplasts such as increasing generation of ROS, inducing changes of protoplast morphology, changing green leaves into yellow, and inducing protoplast cells' necrosis and apoptosis. In conclusion, single walled carbon nanotubes can get through Arabidopsis mesophyll cell wall and membrane, and exhibit dose-dependent dual-phase regulation to Arabidopsis mesophyll protoplasts such as low dose stimulating cell growth, and high dose inducing cells' ROS generation, necrosis or apoptosis.
No MeSH data available.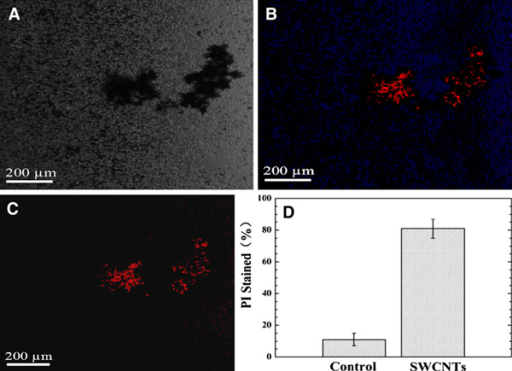 © Copyright Policy - open-access
License
getmorefigures.php?uid=PMC3211858&req=5
Mentions: The effects of SWCNTs on the viability of protoplasts incubated with 50 μg/ml SWCNTs were investigated. When the protoplasts were treated with 50 μg/ml SWCNTs for 40 h, we used propidium iodide (PI) and 4'-6-diamidino-2-phenylindole (DAPI) to stain the protoplasts, as shown in Figure 7b, c, we observed that SWCNTs aggregated together, protoplasts also wrapped around the aggregated SWCNTs, and a lot of protoplasts were dead (red color). As shown in Figure 7d, after the protoplasts were treated with SWCNTs for 48 h, the death cells reached 80% or so, appeared yellow leaves, compared with the control group, there exists statistical difference between two groups, P < 0.05. In control group, protoplasts often were live in WI solution for 4 days, our results showed that 50 μg/ml SWCNTs in a WI solution could speed up the death of protoplasts in WI solution, inducing green leaves into yellow leaves similar phenomena was also observed for those protoplasts treated with 100 μg/ml SWCNTs in a WI solution.