Role of Temperature in the Growth of Silver Nanoparticles Through a Synergetic Reduction Approach
ABSTRACT
---
This study presents the role of reaction temperature in the formation and growth of silver nanoparticles through a synergetic reduction approach using two or three reducing agents simultaneously. By this approach, the shape-/size-controlled silver nanoparticles (plates and spheres) can be generated under mild conditions. It was found that the reaction temperature could play a key role in particle growth and shape/size control, especially for silver nanoplates. These nanoplates could exhibit an intensive surface plasmon resonance in the wavelength range of 700–1,400 nm in the UV–vis spectrum depending upon their shapes and sizes, which make them useful for optical applications, such as optical probes, ionic sensing, and biochemical sensors. A detailed analysis conducted in this study clearly shows that the reaction temperature can greatly influence reaction rate, and hence the particle characteristics. The findings would be useful for optimization of experimental parameters for shape-controlled synthesis of other metallic nanoparticles (e.g., Au, Cu, Pt, and Pd) with desirable functional properties.
No MeSH data available.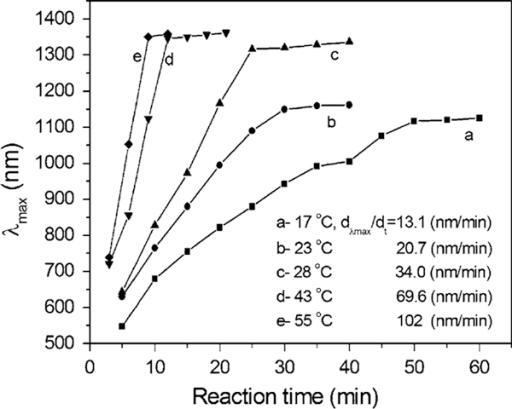 © Copyright Policy - open-access
License
getmorefigures.php?uid=PMC3211407&req=5
Mentions: The effect of temperature can be further confirmed by the kinetics analysis. The relationship between the wavelength of the strongest plasmon resonance absorption (λmax) and reaction time (t) was plotted and shown in Figure 5. As well known, the position of the maximum absorption peak, λmax, is strongly dependent on the dimensions of the silver particles [27-43]. The value of dλmax/dt in this experiment reflects the reaction rate, estimated to be 13.1, 20.7, 34, 69.6, and 102, corresponding to the reaction temperatures of 17, 23, 28, 43, and 55°C, respectively. That is, the higher the reaction temperature the faster the silver nanoparticles grow. The value of dλmax/dt approaches zero when the reaction ends, at that moment the UV–vis spectrum does not change again. Meanwhile, the shift in the strongest plasmon resonance absorption to longer wavelengths is significant from 1,115 (17°C) to 1,157 (23°C), 1,342 (28°C), and beyond 1,400 nm (both 42 and 55°C) (Figure 2). This suggests that the particle size gradually increases, as also evidenced by TEM observations (Figure 1). The detailed kinetics study on the relationship between particle dimensions and plasmon resonance absorption position/intensity is under progress.