Biomimetic Synthesis of Gelatin Polypeptide-Assisted Noble-Metal Nanoparticles and Their Interaction Study
ABSTRACT
---
Herein, the generation of gold, silver, and silver–gold (Ag–Au) bimetallic nanoparticles was carried out in collagen (gelatin) solution. It first showed that the major ingredient in gelatin polypeptide, glutamic acid, acted as reducing agent to biomimetically synthesize noble metal nanoparticles at 80°C. The size of nanoparticles can be controlled not only by the mass ratio of gelatin to gold ion but also by pH of gelatin solution. Interaction between noble-metal nanoparticles and polypeptide has been investigated by TEM, UV–visible, fluorescence spectroscopy, and HNMR. This study testified that the degradation of gelatin protein could not alter the morphology of nanoparticles, but it made nanoparticles aggregated clusters array (opposing three-dimensional α-helix folding structure) into isolated nanoparticles stabilized by gelatin residues. This is a promising merit of gelatin to apply in the synthesis of nanoparticles. Therefore, gelatin protein is an excellent template for biomimetic synthesis of noble metal/bimetallic nanoparticle growth to form nanometer-sized device.
No MeSH data available.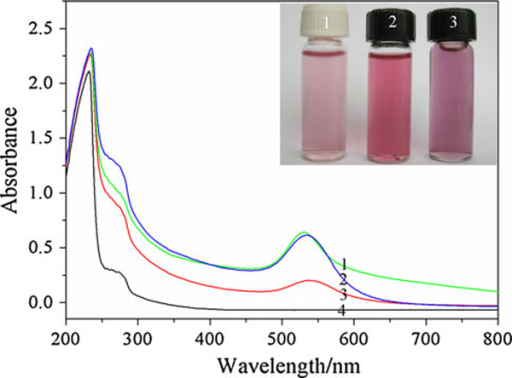 © Copyright Policy - open-access
License
getmorefigures.php?uid=PMC3211277&req=5
Mentions: This mineralization ability of peptides to gold ion is thought to arise from the amino acid sequence, which contains a tyrosine residue and is rich in serine (hydroxyl-containing amino acid) and hydrophobic amino acids (proline and phenylalanine). The peptide structure, the solution pH, temperature, buffer salt, and electrolyte contents are major factors determining its mineralization ability [27]. As gelatin is polypeptide including praline, glutamic acid, lysine, etc., the reaction parameters such as the solution pH, temperature may affect the gold nanoparticles formation by using gelatin as reducing and stabilizing agent. More recently, Huang et al. [15] have discussed the conformational isomerization effect of BSA polypeptides on the growth of BSA-assisted CuSe nanostructures in different pH condition. Therefore, we synthesized the AuNPs in gelatin solution (0.4 wt%, 80°C) at different pH to study the mineralization ability changing of gelatin to gold(Ш). Figure 4 showed that the typical color of AuNPs changed from light red, wine red to purple-red, and there is a red shift and the intensity changed in the maximum of UV–vis absorption band with the increased pH. Hence, the size of AuNPs can be controlled not only by the mass ratio of gelatin to HAuCl4 but also by pH alteration. Nevertheless, the reaction time obviously delayed when the typical absorption band of AuNPs is stable at pH different from the isoelectric point(pI) [pH = 2.4, 12 h; pH = 4.7, 4 h; pH = 7.2, 48 h]. This is mainly because of the amphoteric properties and conformation isomerization of polypeptides as the pH value changes. As gelatin polypeptides contains both acidic and basic functional groups, at a pH below the isoelectric point (pI, 4.7), gelatin carries a net positive charge, i.e. the amino has partly changed into –NH3+. Above pI of 4.7, gelatin carries a net negative charge, i.e. the carboxyl unit has changed into –COO-, and sulfhydryl group has changed into –S-. The electron-donating ability of gelatin would be greatly changed. The reducing ability of gelatin residues to Au(III) would be greatly decreased by adjusting pH. Furthermore, we discovered that gelatin could not be used as reducing agent for AuNPs at pH > 9 or pH < 1. This is attributed to that gelatin structure in solution decides its function to reduce gold (Ш).