Biofabrication of Anisotropic Gold Nanotriangles Using Extract of Endophytic Aspergillus clavatus as a Dual Functional Reductant and Stabilizer
ABSTRACT
---
Biosynthesis of metal and semiconductor nanoparticles using microorganisms has emerged as a more eco-friendly, simpler and reproducible alternative to the chemical synthesis, allowing the generation of rare forms such as nanotriangles and prisms. Here, we report the endophytic fungus Aspergillus clavatus, isolated from surface sterilized stem tissues of Azadirachta indica A. Juss., when incubated with an aqueous solution of chloroaurate ions produces a diverse mixture of intracellular gold nanoparticles (AuNPs), especially nanotriangles (GNT) in the size range from 20 to 35 nm. These structures (GNT) are of special interest since they possess distinct plasmonic features in the visible and IR regions, which equipped them with unique physical and optical properties exploitable in vital applications such as optics, electronics, catalysis and biomedicine. The reaction process was simple and convenient to handle and was monitored using ultraviolet–visible spectroscopy (UV–vis). The morphology and crystalline nature of the GNTs were determined from transmission electron microscopy (TEM), atomic force spectroscopy (AFM) and X-ray diffraction (XRD) spectroscopy. This proposed mechanistic principal might serve as a set of design rule for the synthesis of anisotropic nanostructures with desired architecture and can be amenable for the large scale commercial production and technical applications.
No MeSH data available.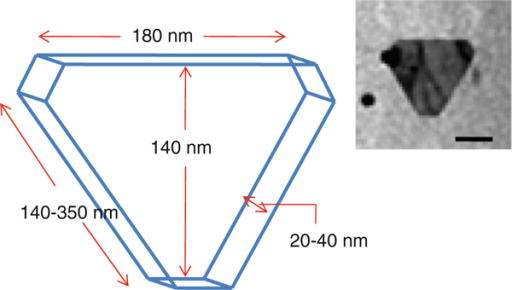 © Copyright Policy - open-access
License
getmorefigures.php?uid=PMC3211211&req=5
Mentions: The endophytic Aspergillus clavatus strain was isolated from sterilized stem tissues of Azadirachta indica. This strain is identified using modern taxonomic keys with microscopic observations (Figure 1). One can observe the conidiophore with the naked eye, since this species of Aspergillus possesses largest conidiophores among the Aspergillus spp. (Figure 1a), the club-shaped conidiophores are 2–4 mm in length, stipes smooth-walled hyaline (inset Figure 1c). Conidial heads radiate, later splitting into several columns. Vesicles are clavate, 40–60 mm diameter conidiogenous cells are uniseriate, conidia smooth walled, pale green, ellipsoidal, 7–8 × 2–3 micrometre (Figure 1b, c). The morphotaxonomic keys of this fungus was so strong that one does not require any molecular identification. When the biomass of fungus was challenged with 1 mM HAuCl4 aqueous solution, a rapid change in the colour of the biomass was observed from fresh white to the dark purple (Figure 2), similarly the reaction mixture for fungal extract was also observed (inset, Figure 2). This change in colour was due to the collective coherent oscillation of conduction electrons at the surface of the gold nanoparticles when these particles interact with the oscillating electric field of the incident light, a phenomenon called surface plasmon resonance (SPR). This change in colour indicates that reduction in AuCl4- ions takes place. When this reaction was traced with UV–vis spectroscopy, gold SPR bands were observed at ca. 540 nm, which steadily increases in intensity as a function of time of reaction. A 72-h reaction mixture has greater absorption intensity at ca. 540 than 48 h reaction mixture (Figure 3). The surface plasmon bands for the gold nanoparticles usually ranges between 510 and 560 nm in aqueous solution depending upon the function of their morphology, since plasmon bands are very sensitive to the length and sharpness of the tips of nanomaterials. The spherical nanoparticles, however, have strong absorption at about 520 nm with almost no absorption after 600 nm; however, the triangular shape has absorption at 540 which extends well in near infra red region (NIR). At maturation of reaction, the wavelength of surface plasmon bands stabilizes at 555 nm (Figure 3). Thus, the wavelength of peak absorption depends upon several factors such as particle size, dielectric constant of surrounding media and the inter-particle distance [19]. The representative bright field TEM images (Figure 4a, b) shows a relatively large population of flat gold nanotriangles along with some spherical and hexagonal gold nanoparticles formed by the spontaneous reduction in aqueous chloroaurate ions (AuCl-4) by fermentation extract of A. clavatus. The images also confirm that the gold nanotriangles are single crystalline in nature and could be indexed based on the face-centred cubic (fcc) structure of gold. The purified gold nanotriangles showed a particle size distribution ranging from 20–35 nm with an average particle size of 30 ± 2 nm (inset Figure 4b), this indicates that distribution is monodispersed. Consequently, we obtained a much higher population of nanotriangles in comparison with other morphologies, this encourage us to go deep into the optimization of parameters to get a control over the shape. All the nanotriangles observed under low-resolution TEM were ostensibly flat (Figure 4c–h), and showing tip truncation and rounding from sharp angle (Figure 4c, f, h) to sniped angle (Figure 4d, g) nanotriangles. When significant rounding (snipping) occurs, these nanostructures remains no longer as triangular nanoprisms and generally transformed into nanodisks or in cases of truncation without rounding, hexagonal nanoprisms. Synthesis of gold nanotriangles are kinetically driven process and is a result of aggregation and rearrangement of smaller size particles, which act as a nuclei for further growth into anisotropic triangular structures. It is also observed that the low rate of reduction in metal ions at normal room temperature possibly facilitate the growth of anisotropic nanoparticles, and with slight modifications in the temperature and the reaction medium one can be enabled in fabricating the well-defined triangular gold nanoparticles [20]. We have made efforts for the measurements of comparatively large, single gold nanotriangles (inset Figure 5), the height of the nanotriangles was about 140 nm, however, the facets length varies from 130 to 350 nm (Figure 5). But this may not be the case for all the nanotriangles, some has heights as low as 25–30 nm (Figure 7b, d). The AFM studies showed a maximum height of smallest nanotriangle was within 30 nm and the thickness ranges in between 2–8 nm (Figure 7b, d), and that all the triangles observed are equilateral with flat surfaces. In order to confirm the monocrystalline nature of the gold nanoparticles, XRD analysis was performed. Figure 6 shows the X-ray diffraction pattern obtained from the gold nanotriangles. The Bragg reflections obtained from the gold nanotriangle clearly correspond to the fcc crystalline structure of gold. The XRD pattern exhibits four identical diffraction peaks corresponding to the [111], [200], [220] and [311] appearing at 2θ = 38.2°, 44.5°, 65.6° and 78.6° of metal gold, respectively, (International Centre for Diffraction Data, ICDD No. 4–0783), indicating that the precipitate is composed of pure crystalline gold (Figure 6). As per the XRD pattern, a very intense Bragg reflection for the [111] lattice is observed, suggesting that the [111] oriented gold nanotriangles are lying flat [21] on the planar surface, while the reflections correspond to [220] and [311] with lattice spacing of 1.44 and 1.23 A° is specific for the triangular morphology, respectively. It is also notable that the ratio of intensity between the [200] and [111] diffraction peaks for the prepared sample is much lower than the standard (0.042 vs. 0.33), and this rationally decreases as the particles size increases. These observations confirm that as-formed gold nanoparticles are primarily dominated by [111] facets [22], which are quite consistent with the above electron diffraction observation. AFM has been performed on the glass substrate in contact mode, for the two reaction mixture one of 48 h and another was 72 h incubation periods. The Figure 7b, d shows heterogeneous vertical and lateral dimensions since stacking defaults of gold nanotriangles takes place due to longer incubation of the reaction mixture. The three-dimensional images of these nanostructures show surface roughness of about 30 nm (Figure 7b) and 25 nm (Figure 7d), interestingly stacking faults of nanotriangles was observed as they grow in size, which results in an overall increase in the surface roughness. The Figure 7a, c also tested and verified the results already obtained in short incubated samples. The gold nanoparticles are not resolved into single crystals due to the vertical stacking of nanotriangles, and thus the measurement and estimation of size for single nanoparticle with AFM remains intricating. Although the exact mechanism of the synthesis of nanomaterials are not known, but it was observed that when fungal biomass was treated with 1 mM aqueous solution of HAuCl4, there are negligible amount of nanoparticles present in the solution (Figure 2), the biomass instead changed into purple colour, this clearly indicates that the reduction in gold ions takes place intracellular (surface reduction). For getting some more insight into the exact mechanism of bioreduction, a TEM analysis of fungal cells had been performed that are challenged with aqueous gold ions for 72 h. The thin sections of fungal cells shows the presence of plenty of triangular, hexagonal and spherical gold nanoparticles bound to the surface of the cells (Figure 8a–c); however, the triangular nanoparticles are relatively smaller in size than the spherical and other shapes. The presence of these shapes indicates that many particles are not transformed into triangle (Figure 8b) due to lack of nucleation or undergone surface reorganization in such a way that they no longer exhibit the ideal triangular nanostructures. A lot of research in green synthesis of nanomaterials are currently focused on the mechanistic approach to define the mechanism involved in this process [22-24]. A huge number of microbial strains are screened for their potential of producing metal nanoparticles; however, the mechanism of biosynthesis has not been established yet. The metabolic convolutions of viable microorganisms are even more complicating the process of analysis and identification of active species in the nucleation and growth of metal nanoparticles. Many researchers, however, speculated about the role of secretary enzymes such as NADH-dependent reductase of microbial origin, which may be responsible for the reduction in metal ions for growth and nucleation of nanoparticles [25,26]. However, the biochemical mechanism of metal ion reduction and the subsequent NP formation remain unexplored and need further research. Thus, thorough and in-depth understanding of the biochemical mechanisms associated with nanomaterials biosynthesis is needed. The analysis and identification of active constituents with HPLC and other analytical tools are required to solve the mystery of nucleation and growth of metal nanoparticles in the microbial system.