Intestine-Specific, Oral Delivery of Captopril/Montmorillonite: Formulation and Release Kinetics
ABSTRACT
---
The intercalation of captopril (CP) into the interlayers of montmorillonite (MMT) affords an intestine-selective drug delivery system that has a captopril-loading capacity of up to ca. 14 %w/w and which exhibits near-zero-order release kinetics.
No MeSH data available.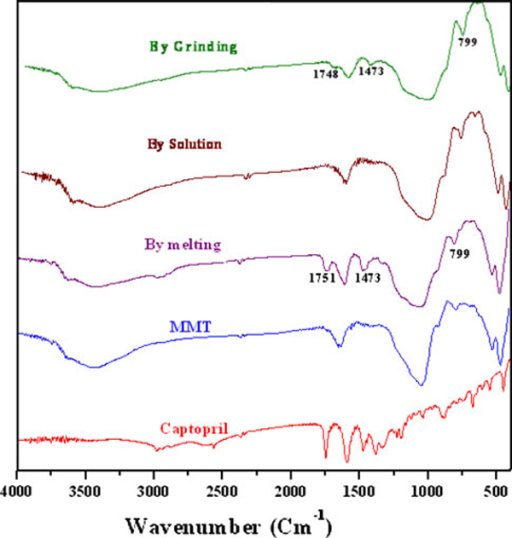 © Copyright Policy - open-access
License
getmorefigures.php?uid=PMC3211200&req=5
Mentions: In Figure 5 are presented the infrared spectra of pure MMT, pure CP and CP-MMT composites that had been prepared using the solution, melt or grinding methods. The spectrum of pure MMT is characterized by the stretching and bending vibrations of Si–O–Si and Si–O–Al, correspondingly at 1,048 cm-1 and 528.57 cm-1, and by the 919 cm-1 stretch of Al–Al–OH moieties in the octahedral layer. Interlayer water is manifest by the broad –O–H stretching band at ca. 3,400 cm-1. The bands at 3,623 cm-1 and at 3,698 cm-1 are respectively attributed to the –OH stretch of Al–OH and that of Si–OH [25]. The –OH bending mode of absorbed water is evidenced as a series of overlapping bands at 1,661 cm-1. In the spectrum of pure CP, the C=O stretching mode, amide absorption, S–H stretch and C–S stretch are respectively seen at 1,751 cm-1, 1,587 cm-1, 2,570 cm-1 and 678 cm-1. The spectra of the CP-MMT systems were dominated by the features of MMT, but there was considerable variation in the shape, position and relative intensity of individual spectral features. The band at 1,751 cm-1, which is absent in the spectrum of MMT but features strongly in that of CP, is interpreted as evidence for CP-MMT intercalation.