Correlates of species richness in the largest Neotropical amphibian radiation.
Bottom Line: Clade-age and species richness were nonsignificantly, negatively correlated, suggesting that clade age alone does not explain among-clade variation in species richness.A more vascularized ventral skin, the ability to colonize high-altitude ranges, encompassing a large variety of vegetation types, correlated significantly with species richness, whereas larger body size was marginally correlated with species richness.Hence, whereas high-altitude ranges play a role in shaping clade diversity in the Neotropics, intrinsic factors, such as skin structures and possibly body size, might ultimately determine which clades are more speciose than others.
Affiliation: Department of Integrative Ecology, Estación Biológica de Doñana-CSIC, Av. Américo Vespucio s/n, Seville, Spain. alejandro.gonzalez@ebd.csic.es
Show MeSH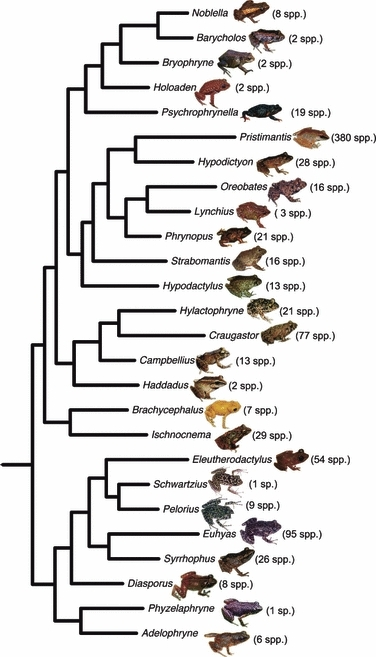 © Copyright Policy - open-access
License
getmorefigures.php?uid=PMC3116151&req=5
Mentions: Terrarana, or New World direct-developing frogs, is an excellent example of extreme tropical species diversity. The clade Terrarana contains circa 900 species, which represent nearly 1/3 of all New World Tropics anuran species and nearly 1/6 of described anuran species worldwide (Hedges et al., 2008). The pattern of species richness among clades within Terrarana is striking. The most recent phylogenetic hypothesis includes 26 clades ranked at the generic and subgeneric level, whose diversity varies from 1 to circa 380 species (Fig. 1; Hedges et al., 2008). For example, the South American genus Pristimantis, with around 380 morphologically disparate species, constitutes one of the largest terrestrial vertebrate radiations reported to date (Heinicke et al., 2007; Hedges et al., 2008). Moreover, the members of this clade are important components of many Neotropical wet forests both in diversity and in abundance (Lynch & Duellman, 1997; Hedges et al., 2008). In the West Indies, terraranans compose ca. 84% of the amphibian diversity (Hedges, 1999). Terraranans also present a very wide distributional range, spanning from the southern USA to northern Argentina, along a broad variety of habitats, from the cold paramos of the Andes at 4500 m.a.s.l. to Caribbean coastal forests (Hedges et al., 2008). Unlike most amphibian species, which depend on water for reproduction (Vences & Köhler, 2008), terraranans undergo direct development without an aquatic larval phase (Duellman & Trueb, 1994), which allows species in this clade to live and reproduce in almost any environment given some moisture. Previously, the evolutionary history of this clade was poorly known. However, recent taxonomic and phylogenetic efforts have greatly improved our knowledge of the relationships among major clades within Terrarana (Crawford & Smith, 2005; Frost et al., 2006; Hedges et al., 2008; Heinicke et al., 2009). Such recent developments in combination with existing data on phenotypic characters, distribution and habitat use provide an unprecedented opportunity to study the factors influencing clade diversity within this species-rich tropical clade.