Correlation of transcranial color Doppler to n20 somatosensory evoked potential detects ischemic penumbra in subarachnoid hemorrhage.
Bottom Line: Both ratios became <0.65 (p <0.01) when patients showed unilateral images of ischemic penumbra and returned >0.65 if penumbra disappeared.Variations of interhemispheric ratios of MCA resistance and cortical N20 amplitude correlate closely in SAH and allow identification of the reversible ischemic penumbra threshold, when both ratios become <0.65.The correlation is lost when structural damage develops.
Affiliation: Anaesthesia and Intensive Care Department, Rovigo Hospital, Viale 3 Martiri, 140, 45100 Rovigo, Italy.
ABSTRACT
---
Background: Normal subjects present interhemispheric symmetry of middle cerebral artery (MCA) mean flow velocity and N20 cortical somatosensory evoked potential (SSEP). Subarachnoid haemorrhage (SAH) can modify this pattern, since high regional brain vascular resistances increase blood flow velocity, and impaired regional brain perfusion reduces N20 amplitude. The aim of the study is to investigate the variability of MCA resistances and N20 amplitude between hemispheres in SAH.
Methods: Measurements of MCA blood flow velocity (vMCA) by transcranial color-Doppler and median nerve SSEP were bilaterally performed in sixteen patients. MCA vascular changes on the compromised hemisphere were calculated as a ratio of the reciprocal of mean flow velocity (1/vMCA) to contralateral value and correlated to the simultaneous variations of interhemispheric ratio of N20 amplitude, within each subject. Data were analysed with respect to neuroimaging of MCA supplied areas.
Results: Both interhemispheric ratios of 1/vMCA and N20 amplitude were detected >0.65 (p <0,01) in patients without neuroimages of injury. Both ratios became <0.65 (p <0.01) when patients showed unilateral images of ischemic penumbra and returned >0.65 if penumbra disappeared. The two ratios no longer correlated after structural lesion developed, as N20 detected in the damaged side remained pathological (ratio <0.65), whereas 1/vMCA reverted to symmetric interhemispheric state (ratio >0.65), suggesting a luxury perfusion.
Conclusion: Variations of interhemispheric ratios of MCA resistance and cortical N20 amplitude correlate closely in SAH and allow identification of the reversible ischemic penumbra threshold, when both ratios become <0.65. The correlation is lost when structural damage develops.
No MeSH data available.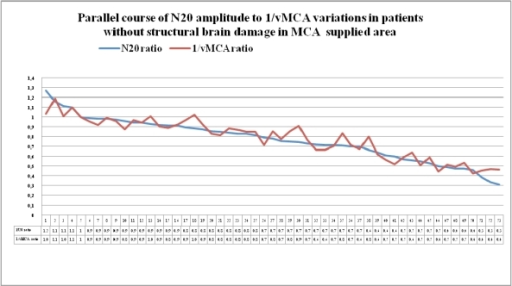 © Copyright Policy - open-access
License
getmorefigures.php?uid=PMC3106352&req=5
Mentions: The coupling between neuronal activity and its blood supply is of critical importance to the physiology of the human brain. Subarachnoid hemorrhage causes high rates of neurological deficits following impaired regional brain perfusion (15), mainly due to alterations of vascular resistances and pressure autoregulation. The vessel section, πr², is inversely proportional to mean blood flow velocity V, and directly proportional to blood flow F (πr²= F/V). In simultaneous detection of bilateral MCA mean blood flow velocities, within one subject, we can assume constant the CPP, blood viscosity and length of measured segments of MCA. Consequently, changes in vascular resistance and blood flow, between hemispheres, due to vessels section reduction of MCA, can be evaluated in an indirect way, by a semi quantitative approach, comparing 1/vMCA detected simultaneously on both sides. Likewise, interhemispheric differences in cortical activity of the primary somatosensory area can be evaluated comparing the amplitude of the N20 waves. Our data demonstrate close correlation between the variations of 1/vMCA and cortical N20 amplitude, matching their respective interhemispheric ratios. Modifications of interhemispheric ratio of 1/vMCA correspond with analogue variations of interhemispheric ratio of N20 amplitude in a wide range of values, from 0.9 to 0.4-0.3 (p< 0.01), unless structural ischemic or haemorrhagic damage develops (Fig. 11). When 1/vMCA and N20 amplitude had symmetric interhemispheric values (both ratios >0.65) CTI/MRI scan showed absence of alterations in the MCA areas. When both values of 1/vMCA and N20 amplitude on the compromised hemisphere became <0.65 of the contralateral, CT/MRI scan images showed transient modifications in the affected MCA supplied brain area and clinical evaluation revealed corresponding lateralizing symptoms or consciousness alteration (patients No. 2,3,5,12,15); consequently this data seems to identify the ischemic risk threshold. This condition of ischemic penumbra is potentially reversible, until variations of 1/MCA and N20 amplitude correlate, even at interhemispheric ratio values of 0.3- 0.4, if such extreme variations prevail only for a short time. In fact, when both 1/vMCA and N20 amplitude were observed to have regained ratio >0.65 to contralateral values (patients No. 3, 5, 12, 15), the CT/MRI scan images of MCA area and clinical condition returned to normal. On the other hand, if both low ratio values persist, as shown in patient 2, who reached interhemispheric values <0.4 for three consecutive days, structural damage develops. When evident CT/MRI structural brain damage occurs subsequently (patient No.2), or immediately after SAH (patients No. 4, 8, 11), there is a lack of correlation, as pathologic amplitude (<1, 2 μV) or absence of N20, on the compromised side, reflects the tissue damage and determined stable interhemispheric ratio <0.65. Conversely, in this situation 1/vMCA reverted to a ratio >0.65 with respect to the contralateral. This lack of correlation is probably due to the loss of neurovascular coupling and suggests a luxury perfusion in ischemic areas which no longer vasoregulate. The three patterns described above are shown in the scatter diagram (Fig. 12). A previous study investigated correlation between SSEP Central Conduction Time (CCT) and vasospasm and found a statistically significant (p < 0.01) increase in actual CCT (6.7 msec) in only the severe grade of vasospasm (blood flow velocity >200 cm/s) in subarachnoid hemorrhage [24]. By contrast, in our approach, variations of 1/vMCA and N20 cortical amplitude showed correlation before damage developed and independently from vasospasm. The high correspondence between variation in vascular resistances due to vessel section and N20 amplitude can be explained by the close correlation between blood flow and electric activity in the cortical areas. In fact, the cortex, whose activity is expressed by the N20 amplitude, has greater ischemic sensitivity than the thalamus and medial lemniscus, which are involved in CCT [25]. In an experimental study of graded cerebral ischemia on an animal model, Burnett and colleagues demonstrated that the reduction in SSEP amplitude corresponds to a progressive regional CBF (rCBF) decrease and even a small reduction of as little as 10% in rCBF produces analogue modification in SSEP [26]. Similarly, in healthy subjects, linear coupling and linear covariation between N20-P22 amplitude and intensity of blood oxygen level-dependent functional magnetic resonance imaging (BOLD- fMRI) has been demonstrated [27, 28]. Correspondence between variations of 1/vMCA and N20 cortical amplitude in our data emerges whether vasospasm is detected or not, as it was detected in 23% of examinations of group 1 and in 57% of group 2. Recent studies reviewed by Pluta and colleagues suggest that vasospasm of larger arteries is only to be an epiphenomenon of early brain injury after SAH with consequent microvascular vasospasm, spreading depression and cortical dysfunction [8] and the difficulty in defining the correlation between vasospasm and ischemia has been highlighted: perfusion abnormality without macrovascular vasospasm in the watershed areas or in the vicinity of sulcal clots has been demonstrated [29]. Dankbaar and colleagues reported that vasospasm decreases cerebral perfusion, but corresponds with the least perfused region in only two thirds of patients; furthermore, almost half of patients with severe vasospasm do not have delayed cerebral ischemia (DCI), and, although severe vasospasm can decrease perfusion, it may not result in DCI [30]. Carrera and colleagues found that 40% of patients who developed DCI did not reach blood flow velocity (BFV) >120 cm/sec and 16% of patients never registered BFV >120 [31]. Some limitations of our study have to be considered. First, we considered a small number of patients and examinations (SSEP,TCCD and neuroimaging) were timed on the clinical basis evaluation, not following a specific protocol. Second, the semi quantitative comparison of data from both hemispheres can be missed if data change to the same pathologic extent bilaterally. On the basis of our approach, symmetric bilateral pathological variation of vascular resistances of MCA would correspond to analogue symmetric variation of N20 amplitude: in this case we could not evaluate the ischemic risk by only comparing the two ratios. We can hypothesize that a very low bilateral N20 amplitude, close to the pathological threshold of 1,2 μV, could be detected; however we found no such condition of symmetric bilateral pathological changes in our case series. Third, we evaluated modifications of MCA brain supplied area by CT or MRI, who detect changes with a different sensitivity; moreover, recently Dankbaar and colleagues demonstrated that CT perfusion (CTP) is more sensitive in detecting ischemic penumbra than CT [32], so its use could help to better define the three interhemispheric patterns of neurovascular coupling.