Upstream open reading frames: molecular switches in (patho)physiology.
Bottom Line: Conserved upstream open reading frames (uORFs) are found within many eukaryotic transcripts and are known to regulate protein translation.Evidence from genetic and bioinformatic studies implicates disturbed uORF-mediated translational control in the etiology of human diseases.The high prevalence of uORFs in the human transcriptome suggests that intensified search for mutations within 5' RNA leader regions may reveal a multitude of alterations affecting uORFs, causing pathogenic deregulation of protein expression.
Affiliation: Max Delbrueck Center for Molecular Medicine, Berlin, Germany.
Show MeSH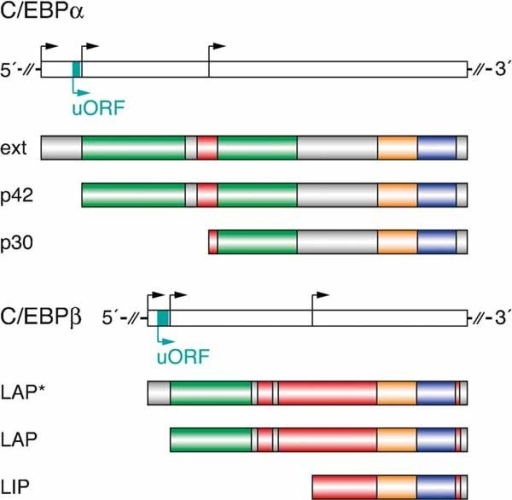 © Copyright Policy - open-access
License
getmorefigures.php?uid=PMC3045505&req=5
Mentions: Evolutionarily conserved uORFs have been identified in transcripts of many key regulatory genes 30, 31, implying an important physiological role for these uORFs. Among such uORF-bearing transcripts are the transcription factors C/EBPα and β, which regulate the proliferation and differentiation of multiple cell types including granulocytes, macrophages, adipocytes, osteoclasts, osteoblasts, keratinocytes, mammary epithelial cells, and hepatocytes 32–36. C/EBP transcription factors are implicated in the regulation of various (patho)physiological processes including metabolism, inflammation, and malignant transformation 32–34, 37. C/EBPα, β, and four additional members (γ, δ, ɛ and ζ) of the C/EBP family share highly conserved C-terminal basic regions and leucine zipper domains (bZIP), which are involved in DNA binding and homo- or heterodimerization, respectively 34. The N-terminal parts of the C/EBPs are more diverse and contain regulatory and trans-activation domains that interact with transcriptional coactivators, corepressors, and the basal transcription machinery 38–40 (Fig. 2). C/EBPβ mRNA translates into two long protein isoforms known as liver activating protein (LAP) and LAP*, and the truncated isoform liver inhibitory protein (LIP). Recently, an extended C/EBPα isoform has been described 41, in addition to the known full-length p42 and truncated p30 isoforms. The full-length isoforms of C/EBPα and β both contain N-terminal trans-activating and regulatory domains that can induce differentiation and inhibit proliferation. The truncated isoforms, p30 and LIP, consist of only the C-terminal part of C/EBPα and β, respectively, retaining their DNA binding capacity and the ability to form dimers with other protein isoforms of all C/EBP family members. The absence of the N-terminal domains in p30 and LIP isoforms compromises their trans-activating functions, resulting in trans-dominant repressive effects on C/EBP target genes 42.