Upstream open reading frames: molecular switches in (patho)physiology.
Bottom Line: Conserved upstream open reading frames (uORFs) are found within many eukaryotic transcripts and are known to regulate protein translation.Evidence from genetic and bioinformatic studies implicates disturbed uORF-mediated translational control in the etiology of human diseases.The high prevalence of uORFs in the human transcriptome suggests that intensified search for mutations within 5' RNA leader regions may reveal a multitude of alterations affecting uORFs, causing pathogenic deregulation of protein expression.
Affiliation: Max Delbrueck Center for Molecular Medicine, Berlin, Germany.
Show MeSH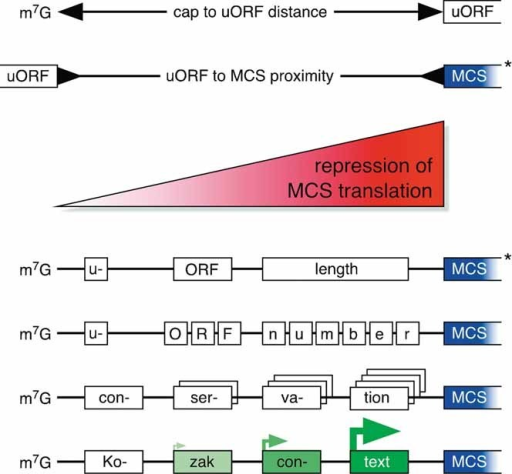 © Copyright Policy - open-access
License
getmorefigures.php?uid=PMC3045505&req=5
Mentions: uORFs are extremely diverse in both structural features and regulatory functions. As exemplified for humans, uORFs vary in length (average of 48 nt), number per transcript (0–13), position (close to or distant from the mRNAs m7G-cap, terminating upstream or downstream of the MCS initiation codon), sequence (no common uORF sequence motif has been identified) and secondary structure. In approximately half of the uORF-bearing transcripts, a single uORF precedes the MCS initiation codon 18. In the remaining cases, uORF-mediated regulation is complicated by the presence of more than one uORF, and the regulatory effect on MCS translation results from the combined functions of individual uORFs, each acting in a highly context-specific manner. At present, uORF-mediated translational control has been validated experimentally for about 100 eukaryotic transcripts 18. Besides establishing barrier functions to scanning pre-initiation ribosomes, as exemplified above for GCN4, uORFs can also reduce translation of the MCS by other means. In selected transcripts, uORFs can provoke mRNA instability 17, 18 or render transcripts susceptible to nonsense-mediated mRNA decay (NMD) 21. In other cases, uORF-encoded peptides repress translation of the MCS by interaction with the translational machinery or by reducing mRNA stability in response to trans-acting molecular regulators, such as sucrose 22, arginine 23 or polyamines 24. Mass spectrometric approaches have identified a number of additional, potentially functional, uORF-encoded peptides, which await experimental examination 25, 26. Despite the overt complexity of uORF-mediated translational control, several variables correlating with strong repression of MCS translation emerge from published data. These include long 5′ cap-to-uORF distance, proximity of the uORF to the MCS initiation site, length of the uORF, multiplicity of uORFs, conservation among species, and initiation sequence context (Fig. 1) 15, 18, 27, 28.