New perspectives on the ecology and evolution of siboglinid tubeworms.
Affiliation: Centro de Estudos do Ambiente e do Mar and Departamento de Biologia, University of Aveiro, Aveiro, Portugal.
Siboglinids are tube-dwelling annelids that are important members of deep-sea chemosynthetic communities, which include hydrothermal vents, cold seeps, whale falls and reduced sediments... Molecular systematic methods now place these animals, formerly known as the phyla Pogonophora and Vestimentifera, within the polychaete clade Siboglinidae... However, the story of Siboglinidae has, in the last five years, received a new twist: the discovery of an entirely new species-rich clade of highly derived siboglinids, known as Osedax, that appear to live exclusively on mammal (typically whale) bones, –... If correct this would constitute the oldest fossil record of this clade and the age is roughly the same as the first major radiation of whales, which strengthens the idea of an evolutionary link between Osedax and its main modern substrate... At cold seeps, siboglinids are almost always living within a sedimented environment, although hard substrates do form through carbonate precipitation... Frenulates are also found in sedimented environments, in the anoxic muds beneath organically-enriched regions, although sulphide levels are generally lower than at vents and seeps... Whereas vestimentiferans living on hydrothermal vent chimneys absorb sulphide through a branchial plume that extends up to 2 m into the water column, vestimentiferans living in cold seeps obtain sulphide from the sediment, across the wall of the buried tube (Figure 6)... Frenulates, notwithstanding some exceptions, are found mainly in organic-rich, reduced sediments... One is a hexagonal bilayer haemoglobin (HBL-Hb) that is capable of binding oxygen and sulphide simultaneously and reversibly, , enabling the animals to transport and store both substances in large quantities while minimizing autoxidation and toxic effects... A second type of haemoglobin detected in Siboglinidae is a ring-Hb that has been found in Vestimentifera, Sclerolinum, and Frenulata... Therefore, differences between siboglinid habitats are expected to have a role in the evolution of life-history traits, including fecundity, breeding strategy and developmental mode... At present, we do not have estimates of lifetime fecundity for any siboglinid... A detailed phylogenetic analysis of Siboglinidae is needed to provide a framework for understanding the evolution of life-history traits in the group... However, it does appear that the various reproductive strategies found in siboglinids are related to environmental conditions... This seemingly ordered trend has been complicated by the discovery of the Osedax clade, specialist on whale bones and using heterotrophic rather than chemoautotrophic symbionts.
Show MeSH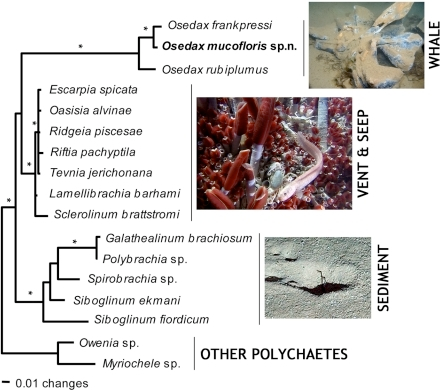 © Copyright Policy
getmorefigures.php?uid=PMC3038861&req=5
Mentions: Currently most researchers recognize four main lineages within Siboglinidae: Frenulata, Vestimentifera, Sclerolinum and Osedax (Figure 3). Sclerolinum was originally regarded as a frenulate and later placed in its own taxon, Monilifera, equal in rank to Frenulata and Vestimentifera [43]. Recent molecular and morphological studies however, show that Sclerolinum is the sister clade to vestimentiferans [40], [44]. Among the four siboglinidae lineages, frenulates are by far the most diverse with 141 nominal species. By contrast, vestimentiferans have 18 species, Sclerolinum six, and Osedax five (at the time of writing several new species for all groups were in the process of being described and thus the numbers are major underestimates) (Figure 4). Although biological generalizations are often problematic, each siboglinid clade is, in general, found in a certain type of habitat. Frenulates are typically found in muddy (often deep) environments; vestimentiferans typically occur in hydrothermal vent and hydrocarbon seep areas; Sclerolinum is known to live on organic decaying organic matter (e.g., wood and rope) but also occurs free-living in mud; whereas Osedax is found exclusively on vertebrate bones.