Human epigenome project--up and running.
Affiliation: janeb@sciscribe.u-net.com <janeb@sciscribe.u-net.com>
But what is an epigenome, and why have the Wellcome Trust Sanger Institute (Hinxton, United Kingdom) and Epigenomics AG (Berlin, Germany) recently announced the launch of the Human Epigenome Project (HEP), a five-year undertaking during which DNA methylation sites throughout the human genome will be mapped? The HEP is the brainchild of immunogeneticist Stephan Beck of the Sanger Institute and Alexander Olek, chief executive officer of Epigenomics AG... The Human Genome Project … 'provided the blueprint for life, but the epigenome will tell us how this whole thing gets executed'... That 'something else' is chemical modifications of genes that are heritable from one cell generation to the next and that affect gene expression but do not alter the DNA sequence... For individual cells, this code on top of a code helps to determine whether a cell is a blood cell, a fat cell, or something else... And in the case of monozygotic twins, unexpected differences may result from chance variations in this superimposed code (Box 1)... In October 2000, the Human Epigenome Consortium (the Sanger Institute, Epigenomics AG, and the Centre National de Génotypage in Evry, France) started a European Union-funded pilot project to map the methylation sites within the major histocompatibility complex (MHC) region in seven different human tissues... The promoter regions are the places where the elements that control gene expression are often located, and DNA methylation occurs at cytosine residues within CpG motifs, hence the choice of CpG-rich regions... The methylation status of more than 100, 000 sites was determined during the three-year pilot study and the results analysed to show where there were methylation differences in the MHC between different tissues (Figure 2). 'We found major methylation differences between loci and between tissues', says Beck, 'and we are particularly interested in what we call methylation variable positions (MVPs), which we believe will advance our ability to understand and diagnose human disease'... Sample preparation and amplification will be done at Epigenomics AG, the Sanger Institute will do the sequencing and raw data analysis, and then the data will be jointly evaluated and mined, 'a huge collaborative experiment', says Olek... The Wellcome Trust and Epigenomics AG are jointly funding phase I of the HEP, thus avoiding a rerun of the situation that occurred in the Human Genome Project, in which a commercial company and a public effort ended up competing with each other... Reik suggests that this could indicate that epigenetic reprogramming—the process needed to turn a somatic cell back into a totipotent cell—is very inefficient. 'We have some evidence that there is a link between the success of epigenetic reprogramming and that of cloning, and we really have to understand the reprogramming process to get reproductive cloning to work', says Reik. 'At the moment the whole process is a black box'... Because of this, many scientists argue that human reproductive cloning, leaving aside the ethical concerns about it, simply isn't a safe option at present, a concern reflected in the recent call by 60 scientific academies for a ban on its development... A far cry from the situation 10 years ago, says Reik, 'when the field had the smell of something esoteric that no one really understood and whose significance was not clear... Now it is one of the mainstream exciting areas of post-genomic biology', he concludes, and one which will hopefully yield to the might of large consortia like the Epigenome Network and the HEP.
Show MeSH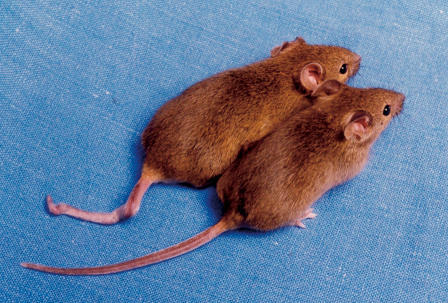 © Copyright Policy
getmorefigures.php?uid=PMC300691&req=5
Mentions: Geneticist Emma Whitelaw (University of Sydney, Australia) studies phenomena in mice similar to those seen in human monozygotic twins, whereby genetically identical individuals can look or behave very differently. About a decade ago, she explains, 'we noticed that in a litter of mice that had all stably inherited a transgene at a specific locus, some mice expressed the transgene, but others didn't'. This variable gene expressivity in genetically identical animals suggested that some kind of epigenetic mark had occurred differentially between individuals by chance. Similarly, identical mice carrying the agouti viable yellow coat colour gene can range in colour from yellow through mottled to brown, depending on whether the gene is expressed or not. And while a mutation in the axin gene called axin-fused produces mice with kinky tails, the degree of kinkiness varies among genetically identical littermates (Figure 1). For all these mice, Whitelaw has discovered that the mysterious epigenetic marks responsible for variable expressivity are inherited between sexual generations. So, in the case of the agouti viable yellow mice, yellow mice have more yellow offspring than mottled or brown offspring. Variable expressivity may be a quicker way to deal with environmental change than DNA mutation and, suggests Whitelaw, it may be that variable expressivity is involved in some way in evolution.