Activation of the cardiac Na(+)-Ca(2+) exchanger by sorcin via the interaction of the respective Ca(2+)-binding domains.
Bottom Line: To investigate the importance of this region in the interaction with NCX1, three variants were examined: W105G and W99G, mutated respectively near EF3 and EF2, and E124A that does not bind Ca(2+) due to a mutation at EF3.Downregulation of sorcin decreased and supplementation with wt sorcin (3muM) increased NCX activity in isolated cardiomyocytes.The relative stimulatory effects of the sorcin variants were: W105G>wt sorcin>Sorcin Calcium Binding Domain (SCBD)>W99G>E124A.
Affiliation: C.N.R. Institute of Molecular Biology and Pathology, Department of Biochemical Sciences A. Rossi Fanelli, Sapienza University of Rome, 00185 Rome, Italy. emilia.chiancone@uniroma1.it
Show MeSH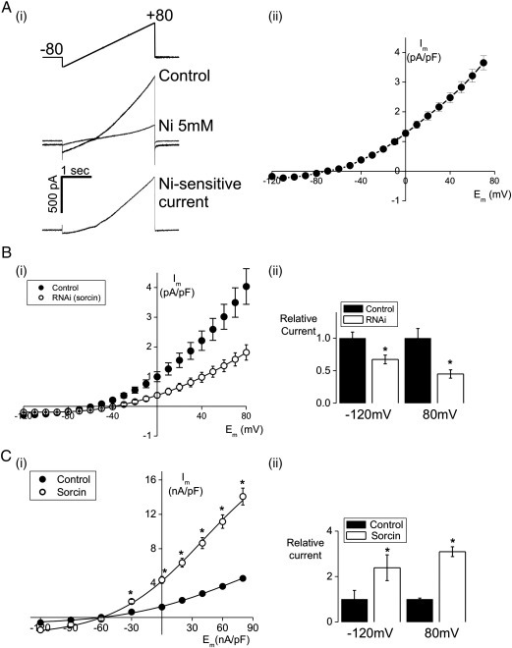 © Copyright Policy
License
getmorefigures.php?uid=PMC2958309&req=5
Mentions: Procedures were undertaken in accordance with the United Kingdom Animals (Scientific Procedures) Act 1986 and conform to the Guide for the Care and Use of Laboratory Animals published by the US National Institutes of Health (NIH Publication No. 85-23, revised 1985). New Zealand White male rabbits were given an intravenous injection of 500 U heparin together with an overdose of sodium pentobarbitone (100 mg/kg) and their hearts were removed. Isolated hearts were perfused retrogradely (25 mL min− 1, 37 °C) with a nominally Ca2+-free Krebs–Henseleit solution containing 0.6 mg mL− 1 collagenase (type 1, Worthington Chemical Co) and 0.1 mg mL− 1 protease (type XIV, Sigma Chemical Co) for 6–8 min. After isolation of the left ventricular free wall, the epicardial layers of the free wall were isolated from the remaining tissue by dissecting a 1–1.5 mm layer from the epicardial surface. The layers of tissue were incubated separately for 5 min in enzyme solution containing 80 μmol/L CaCl2 and 4% bovine serum albumin (BSA, fraction V, Sigma). The cardiomyocyte suspensions were obtained at the end of the incubation period. Isolated cardiomyocytes were superfused with a HEPES-based Tyrode's solution at 36–37 °C in a chamber mounted on the stage of an inverted microscope. Voltage clamp was achieved a using an Axoclamp 2A amplifier (Axon Instruments, Foster City, CA, USA) in discontinuous (switch clamp) mode. Pipette resistance was 1–2 MΩ. The Tyrode's solution superfusing isolated cells contained (mmol/L): NaCl (140), KCl (4), HEPES (5), MgCl2 (1), CaCl2 (1.8), and glucose (11.1), pH 7.4 with NaOH. The perfusate also contained strophanthidin (0.01 mmol/L) and nifedipine (0.01 mmol/L), 4-aminopyridine (5 mmol/L, to block K+ currents) and niflumic acid (0.1 mmol/L, to block Ca2+-activated Cl− currents. The pipette solution contained (mmol/L): CsCl (45), EGTA/CaEGTA (Cs+ 100, EGTA 50, Ca2+ 25), HEPES (20), MgCl2 (11, calculated free Mg2+ ≈ 1.2 mmol/L), and Na2ATP (10); pH 7.25. This pipette solution was designed to buffer [Ca2+]i to ∼ 250 nmol/L (confirmed by separate [Ca2+] measurements). After achieving the whole-cell configuration, a period of 5–10 min was allowed for dialysis of the pipette solution into the cell. Currents were then measured in response to a 3 s ramp from − 120 mV to + 80 mV from the holding potential of − 80 mV. An ascending ramp was chosen since this has been shown to cause less perturbation of sub-sarcolemmal [Ca2+] than a descending ramp, and the resulting currents are closer to those obtained using a voltage step protocol [38]. The ramp protocol was performed at 0.1 Hz, when steady-state currents were achieved; data from 12 ramps were recorded for subsequent averaging. The protocol was repeated in the presence of 5 mmol/L Ni2+ to obtain the background current, and this was subtracted to obtain the current attributable to NCX (see Fig. 3(A)). Sorcin or the mutant proteins were added to the intracellular pipette solution for dialysis into the cell at a concentration of 3 μM using a protocol similar to previous work, designed to supplement endogenous intracellular sorcin by comparable amounts of exogenous protein [15,16]. Allowing sorcin to dialyse into the cell for 10 to 20 min had no additional effects (data not shown). Preliminary experiments using 1 μM sorcin had no significant effect on the NCX current (see Supplementary Fig. S5). Control measurements were made by adding identical amounts of the suspension buffer. The control and experimental data were always obtained on the same experimental day.