Activation of the cardiac Na(+)-Ca(2+) exchanger by sorcin via the interaction of the respective Ca(2+)-binding domains.
Bottom Line: To investigate the importance of this region in the interaction with NCX1, three variants were examined: W105G and W99G, mutated respectively near EF3 and EF2, and E124A that does not bind Ca(2+) due to a mutation at EF3.Downregulation of sorcin decreased and supplementation with wt sorcin (3muM) increased NCX activity in isolated cardiomyocytes.The relative stimulatory effects of the sorcin variants were: W105G>wt sorcin>Sorcin Calcium Binding Domain (SCBD)>W99G>E124A.
Affiliation: C.N.R. Institute of Molecular Biology and Pathology, Department of Biochemical Sciences A. Rossi Fanelli, Sapienza University of Rome, 00185 Rome, Italy. emilia.chiancone@uniroma1.it
Show MeSH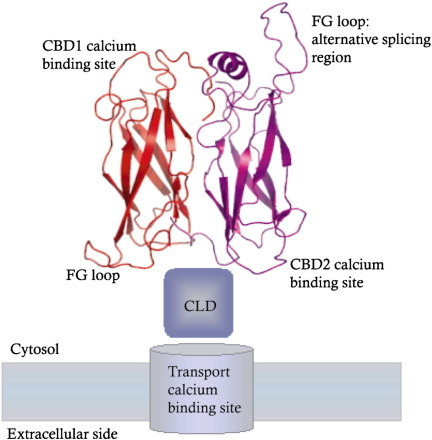 © Copyright Policy
License
getmorefigures.php?uid=PMC2958309&req=5
Mentions: The overexpression of sorcin in cardiomyocytes has also been associated with increased activity of the Na+–Ca2+ exchanger, NCX [13,22]. The mammalian NCX family includes three genes (Ncx1, Ncx2 and Ncx3) with very similar functional properties. NCX1, the main isoform expressed in the heart, catalyzes the electrogenic exchange of Ca2+ and Na+ across the plasma membrane in both the Ca2+ influx and Ca2+ efflux mode and is one of the crucial regulators of Ca2+ homeostasis within cardiomyocytes and of cardiac contractility. NCX1 consists of nine transmembrane helices with an extracellular N-terminus and a cytosolic C-terminus that is organized in four domains [23,24]. There are two adjacent homologous Ca2+-binding domains, CBD1 and CBD2, arranged in an antiparallel fashion, that are connected via a regulatory catenin-like domain (CLD) to the membrane part of the exchanger (Fig. 2). A rise in cytosolic Na+ stimulates rapidly and then inactivates the exchanger; in contrast, cytosolic Ca2+ activates the exchanger and relieves the Na+-dependent inactivation [25–28]. Regulation by cytosolic Na+ and Ca2+ involves sites that do not participate directly in the ion translocation process. Thus, an amphipathic sequence, the XIP region (eXchanger Inhibitory Peptide), takes part in regulation by Na+, whereas CBD1 and CBD2 are responsible for the Ca2+-dependent activation of the exchanger. Both CBD1 and CBD2 have an Ig-like fold with the Ca2+-binding sites in the distal loops [24,28,29]. They contain also an unstructured loop, the FG loop, which in CBD2 is characterized by the presence of a tissue-specific, alternatively spliced region (Fig. 2). Despite the structural similarity, CBD1 binds four Ca2+ with high affinity (KD = 0.3 μM), whereas CBD2 binds only two metal ions with lower affinity (KD = 5 μM) [30]. In CBD1, the four Ca2+ ions are brought into close proximity by a complex arrangement of the coordinating residues. Thus, aspartate and glutamate carboxylate oxygens provide bidentate ligands that coordinate two (Asp500) or three (Glu451) Ca2+ simultaneously. In CBD2, the two Ca2+-binding sites are only 5.4 Å apart, such that the two metal ions are coordinated by two carboxylate oxygens of a single aspartate side chain (Asp578). Mutations of acidic Ca2+-binding amino acid residues in CBD1 decrease affinity for Ca2+, as expected, but do not eliminate Ca2+-dependent regulation [26]. In contrast, mutations E516L, D578V and E648L in the CBD2 Ca2+-binding sites completely remove Ca2+ regulation, placing the exchanger in a constitutionally active state [28]. In accord with these observations, the alternatively spliced NCX1 kidney isoform with an arginine at position 578 and the brain isoform carrying a D578R mutation are not regulated by Ca2+[31]. Taken together these data point to CBD1 and CBD2 as major determinants of the NCX1 functional regulation.