Perturbing the ubiquitin pathway reveals how mitosis is hijacked to denucleate and regulate cell proliferation and differentiation in vivo.
Bottom Line: Of the 7 lysines (K) least is known about effects of modification of K6.Thus the nucleus remains intact and DNAseIIβ neither gains entry to the nucleus nor degrades the DNA.These results could not be obtained using chemical proteasome inhibitors that cannot be directed to specific tissues.
Affiliation: Laboratory for Nutrition and Vision Research, US Department of Agriculture Human Nutrition Research Center on Aging, Tufts University, Boston, Massachusetts, United States of America.
ABSTRACT
---
Background: The eye lens presents a unique opportunity to explore roles for specific molecules in cell proliferation, differentiation and development because cells remain in place throughout life and, like red blood cells and keratinocytes, they go through the most extreme differentiation, including removal of nuclei and cessation of protein synthesis. Ubiquitination controls many critical cellular processes, most of which require specific lysines on ubiquitin (Ub). Of the 7 lysines (K) least is known about effects of modification of K6.
Methodology and principal findings: We replaced K6 with tryptophan (W) because K6 is the most readily modified K and W is the most structurally similar residue to biotin. The backbone of K6W-Ub is indistinguishable from that of Wt-Ub. K6W-Ub is effectively conjugated and deconjugated but the conjugates are not degraded via the ubiquitin proteasome pathways (UPP). Expression of K6W-ubiquitin in the lens and lens cells results in accumulation of intracellular aggregates and also slows cell proliferation and the differentiation program, including expression of lens specific proteins, differentiation of epithelial cells into fibers, achieving proper fiber cell morphology, and removal of nuclei. The latter is critical for transparency, but the mechanism by which cell nuclei are removed has remained an age old enigma. This was also solved by expressing K6W-Ub. p27(kip), a UPP substrate accumulates in lenses which express K6W-Ub. This precludes phosphorylation of nuclear lamin by the mitotic kinase, a prerequisite for disassembly of the nuclear membrane. Thus the nucleus remains intact and DNAseIIβ neither gains entry to the nucleus nor degrades the DNA. These results could not be obtained using chemical proteasome inhibitors that cannot be directed to specific tissues.
Conclusions and significance: K6W-Ub provides a novel, genetic means to study functions of the UPP because it can be targeted to specific cells and tissues. A fully functional UPP is required to execute most stages of lens differentiation, specifically removal of cell nuclei. In the absence of a functional UPP, small aggregate prone, cataractous lenses are formed.
Show MeSH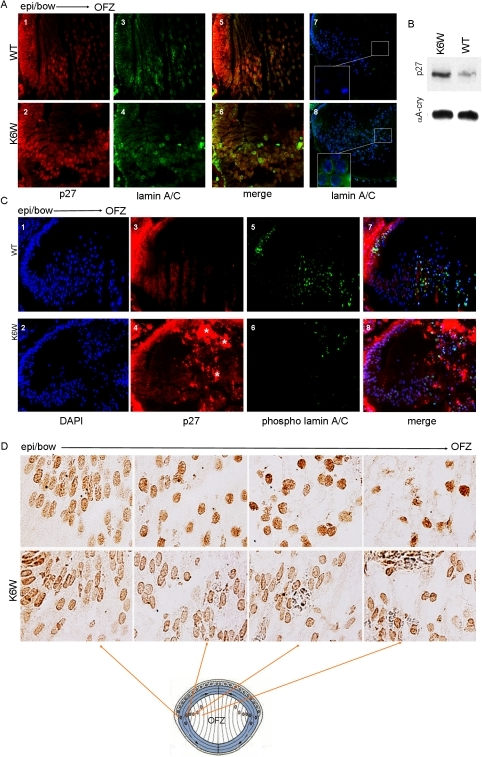 © Copyright Policy
getmorefigures.php?uid=PMC2958118&req=5
Mentions: Also required to facilitate transparency is proper intracellular protein organization and intercellular interdigitation. Epithelial cells line the anterior surface of the normal lens. Vacuoles which interrupt the close packing of the protein-dense epithelial or fiber cells result in discontinuities in the index of refraction, resulting in opacification. In the Wt-Ub lens the single layer of cuboidal epithelial cells which is normally found at the anterior equator withdraw from cell cycle. Here, these cells begin to differentiate. This is coupled with the massive expression of crystallin proteins, transforming the cuboidal equatorial cells to elongated fibers at the bow, (Figure 2G, Figure 3C). The continuous addition of new fiber cells at the lens periphery leads to a gradual inward movement and compression of older cells toward the center of the lens where intracellular organelles are lost forming an organelle-free zone (OFZ, Figure 4A, C, Supplementary Figure S3A). This highly regulated process persists throughout lifetime. In the outer elongating fibers, nuclei become oval-shaped (Fig 3B, inserts). Eventually the nuclei are degraded as fibers move toward the interior of the lens which forms the visual axis (Figure 4A, 4C, 4D and Supplementary Figure S4A). Another early indicator of the differentiation process is the realignment of the fibers. Whereas at the equator the elongating fibers in the bow have a concave curvature (Figure 3C), they develop convex curvature as they elongate further and meet up with equivalent fibers from the opposing side of the lens and form sutures at the anterior and posterior tips (Figure 2G, 3C). These processes do not proceed as scheduled in the K6W-Ub-expressing lens. Instead, the epithelium is composed of multiple disorganized layers and appears thicker (compare Figure 3B vs. 3A, Supplementary Figure S2B, D vs. A,C). To corroborate the origin of these disorganized cells, connexin 43, an specific epithelial cell marker, was localized. In K6W-Ub expressing lenses the thick layer of disorganized cells is positive for connexin 43 indicating that these cells are epithelial an not degenerating fibers (Supplementary Fig S2A, 2B). Just posterior to these layers of epithelial cells, cellular debris accumulates and vacuoles form (Figure 2H asterisk, 3B asterisk, Supplementary Figure S2F vs. E). The fibers cells neither elongate fully, precluding adapting the convex shape, nor do they interdigitate with the opposing fiber partners. Fibers in the K6W-Ub-expressing lens begin to differentiate more anteriorly resulting in an incompletely formed and anterior bow (Figure 2H vs. G, Figure 3D vs. C). These fibers appear to be less tightly packed than in the lenses of the Wt littermates (Supplementary vs. E). Furthermore, nuclei remain round at the bow (compare Figure 3D vs. 3B, insets). By P2, when fibers in Wt lenses begin to denucleate, nuclei are retained in the core of the lens which express higher levels of K6W-Ub (Supplementary Fig S4A, Figure 4C). Additional indicators of K6W-Ub-induced altered differentiation are retention of ER and mitochondria as well as accumulation of aggregates and debris (Supplementary Figure S3A–D). Retained organelles and debris prohibit the formation of the clear optic fiber that is required for passage of light.