A census of marine biodiversity knowledge, resources, and future challenges.
Affiliation: Leigh Marine Laboratory, University of Auckland, Warkworth, New Zealand. m.costello@auckland.ac.nz
Show MeSH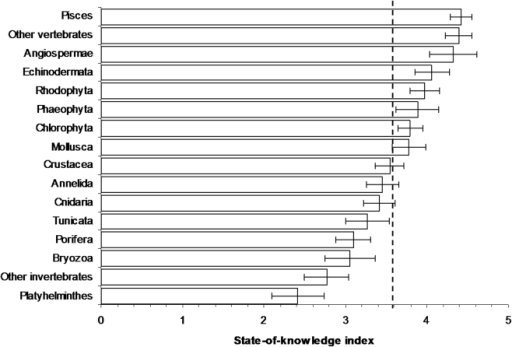 © Copyright Policy
getmorefigures.php?uid=PMC2914025&req=5
Mentions: Across taxa, the state-of-knowledge index had a mean value of 3.9±0.1. Taxa with a score over 4 were Pisces (fish) and other vertebrates, Angiospermae (flowering plants), Rhodophyta (red algae), Phaeophyta (brown algae), and Echinodermata (starfish, urchins); scores of less than 4 were recorded for other invertebrates (Figure 4). Platyhelminthes (flat worms), Bryozoa (sea mats), Porifera (sponges), Tunicata (sea squirts), and Cnidaria (corals, hydroids, jellyfish) ranked under the mean (Figure 4). Several regions specifically reported that less well studied taxa were: several eukaryotes and many forms of prokaryotes in the New Zealand EEZ; cryptic groups in Australia; bacteria, cyanophyceae, diatoms (Chrysophyta) and meiobenthos in the Caribbean; microorganisms, meiobenthos and parasites in the Baltic Sea; small body size taxa in South Africa, the Mediterranean, Canada, and United States; while nematodes, foraminiferans, and some macrofauna and megafauna remained largely unknown in the deep Mediterranean Sea [28]. In the Southern Ocean database, there were more distribution records for molluscs and echinoderms than for other invertebrates [16]. Even in areas that were highly ranked for mean knowledge by taxa, scientists were still discussing the total number of fish or other vertebrate groups, such as in the Mediterranean Sea [8].