Intravitreal Ampicillin Sodium for Antibiotic-Resistant Endophthalmitis: Streptococcus uberis First Human Intraocular Infection Report.
Bottom Line: Results.Conclusion.While treatment with intravitreal ampicillin is feasible, there are still concerns about its possible toxicity.
Affiliation: Retina Department, Associacition to prevent blindness in México IAP, México City, Mexico.
ABSTRACT
---
Purpose. To describe the clinical characteristics, diagnosis, and treatment with intravitreal ampicillin sodium of a postoperative endophthalmitis case due to Streptococcus uberis; an environmental pathogen commonly seen in mastitis cases of lactating cows. Methods. Case Report. A 52-year-old, Hispanic diabetic patient who suddenly developed severe pain and severe loss of vision, following vitrectomy. Results. The patient was diagnosed with postoperative endophthalmitis secondary to a highly resistant strain of Streptococcus uberis that did not respond to intravitreal antibiotics. He was treated with an air-fluid interchange, anterior chamber washout, intravitreal ampicillin sodium (5 mg/0.1 mL), and silicon oil tamponade (5000 ck). The eye was anatomically stabilized, though there was no functional recovery. Conclusion. Streptococcus uberis is an uncommon pathogen to the human eye, which has unique features that help the strain in developing resistance to antibiotics. While treatment with intravitreal ampicillin is feasible, there are still concerns about its possible toxicity.

No MeSH data available.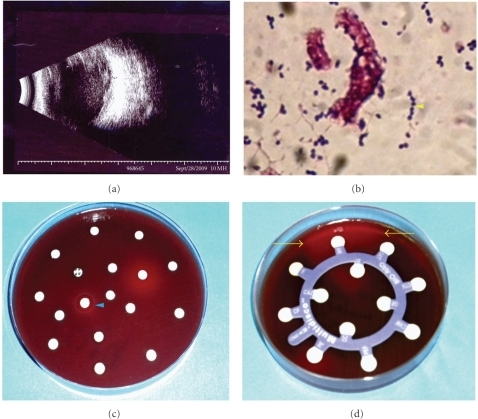 © Copyright Policy - open-access
getmorefigures.php?uid=PMC2913728&req=5
Mentions: Twenty-four hours after surgery, the patient complained of severe ocular pain, along with significant reduction of visual acuity (Hand Movements) and tearing. On ocular examination, we found severe conjunctival hyperemia, ciliary injection, clear cornea, hypopyon in the anterior chamber (1.2 mm), and intraocular pressure of 30 mmHg. The posterior pole was not visible. The ultrasound examination revealed images of increased echogenicity which correspond to cellularity in vitreous cavity, pseudomembranes formation, and choroidal thickening (Figure 1(a)). The diagnosis of postoperative endophthalmitis was evident, and we proceeded to immediately obtain aqueous and vitreous cavity samples for staining, cultures, and sensitivity tests. Intravitreal Ceftazidime (2.25 mg/0.1 mL), Vancomycin (1 mg/0.1 mL), and Dexamethasone (0.4 mg/0.1 mL) were injected. The patient was admitted to the hospital, and treatment was started with topical moxifloxacin every hour (Vigamox, Alcon Lab, Dallas Fort worth, TX) and oral moxifloxacin (400 mg). The following day, the visual acuity decreased to no light perception and severe pain and hypopyon continued. At the same day, the microbiology department reported the presence of gram-positive cocci in the vitreous cavity sample (which was classified as Streptococcus uberis two days later (Figure 1(b)). The sensitivity test documented resistance to cephalothin, cefotaxime, ceftazidime, cefuroxime, dicloxacillin, vancomycin, azithromycin, clarithromycin, erythromycin, amikacin, gentamicin, netilmicin, tobramycin, clindamycin polymyxin, ciprofloxacin, gatifloxacin, moxifloxacin, ofloxacin, perfloxacin, and tetracycline (Figures 1(c) and 1(d)). The only known sensitivity was to ampicillin sodium.