Optimism, persistence, and our collective crystal ball.
Affiliation: ASTMH Headquarters, 111 Deer Lake Road, Suite 100, The Sherwood Group, Deerfield, IL 60015, USA. thomas.wellems@verizon.net
Thank you indeed to Christopher Plowe for the very generous introduction—I think it was perhaps too generous... We have also seen excellent progress in areas of membership, policy and advocacy, media communications, and awards program funding... Time does not allow me to thank by name everyone who made this progress possible... My thesis work in those years was on the fibers and crystals of deoxygenated hemoglobin that can form in erythrocytes when there is a mutation from valine to glutamate in the sixth position of the hemoglobin beta chain, namely, the sickle-cell mutation., Those experiences were among the stimuli that eventually brought me to malaria research, a personal path that I will not go into tonight... Instead, I would like to use this address to touch upon some of the profound influences of the scientist who more than any other established the field of my PhD research... Max Perutz decided to pursue the structure of hemoglobin in 1937, at a time when genes were generally thought to be proteins, and when proteins acting as enzymes had only recently been recognized to catalyze chemical reactions in living systems... It was a marvel, I thought, to read Perutz's assessment of the hemoglobin structure problem as a possibly forlorn undertaking... He had no clear route yet to the protein structure—in fact, his model at that time would prove wrong—but he concluded in his paper that there remained "a variety of different ways of approach to the problem of protein structure... Eventually, Perutz wrote a book in 1992 entitled Protein Structure: New Approaches to Disease and Therapy, and he dedicated it to Himsworth, writing that "[Himsworth's] foresight and courage led him to support my colleagues and my early work on protein structures when there was only the faintest hope of it ever benefitting medicine. " By 1970, a year after the Apollo 11 moon landing, Perutz's determination was not only vindicated by his solution of the structure of hemoglobin (Figure 1)—he had also developed an essential description of the cooperative operations by which it functions as a breathing molecule... Pasteur once famously remarked "Il n'existe pas de sciences appliquées, mais seulement des applications de la science. [There are no such things as applied sciences, only applications of science]," also, that science and its applications are "liées entre elles comme le fruit à l'arbre qui l'a porté [linked together as fruit is to the tree that has borne it]. " With these words in mind, consider Niels Bohr... The son of Danish physiologist Christian Bohr, for whom the Bohr hemoglobin effect studied by Max Perutz is named, Niels Bohr also looked for ways to bring physics into biology and medicine... In a 1932 address entitled "Light and Life," Bohr reflected on the principles of complementarity in physics and asked whether analogous principles might be needed to understand living organisms., Max Delbrück, an associate of Bohr's in theoretical physics, was so taken with the address that he decided to change the course of his career from physics to biology., Delbrück turned to biology with the view that a detailed examination of living systems might uncover paradoxical phenomena similar to those that had confronted physicists in quantum physics... He did not succeed to find such phenomena, eventually coming to the view that all dynamic systems of biology are reducible and follow the laws of physics and chemistry... The advances we are witnessing in biology and medicine are just some of the benefits of the physical and social sciences to the human condition, as they join with advances across areas of nutrition, water and sanitation, telecommunications, agriculture, energy production, and transportation, with remarkable potential to improve health and well-being... In many countries of the world, the effects of these benefits are evident in two measures of health and well-being: life expectancy at birth and income per person.
Show MeSH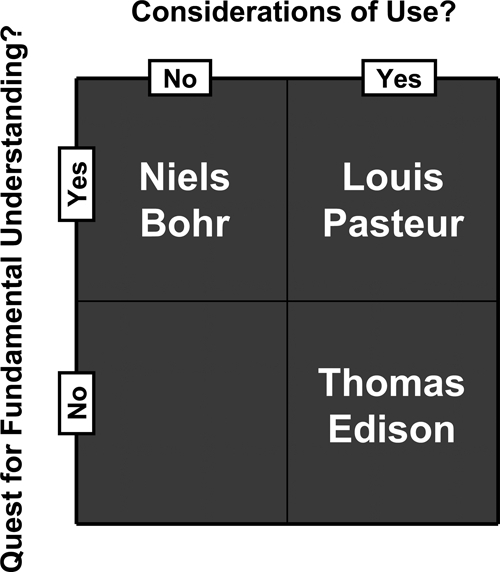 © Copyright Policy - open-access
License
getmorefigures.php?uid=PMC2912564&req=5
Mentions: In Stokes' diagram (Figure 2), the lower right quadrant includes the work of the inventor Thomas Edison, who was famous for his quests for applications alone, without interest to develop fundamental scientific theories. The physics of Niels Bohr is placed in the upper left quadrant because of his passion for fundamental understanding on the basic level. And, in the upper right quadrant, are bodies of scientific work motivated both by curiosity about fundamental principles of nature and by the search for useful applications. Stokes named this quadrant after Louis Pasteur, who strove to understand the processes of disease at the most fundamental level, while at the same time he worked to develop ways to deal with major problems including anthrax, milk and wine spoilage, chicken cholera, rabies, and silk worm infections.