Degradation of Cry1Ab protein from genetically modified maize (MON810) in relation to total dietary feed proteins in dairy cow digestion.
Bottom Line: A decrease to 44% in Cry1Ab protein concentration from T pTMR to the voided feces (9.40 versus 4.18 mug/g of total proteins) was recorded.Immunoblot analysis revealed the extensive degradation of recombinant Cry1Ab protein into a smaller fragment of around 34 kDa in GIT.The results of the present study indicate that the recombinant Cry1Ab protein from MON810 is increasingly degraded into a small fragment during dairy cow digestion.
Affiliation: Physiology Weihenstephan, Technische Universitaet Muenchen, Weihenstephaner Berg 3, 85350, Freising, Germany.
ABSTRACT
---
To investigate the relative degradation and fragmentation pattern of the recombinant Cry1Ab protein from genetically modified (GM) maize MON810 throughout the gastrointestinal tract (GIT) of dairy cows, a 25 months GM maize feeding study was conducted on 36 lactating Bavarian Fleckvieh cows allocated into two groups (18 cows per group) fed diets containing either GM maize MON810 or nearly isogenic non-GM maize as the respective diet components. All cows were fed a partial total mixed ration (pTMR). During the feeding trial, 8 feed (4 transgenic (T) and 4 non-transgenic (NT) pTMR) and 42 feces (26 T and 18 NT) samples from the subset of cows fed T and NT diets, and at the end of the feeding trial, digesta contents of rumen, abomasum, small intestine, large intestine and cecum were collected after the slaughter of six cows of each feeding group. Samples were analyzed for Cry1Ab protein and total protein using Cry1Ab specific ELISA and bicinchoninic acid assay, respectively. Immunoblot analyses were performed to evaluate the integrity of Cry1Ab protein in feed, digesta and feces samples. A decrease to 44% in Cry1Ab protein concentration from T pTMR to the voided feces (9.40 versus 4.18 mug/g of total proteins) was recorded. Concentrations of Cry1Ab protein in GIT digesta of cows fed T diets varied between the lowest 0.38 mug/g of total proteins in abomasum to the highest 3.84 mug/g of total proteins in rumen. Immunoblot analysis revealed the extensive degradation of recombinant Cry1Ab protein into a smaller fragment of around 34 kDa in GIT. The results of the present study indicate that the recombinant Cry1Ab protein from MON810 is increasingly degraded into a small fragment during dairy cow digestion. Show MeSH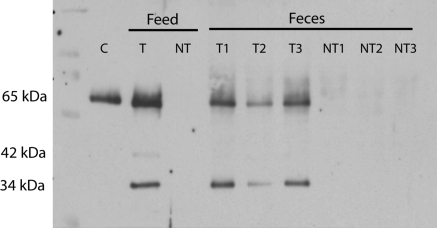 © Copyright Policy
getmorefigures.php?uid=PMC2902738&req=5
Mentions: The results of the Cry1Ab protein quantification using a validated sandwich ELISA (according to the guidelines cited in European Commission Decision 2002/657/EC) in feed (transgenic and non-transgenic pTMR) and feces samples of cows fed transgenic and non-transgenic diets showed a 44% decrease (P < 0.01) in Cry1Ab protein concentration from transgenic pTMR to feces. The mean levels of Cry1Ab protein in transgenic feed (pTMR) and feces were 9.40 and 4.18 μg Cry1Ab protein/g total protein, respectively (Fig. 1a). The corresponding absolute concentrations of Cry1Ab protein were recorded 245.5 and 57.1 ng/g wet samples in transgenic feed and feces, respectively (Fig. 1b).Whereas, the corresponding total protein contents in the feces (13.13 mg/g wet weight) of cows fed transgenic pTMR were 50% of the initial levels of the total dietary feed proteins (26.29 mg/g fresh weight). Digesta contents of rumen, abomasum, small intestine, large intestine and cecum of cows fed transgenic diets contained 3.84, 0.38, 0.83, 2.89 and 3.18 μg of Cry1Ab protein/g total protein, respectively (Fig. 2a). The absolute concentrations of Cry1Ab protein in rumen, abomasum, small intestine, large intestine and cecum content were 11.17, 2.66, 9.42 32.82, and 35.55 ng/g digesta, respectively (Fig. 2b). However, the corresponding samples of non-transgenic feed, digesta and feces were found below the assay decision limit (CCα) value of 1.21 ng Cry1Ab protein/g wet weight of the sample. The probable reason for the higher concentration of Cry1Ab protein in rumen content could be the existence of relatively large particles of undigested feed and degradation of dietary proteins by rumen microbes. The lowest relative concentration of Cry1Ab protein in abomasum could be due to the release of microbial proteins into the abomasum. Further gradual increase in the relative Cry1Ab protein concentration in digesta of subsequent segments of the GIT (from abomasum to cecum) could be the due to absorption of end products of protein digestion in the small intestine (amino acids and small peptides) and the removal of water from digesta in large intestine and cecum. The previous reports of feeding ruminants with other GM maize events; Bt11 (Chowdhury et al. 2003) and Bt176 (Einspanier et al. 2004; Lutz et al. 2005) have shown a similar degradation pattern of recombinant Cry1Ab protein in the bovine GIT. The concentrations of Cry1Ab protein measured in transgenic feed, digesta and feces in the present investigation differ to those reported in these earlier studies, however, a similar trend of 0.25, 0.75, 0.32, 0.11, 0.63, 0.22 and 0.08 ng immunoreactive Cry1Ab protein/g total protein was reported by Einspanier et al. 2004 in Bt176 maize, rumen retant, rumen eluat, abomasum juice, jejunum juice, colon juice and feces of Bt176 fed cattle. Another study (Lutz et al. 2005) also reported the similar trend of 5.1, 1.4, 3.8 and 4.4 ng Cry1Ab protein/g wet sample in digesta content of rumen, jejunum, colon and feces of Bt176 fed lactating cows. Whereas, a Bt11 maize feeding study (Chowdhury et al. 2003) on calves suggested that only a trace amount of Cry1Ab protein survived the passage through the GIT. The reason for these differences in concentrations could be the different expression levels of recombinant protein in GM maize events (Bt11, Bt176 and MON810) as well as the different physiological and metabolic status of the experimental animals. The total protein concentrations showed a rising trend during the passage of the ingesta from rumen to cecum in the bovine GIT (Fig. 3). However, no effect of two different diets (transgenic and non-transgenic) was observed on the total protein concentrations throughout the GIT. The results of immunoblot analysis for recording the fragmentation pattern of Cry1Ab protein from MON810 in transgenic feed, GIT digesta and feces revealed the degradation of full-sized (65 kDa) recombinant protein into smaller immunoactive fragments of approximately 42, 34 and 17 kDa (Figs. 4, 5, 6). Fragments of 42 kDa were present only in the transgenic feed (kernel, cobs and pTMR). The most prominent immunoactive fragment observed in all transgenic feed, digesta and feces was 34 kDa. Weak signals of a 17 kDa fragment were recorded in transgenic feed (kernel and cobs) and digesta (cecum). The probable reasons for the degradation of recombinant Cry1Ab protein are feed processing and storage, and microbial and enzymatic proteolysis in ruminant digestive tract. The previous reports (Lutz et al. 2005, 2006; Wiedemann et al. 2006) of recombinant protein degradation from other GM maize (Bt176) in bovine GIT correspond with our present findings. The presence of a single 34 kDa fragment in feces could be attributed to the time-dependent degradation of Cry1Ab protein in rumen as suggested by the in situ degradation study on Cry1Ab protein in bovine rumen (Wiedemann et al. 2006). In the present study we could not detect any band of Cry1Ab protein and its fragments in transgenic silage, abomasal and small intestine digesta due to the low concentration (below the detection limit of 100 pg Cry1Ab protein for immunoblots) of recombinant protein in these samples.Fig. 1