Genome-wide end-sequenced BAC resources for the NOD/MrkTac() and NOD/ShiLtJ() mouse genomes.
Bottom Line: By the same metric, the CHORI-29 library has an average depth over the autosomes of 5.0-fold and 2.8-fold coverage of the X chromosome, the reduced X chromosome coverage being due to the use of a male donor for this library.In total we generated 229,736,133 bp of sequence for the DIL NOD and 121,963,211 bp for the CHORI-29.These BAC libraries represent a powerful resource for functional studies, such as gene targeting in NOD embryonic stem (ES) cell lines, and for sequencing and mapping experiments.
Affiliation: The Wellcome Trust Sanger Institute, Hinxton, UK. cas@sanger.ac.uk
Show MeSH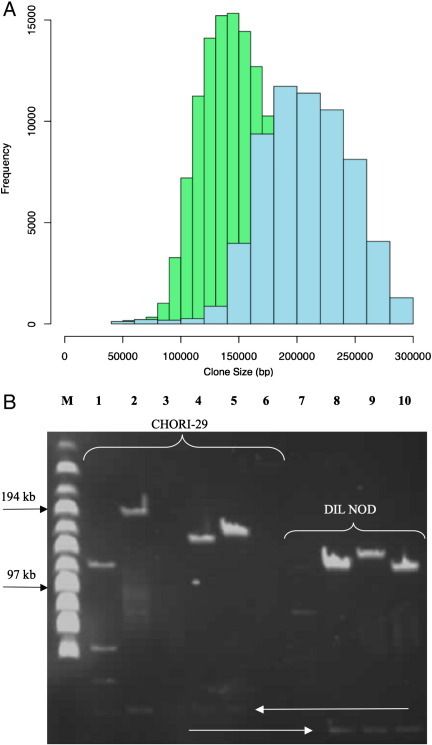 © Copyright Policy
License
getmorefigures.php?uid=PMC2824108&req=5
Mentions: All clones from the DIL NOD and CHORI-29 BAC libraries were end-sequenced and the sequence read data have been submitted to EMBL. These data are also available from the Ensembl trace repository (http://trace.ensembl.org/) and the NCBI Trace Archive (http://www.ncbi.nlm.nih.gov/Traces/trace.cgi). 332,535 DIL NOD BAC clone end-sequences successfully passed post-sequencing quality processing from a total of 196,032 BACs, generating 229,736,133 bp of sequence. Of these passed reads, 318,065 (95.6%) were aligned to the C57BL/6J reference genome (NCBIm37), 170,029 (53.5%) of which were aligned to a single definitive location (Table 1A). Similarly for the CHORI-29 library, 170,159 BAC clone end-sequences passed post-sequencing quality processing from 110,976 BACs, generating 121,963,211 bp of sequence. Of these passed reads, 159,574 (93.8%) were aligned successfully to the reference C57BL/6J genome with 80,710 (50.6%) reads aligned to a single definitive location on NCBIm37 (Table 1B). The majority of the reads that did not map contained repetitive sequences or were of low quality. Both sets of data can be downloaded from the Sanger FTP site (ftp://ftp.sanger.ac.uk/pub/NODmouse/NOD_BACend_alignments). Mapping was performed using SSAHA2 with default parameters [14]. Using read-pair information we could place 41,468 DIL NOD clones and 18,257 CHORI-29 clones unambiguously on the genome since both read-pairs matched uniquely. However, it was also possible to establish the position of certain clones for which only one end mapped uniquely where the other end of the clone mapped to the genome within 3 standard deviations of the mean insert length of clones from the library and on the opposite sequence strand. This allowed us to place a further 83,796 DIL NOD clones and 43,905 CHORI-29 clones on the genome, resulting in a total of 125,266 uniquely placed DIL NOD clones and 62,162 uniquely placed CHORI-29 clones. The different success rates in the unique positioning of the BAC clones from these libraries to the genome was largely due to differences in the quality of end-sequence data produced from both libraries. CHORI-29 clones have larger genomic inserts and as a consequence were harder to prep and sequence compared to clones from the DIL NOD BAC library. Using the mapping data for both libraries it was possible to estimate the average insert size for the DIL NOD library to be 149,809 bp and 205,413 bp for the CHORI-29 library (Fig. 1A), which correlated with the experimentally derived figures (Fig. 1B).