In vitro fertilization and embryo culture strongly impact the placental transcriptome in the mouse model.
Bottom Line: Imprinted genes were modified similarly to the X.Promoter composition analysis indicates that FOXA transcription factors may be involved in the transcriptional deregulations.Our results highlight the importance of studying human placentas from ART.
Affiliation: Service d'Histologie-Embryologie, Biologie de la Reproduction, Hôpital Cochin, Paris, France. patricia.fauque@cch.aphp.fr
ABSTRACT
---
Background: Assisted Reproductive Technologies (ART) are increasingly used in humans; however, their impact is now questioned. At blastocyst stage, the trophectoderm is directly in contact with an artificial medium environment, which can impact placental development. This study was designed to carry out an in-depth analysis of the placental transcriptome after ART in mice.
Methodology/principal findings: Blastocysts were transferred either (1) after in vivo fertilization and development (control group) or (2) after in vitro fertilization and embryo culture. Placentas were then analyzed at E10.5. Six percent of transcripts were altered at the two-fold threshold in placentas of manipulated embryos, 2/3 of transcripts being down-regulated. Strikingly, the X-chromosome harbors 11% of altered genes, 2/3 being induced. Imprinted genes were modified similarly to the X. Promoter composition analysis indicates that FOXA transcription factors may be involved in the transcriptional deregulations.
Conclusions: For the first time, our study shows that in vitro fertilization associated with embryo culture strongly modify the placental expression profile, long after embryo manipulations, meaning that the stress of artificial environment is memorized after implantation. Expression of X and imprinted genes is also greatly modulated probably to adapt to adverse conditions. Our results highlight the importance of studying human placentas from ART.
Show MeSH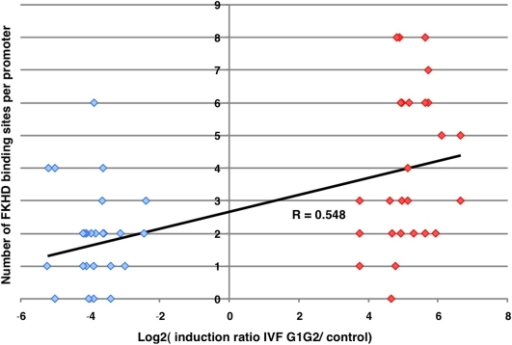 © Copyright Policy
getmorefigures.php?uid=PMC2821408&req=5
Mentions: To gain insight into the molecular bases of the aforementioned transcription alterations induced by IVF followed by embryo culture, we analyzed the promoter composition of 34 genes corresponding to the 17 most induced and the 17 most repressed, using Principal Component Analysis (PCA) (for details, see Materials and Methods section). Promoter regions were identified using the Gene2Promoter routine of the Genomatix software (http://genomatix.de). The number of putative promoters per gene ranged from one to five. In total, 60 promoters were identified (See the Supplemental Table S3). Then, putative TFBS were detected using Genomatix. In addition to the promoter composition, the level of induction/repression was added to the data matrix file as a variable for calculating the correlation matrix prior to PCA, which made it possible to identify axes 1 and 8 as strongly correlated with this parameter, while the other axes were not (Figure 8). The first axis was also correlated with the CpG composition (data not shown), indicating that genes induced by the IVF/embryo culture protocol have a fairly AT-rich content in their promoters, while repressed genes have a more GC-rich content in their promoters. Again, this is in accordance with the transcriptional induction of Dnmt3a, which can target specific promoters de novo, essentially if they are rich in CpG islands [41]. The binding sites of the transcription factors which are correlated with the "Induction Ratio" variable were V$LHXF, V$ATBF, V$HOXF, V$BRNF, V$HOMF on axis 1, and V$RXRF, V$AIRE, V$PLAG, V$FKHD, V$GLIF on axis 8, as referred to in the Genomatix database. The Promoter Content Principal Component Analysis (PCPCA) was thus able to diagnose TFBS that clustered on the promoters of induced genes. It was also interesting to identify whether one (or a few) of these TFBS was differentially represented in the two types of promoters. Student's t-test was therefore applied for each TFBS in order to contrast promoter contents between induced and repressed genes, after correction for multiple testing. The most differential binding site was the V$FKHD bound by "forkhead"-containing transcription factors (ForKHeaD), which was strongly over-represented in IVF-induced versus IVF-repressed genes (P = 0.001 after correction, Figure 9). Interestingly, this binding site was the only one to remain significant after correction, far beyond the next one V$HNF1 (p = 0.13). We then reanalyze the array data to check for the transcriptional level (induction/repression) of genes belonging to the FOX family, since the TFBS for FOX was overrepresented. FoxA1, FoxA2 and FoxA3 mRNAs were induced 3.3, 4.4 and 6.2 -fold, respectively. FoxJ2 gene coding another member of the forkhead transcription factors family was also induced by IVF manipulations (2.2-fold). Following these observations, we moved to expression of human placentas near term (controls and from IVF). Unfortunately, the expression level of these genes is so weak near term that comparisons are impracticable. We also explored a few placentas from the first trimester and could observe a much higher expression of FOXA1, A2 and A3 around 12 weeks of gestation (∼10–15 times, data not shown). These results are not incompatible with the idea that FOXA genes could be involved in human placenta modifications of gene expression when ART is used, but mostly at early stages of gestation when human samples are not accessible for testing.