Novel mechanistic insights into viral modulation of immune receptor signaling.
Affiliation: Department of Pathology, University of Massachusetts Medical School, Worcester, MA, USA. Alexander.Sigalov@umassmed.edu
To successfully infect, replicate, and persist in the host, viruses have evolved numerous strategies to take control of multiple cellular processes, including those that target transmembrane (TM) signal transduction mediated by immune receptors... In this Opinion, based on a novel model of immune signaling, the Signaling Chain HOmoOLigomerization (SCHOOL) model, I suggest specific mechanisms used by different viruses such as human immunodeficiency virus (HIV), cytomegalovirus (CMV), severe acute respiratory syndrome coronavirus (SARS-CoV), herpesvirus saimiri (HVS), human herpesvirus 6 (HHV-6), etc., to modulate the host immune response mediated by members of the family of multichain immune recognition receptors (MIRRs)... Antigen stimulation of these "predissociated" receptors leads to reorientation and clustering of the recognition but not signaling subunits... As a result, signaling oligomers are not formed, ITAM Tyr residues do not become phosphorylated, and the signaling cascade is not initiated (Figure 1C)... In contrast, this "predissociation" does not prevent the formation of signaling oligomers when signaling subunits are clustered by specific antibodies that trigger cell activation (not illustrated)... In this context, the ability viruses have developed over centuries of evolution, to modulate T cell receptor (TCR) signaling plays a crucial role in viral pathogenesis... However, despite extensive studies, –, the mode of action of this clinically relevant peptide was not explained until 2004 when the SCHOOL model was first introduced... Recently, inhibition of T cell activation has been reported for the fusion peptide (FP) found in the N terminus of the HIV envelope glycoprotein 41 (gp41) ,... The generality of the SCHOOL model suggests that TM interactions of other MIRRs can also represent a point of viral attack... As reported, the recognition of the human CMV tegument protein pp65 by NKp30, the natural killer (NK) cell-activating receptor, does not lead to NK cell activation but instead results in a general inhibition mediated by the dissociation of the NKp30-ζ complex and a loss in the ability of cells to kill virus-infected cells... Importantly, as predicted, the viral agents prevent only antigen- but not antibody-specific, T cell activation (Figure 2D)... Indeed, anti-CD3 antibodies activate HHV-6-infected T cells, resulting in a large increase of viral replication ,... First, using modern methodologies –, it is possible to design and produce TM agents that are able to modulate the immune response as specifically and effectively as viruses do... Finally, two unrelated viruses, HIV and human CMV, use a similar mode of action to modulate the host immune response mediated by two functionally different MIRRs, TCR and NKp30, thus suggesting that similar general mechanisms can be or are used by other viral and possibly non-viral pathogens.
Show MeSH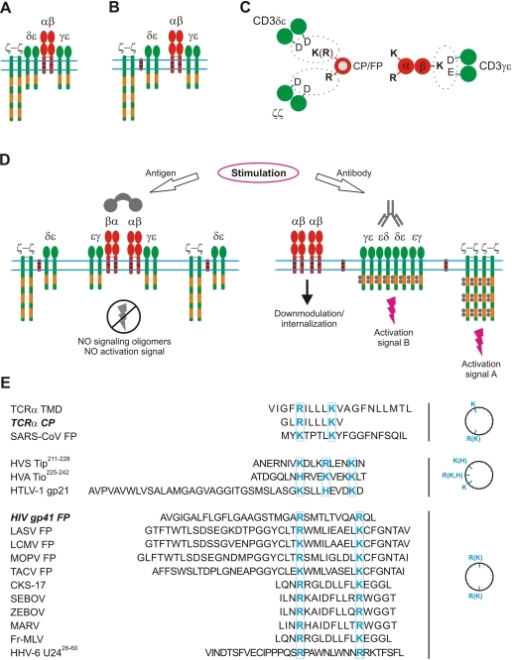 © Copyright Policy
getmorefigures.php?uid=PMC2712764&req=5
Mentions: Predicted and molecularly explained by the SCHOOL model [7], [10]–[13], manipulation of MIRR signaling is performed by numerous unrelated viruses throughout their life cycle. In this context, the ability viruses have developed over centuries of evolution [13],[14] to modulate T cell receptor (TCR) signaling plays a crucial role in viral pathogenesis. For T lymphotropic viruses, the virus may inhibit TCR signaling to disarm the receptor and successfully enter the cell [7],[10],[11],[13],[14]. A similar strategy can be used by the virus to persist in the cell until it reactivates and produces infectious particles. For other viruses, modulation of TCR signaling can be used to inhibit the T cell response to infected cells [7],[11],[13],[14]. Structurally, TCR is a member of the MIRR family and has the α and β antigen-binding subunits that are bound by electrostatic TM interactions with three signaling homo- and heterodimers: ζζ, CD3εδ, and CD3εγ (Figure 2A) [2],[15]. As suggested by the SCHOOL model [7],[10],[11],[13], these interactions are not only promising therapeutic targets, but also represent an important point of viral attack.