Modeling kinetics of subcellular disposition of chemicals.
Affiliation: Department of Pharmaceutical Sciences, College of Pharmacy, North Dakota State University, Fargo, North Dakota 58105, USA. stefan.balaz@ndsu.edu
Show MeSH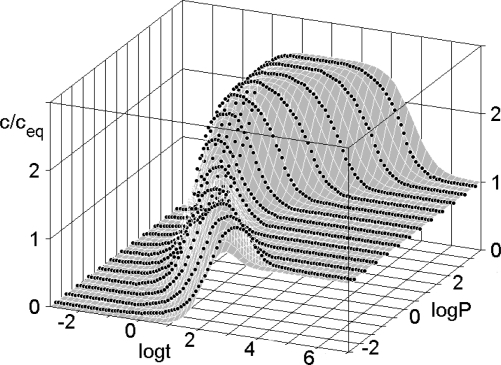 © Copyright Policy - open-access - ccc-price
License
getmorefigures.php?uid=PMC2682929&req=5
Mentions: We examined the complete time course of the chemical transport in closed systems with identical lipid phases.2087–2089 For this purpose, the set of linear differential equations corresponding to the reduced equations described by eqs 47 (section ) was integrated numerically. The transfer rate parameters used are dependent on the partition coefficient as given by eqs 3 with the experimentally determined values(631) of the coefficients At and Bt. The results are illustrated in Figure 15, using the kinetics of the passive chemical transport in a 10-compartment system, composed of five aqueous phases, interspersed with five bilayer cores. Before the start of the simulation, the compounds are present only in the first aqueous compartment. The concentrations are plotted as a function of the reference partition coefficient (P) and the exposure time (t). The kinetics of distribution is dependent on the position and nature of the sampling compartment. In the third compartment, representing the aqueous phase immediately following the first bilayer core, the concentrations of the chemicals initially increase and later decrease to their equilibrium magnitudes, resulting, for a certain time period, in a remarkable accumulation of the chemicals above their equilibrium levels. This phenomenon was observed in the first half of the compartments (i.e., in compartments 2−5 in this case), regardless of their aqueous or lipid nature. The decline of the concentration caused by pure transport, taking the molecules to deeper compartments (no elimination was considered in this case), can be important in biosystems that contain many compartments, such as tissues, organs, and organisms (sections −, respectively). The situation in the second half of the compartments, which are more distant from the site of administration, is completely different, as illustrated by the transport kinetics in the sixth compartment, which is shown in Figure 16. The concentrations asymptotically approach the equilibrium magnitudes, and no accumulation above the equilibrium levels is observed.