Africa's 32 cents solution for HIV/AIDS.
By preventing urogenital schistosomiasis in sexually active females through simple and low-cost methods, we have an innovative and timely opportunity to reduce and possibly interrupt HIV/AIDS transmission throughout many rural areas of sub-Saharan Africa... More than 90% of the world's 207 million cases of schistosomiasis occur in sub-Saharan Africa, making this condition (as well as hookworm infection) one of the most common neglected tropical diseases in the region ,... The pathognomonic lesions associated with S. haematobium infection in the female genitals are mucosal grainy sandy patches linked to egg granulomas, which are usually associated with mucosal bleeding (especially "contact bleeding" during pelvic examination or sexual intercourse) and abnormal blood vessels... The homogenous yellow sandy patches of FGS may mimic the sexually transmitted diseases (STDs) and have been found to be associated with a variety of important clinical manifestations including bleeding disorders, dyspareunia, pelvic and lower abdominal pain, vaginal discharge, pollakisuria, stress incontinence, and infertility ,,,... Regardless of the mechanism, it is important to establish whether anti-schistosomal treatment could represent an innovative HIV/AIDS prevention strategy... Towards this end, praziquantel is both a highly effective and low-cost anti-schistosomal therapy and a prophylactic agent against schistosomal morbidity in adults... Among women with FGS, praziquantel will result in parasitological cure and halt the appearance of new ova in the urine and presumably in the genital tract... However, while there are instances when treatment will also reverse some of the lower genital tract abnormalities associated with FGS, regrettably praziquantel anthelminthic therapy among adult women (with established genital schistosomiasis) does not alleviate genital lesions, contact bleeding, or vessel abnormalities... However, we also feel that the evidence for FGS promoting HIV transmission is sufficiently compelling that it would be unethical to withhold mass treatment for many years while awaiting the results of a prospective study that follows school-age girls as they become sexually active women (and exposed to HIV)... However, dually infected men have been hypothesized to increase the risk of HIV/AIDS transmission to women through higher HIV viral loads in seminal ejaculate –... By comparison, PEPFAR (the US President's Emergency Plan for AIDS Relief) is projected to spend $18.8 billion over the next 5 years (representing the largest international health initiative ever devoted to a single disease), including $1.34 billion annually in support of treatment programs and $601 million annually in support of treatment strategies... Therefore, periodic praziquantel administration would represent a very small add-on cost to the PEPFAR budget, and yet would have the dual benefits of making dramatic improvements in the reproductive health of women living in rural Africa, likely reducing HIV/AIDS transmission... At the minimum, we strongly advocate for the introduction of low-cost praziquantel MDA in the PEPFAR countries of Mozambique, Tanzania, and Zambia by using PEPFAR funds in support of SCI activities through a Global Network for NTDs –... This represents a $0.32 solution that could have enormous benefits for young African women and a huge potential beneficial impact on Africa's AIDS epidemic.
Show MeSH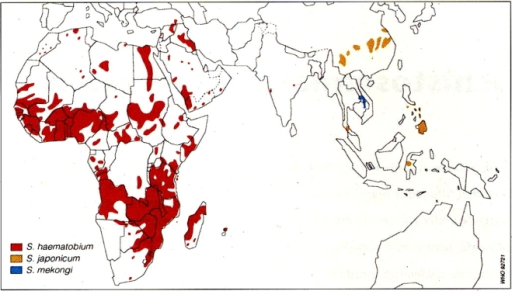 © Copyright Policy
getmorefigures.php?uid=PMC2682705&req=5
Mentions: Approximately two-thirds of the cases of schistosomiasis in sub-Saharan Africa result from urinary tract infections caused by Schistosoma haematobium. Shown in Figure 1 is a map of the geographic distribution of urinary schistosomiasis in Africa, in which the major foci of infection occur in southeastern Africa, i.e., Kenya, Malawi, Mozambique, Tanzania, Zimbabwe, South Africa, and Zambia; in West Africa, i.e., Burkina Faso, Mali, Niger, and Nigeria; and in Angola and Sudan. However, urinary schistosomiasis has been almost eliminated from Egypt [4]. Of the estimated 112 million cases of S. haematobium infection in sub-Saharan Africa, approximately 70 million are associated with hematuria, 18 million with major bladder wall pathology, and 9.6 million with major hydronephrosis leading to severe kidney damage [5]. The results from Egypt suggest that these consequences may be avoidable provided that regular praziquantel treatment reaches school-age children at risk.