Eosinophilic infiltration in Korea: idiopathic?
Eosinophilia is defined as the presence of more than 500 eosinophils/µL in the peripheral blood, and may be accompanied by eosinophil infiltration in tissues... Focal eosinophilic infiltration in the lungs and liver is relatively common and is often associated with a parasitic infection, drug hypersensitivity, allergic diseases, collagen vascular diseases, and internal malignancies such as Hodgkin's disease, as well as cancer of the lung, stomach, pancreas or ovary... The imaging findings of eosinophilic infiltration in the lungs and liver have mainly been reported by Korean investigators... Extensive investigations have been to determine if a parasitic infection is the cause of eosinophilic infiltration including Taenia solium (cysticercosis), Paragonimus westermani, Clonorchis sinensis, Sparganum mansoni, Anisakis simplex, Fasciola hepatica, Schistosoma, and Toxoplasma gondi... However none of their patients gave positive results... The terminologies are variable and confusing, and include "focal eosinophilic infiltration", "focal eosinophilic necrosis", "focal eosinophilic abscess", "eosinophilic granuloma", and "foci of eosinophil-related necrosis", etc... However, these terms do not refer to a disease entity but to the histopathologic findings of some diseases with an unknown etiology... From there, they migrate to the lungs, and other parts of the body... Toxocariasis is usually asymptomatic and self-limiting in a light infection and does not require treatment... In severe infections due to the heavy worm burden, anthelmintic treatment is effective... In summary, many patients suffering from peripheral eosinophilia with eosinophilic infiltration in the lungs and liver have toxocariasis caused by the ingestion of uncooked liver, mainly cow liver... The clinical triad of toxocariasis is unexplained eosinophilia, liver or lung nodules on the imaging studies, and a history of eating animal liver... Based on the clinical diagnosis, physicians may try a conservative approach, thereby reducing the necessity of expensive diagnostic tests such as MR or PET imaging, which are used for differentiation from a metastatic tumor, thus obviating unnecessary diagnostic procedures such as biopsy or surgery, and aggressive treatment.
Show MeSH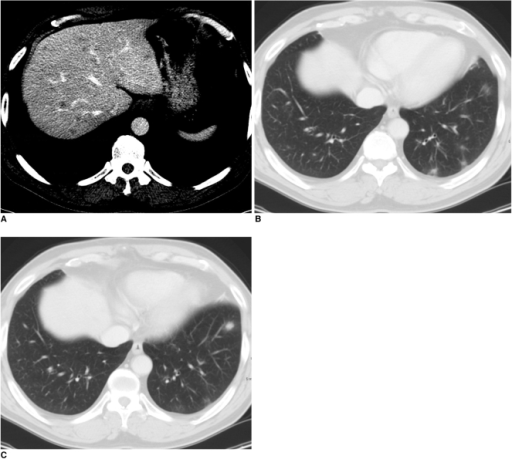 © Copyright Policy - open-access
License
getmorefigures.php?uid=PMC2667576&req=5
Mentions: Chang et al., in a study of eosinophilic infiltrative disease of the liver and lung, reported that a Toxocara canis larval infection is the cause of the hepatic or pulmonary eosinophilic infiltration in dog ascaris (15). Of 103 patients with peripheral eosinophilia, 70 were diagnosed with a Toxocara canis infection based on an enzyme linked immunoabsorbent assay (ELISA). Of these 70 patients, 54 (77%) showed evidence of a hepatic abnormality on sonography or CT, and 42 (60%, 42/70) had a history of ingesting uncooked cow liver, which is known to be a reservoir of the encapsulated larva of Toxocara canis. The CT and sonographic findings were the same as previous reported by Korean investigators (1-8), appearing as multiple, small, oval or round, ill-defined nodules on the sonography, CT and MR images (Fig. 1).