Identification of molecular markers of bipolar cells in the murine retina.
Bottom Line: Additionally, the expression of bipolar cell genes was analyzed in Bhlhb4 knockout retinas, in which rod bipolar cells degenerate postnatally, to delineate further the identity of bipolar cells in which novel markers are found.From the analysis of Bhlhb4 mutant retinas, cone bipolar cell gene expression appears to be relatively unaffected by the degeneration of rod bipolar cells.Identification of molecular markers for the various subtypes of bipolar cells will lead to greater insights into the development and function of these diverse interneurons.
Affiliation: Department of Genetics, Harvard Medical School, Boston, Massachusetts 02115, USA.
Show MeSH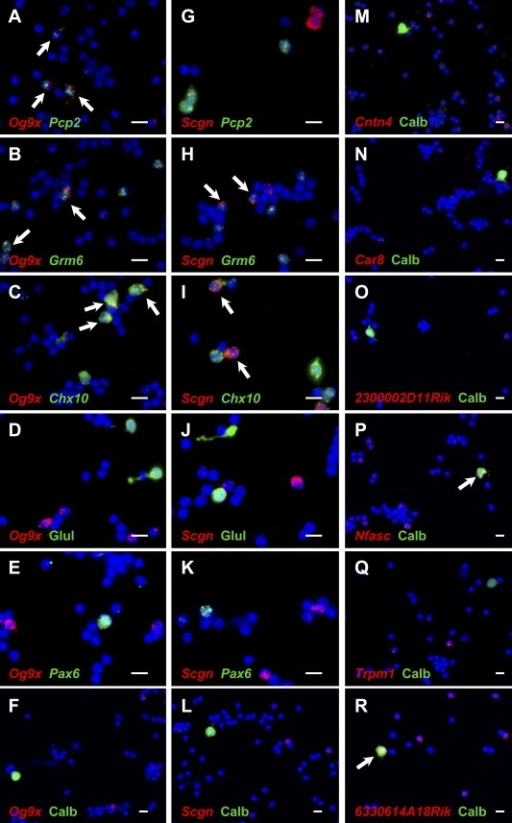 © Copyright Policy
getmorefigures.php?uid=PMC2665264&req=5
Mentions: To evaluate which types of bipolar cells express the newly identified genes, double-label expression studies were carried out by using fluorescent riboprobes hybridized to dissociated cells from P14 retinas. Probes for novel bipolar cell-enriched markers were labeled with a red fluorophore, and co-expression with a rod bipolar cell-enriched gene, Pcp2 (Berrebi et al., 1991), an ON bipolar cell-specific gene, Grm6 (Nakajima et al., 1993; Vardi and Morigiwa, 1997), or a pan-bipolar cell gene, Chx10 (Liu et al., 1994; Burmeister et al., 1996), each labeled by a green fluorescent probe, was assessed. Examples of double labeling are shown in Figure 3, and quantitation of the results by using computer-based image analysis is shown in Table 3. Bipolar cells are a relatively rare class of neurons in the mouse retina (∼10%) compared with rod photoreceptor cells (>70%; Young, 1985), and so the majority of dissociated cells were unlabeled by the known bipolar cell markers. Nonetheless, Og9x-positive cells were mostly also positive for Pcp2, Grm6, and Chx10, suggesting that Og9x is a rod bipolar cell-specific gene (Fig. 3A–C). The percentages of Og9x-positive cells that were also positive for Pcp2, Grm6, and Chx10 were 69.8%, 83.7%, and 98.8%, respectively (Table 3; Og9x row; columns i, j, k). Rod bipolar cells are only a fraction of ON bipolar cells and bipolar cells in general (Euler and Wässle, 1995; Ueda et al., 1997), and consistent with the suggestion that Og9x is a rod bipolar cell-specific gene, only a fraction of Grm6-positive cells and Chx10-positive cells were also Og9x positive (Table 3; Og9x row; columns g, h).Fig. 3