Atypical perianal herpes simplex infection in HIV-positive patients.
Anal lesions affect up to 34% of patients with Acquired Immunodeficiency Syndrome (AIDS), and are more frequent in males who have sex with males (MSM)... HPV infection frequently manifests as verrucous lesions (warts) that cause pruritus, discomfort, and, more rarely, pain or bleeding., However, some other infectious agents such as varicella-zoster virus (VZV), cytomegalovirus (CMV), molluscum contagiosum (MC), and particularly herpes simplex virus (HSV), can also cause verrucous skin lesions in HIV-positive patients... Herpes simplex virus is found in 29% of MSM with symptomatic anorectal disease, although the majority of confirmed herpes simplex cases are reported in asymptomatic individuals., The most frequently encountered findings are ulcerated aphthous lesions, vesicles and inguinal lymphadenopathy., Additional signs and symptoms include pain, pruritus, lymphadenopathy, superficial ulcers, vesicular erosion,,, urinary retention, and constipation., A very small number of cases of verrucous herpes of the perineum have been reported in the English medical literature and treatment options varied, including the use of acyclovir,, valacyclovir and surgical resection... Although this issue was not always addressed in previous reports, two of the patients were MSM., HSV, as well as VZV, CMV, MC and HPV infections, can manifest as hyperkeratosis and verrucous lesions in HIV-positive patients... However, due to the small number of cases, an association between HSV type and verrucous lesions cannot be assumed... Regarding the treatment modalities and outcomes, it is difficult to compare the results from previous reports to our case... Among these seven surgically treated patients, three of them presented with disease recurrence (cases 4, 6 and 7) despite the administration of oral and topical acyclovir to two of them (cases 6 and 7)... The use of prophylactic acyclovir after surgical treatment effectively prevented disease recurrence in our patient during the nine-month follow-up period... According to the literature, patients with HSV infections resistant to acyclovir, which usually occurs after irregular use of the drug, could be treated with foscarnet and beta-interferon... Because valacyclovir is more bioavailable than acyclovir, it was more effective in the resolution of cutaneous HSV infections., Despite the relatively short follow-up period in these reports, they suggest that prophylactic use of oral acyclovir or valacyclovir may prevent recurrence... Atypical presentation of herpes simplex infection should be considered as a differential diagnosis of perianal neoplasia in HIV-positive patients, because the nature of this presentation may be related to an immunocompromised status... Surgical resection followed by acyclovir prophylactic treatment appears to be an effective therapy.
Show MeSH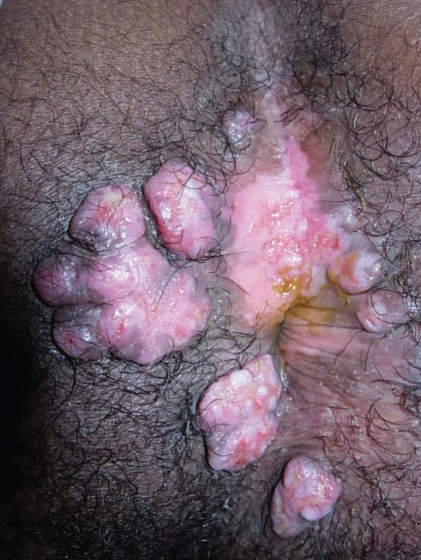 © Copyright Policy
getmorefigures.php?uid=PMC2664196&req=5
Mentions: The proctologic exam revealed painful 2–3 cm verrucous perianal nodules (Figure 1). Endoscopy of the rectum and sigmoid was normal. Bilateral inguinal lymphadenopathy was detected during the physical exam. An anal pap smear revealed high-grade anal dysplasia, while a conventional pathologic exam of perianal lesions revealed no dysplasia but demonstrated cytoarchitectural alterations compatible with HSV infection. Immunohistochemical tests b114® for HSV type 1 and b116® for HSV type 2 from Dako Denmark A/S (Glostrup - Denmark) revealed the presence of HSV type 2. Fungal and acid-alcohol resistant bacilli screening were negative.