Intra-oral Spitz naevus: a case report.
The Spitz nevus, also known as benign juvenile melanoma or a nevus of epitheloid and spindle cells, was first described by Sophie Spitz in 1948 and is most common in children and adolescents... The great majority of lesions are solitary, nodular, and are present in children and adolescents (57%–70%), with a slight preference for the female gender... The regions where they are most frequently found are the lower extremities, the head and neck, and the trunk... Histopathologically, a Spitz nevus is very similar to a melanoma due to the large size of the spindle or polygonal cells, frequently containing considerable cellular and nuclear pleomorphisms, the presence of inflammatory infiltrate, and, on the base of the lesion, a diminished cell size and spread among the collagen fibers of the conjunctive tissue... The difference between the Spitz nevus and a malignant melanoma can be hard to detect, but its structural pattern, which resembles a normal nevus, and its cytological traits, such as the large spindle and epithelioid cells, can be useful in making this distinction... Those lesions that are particularly hard to distinguish from malignant melanoma are called atypical or malignant Spitz nevi and Spitzoid cells. ,, Immunohistochemical studies can help, but they are still not definitive., A Spitz Nevus expresses the S100 protein, but HMB-45 tends to be distributed more within the junctional and superficial components of the skin... Patient D... S., a 32-year-old female, with pheoderma, who was a non-smoker and non-drinker, came to the Service of Oral Diagnostics at the Federal University of Rio Grande do Norte - Brazil, complaining about a lesion on the superior lip, which she had for 5 years... The lesion was exophytic with no bleeding, soreness or local traumatic factor, and its largest diameter was 0.5 cm... The intra-oral exam did not detect cervical lymphadenopathy... Since it can be difficult to distinguish between a Spitz nevus and malignant melanoma, the complete removal of a solitary Spitz nevus is recommended... Research done by the American Academy of Dermatology found that 80% recommend removal of the lesion with 1 to 2 mm borders... However, these studies focus mainly on clinical and histological characteristics rather than the immunohistochemical patterns... Under the gradation system suggested by Spatz, despite its applicability only to children and adolescents, the patient presented here had a low risk lesion... Since the Spitz nevus presents a different diagnosis from that of the extremely important malignant melanoma, it is recommended that pigmented lesions be completely and safely removed with adequate patient follow up after all due procedures, since there are reports in the literature about the malignant potential of this entity.
Show MeSH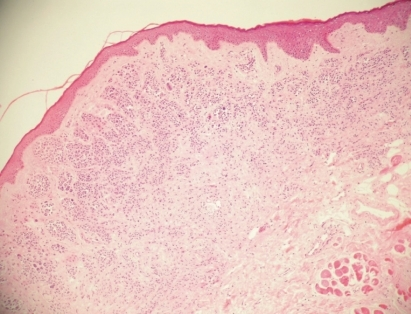 © Copyright Policy
getmorefigures.php?uid=PMC2664182&req=5
Mentions: An excisional biopsy was performed and the fragment was removed and sent to the Service of Pathological Anatomy of the Discipline Oral Pathology, Federal University of Rio Grande do Norte - Brazil, where it was processed, stained using routine techniques, and examined. Histologically, an oral mucosa covered by a stratified orthokeratinized squamous epithelium was evident, showing atrophy and soft hyperplasia. Clear cytoplasm cells were seen all around the tissue density, suggesting nevoid cells. On the underlying conjunctive tissue, the proliferation of nevoid cells could be seen, which, on more superficial portions, organized themselves into variable-sized nests, exhibiting a raised volume, multi-nucleation and hyperchromatism due to their melanin deposition. At deeper levels, these cells lost their cohesion and acquired a more oval-shaped and fusiform aspect (figures 1 and 2). Because of these findings, the histopathological diagnosis was a case of Spitz nevus.