The archaeology of "plague".
Affiliation: Institute of Archaeology, University College London, London, UK.
Researchers from a wide array of disciplines have investigated ancient "plagues", from fields as diverse as microbiology, ancient history, epidemiology, zoology, palaeopathology and archaeology, both independently from each other or in collaborative multidisciplinary teams... Urban archaeology: to establish the "environmental" conditions and their impact on disease biology and disease transmission such as housing, population density, town size, water supply, transport, food supply and general facilities... Material culture, burial archaeology and archaeological dating: to ascertain the date of burial sites through scientific dating and/or by the presence of artefacts, as well as any cultural information found in the burial (such as the care with which the bodies were buried or the quality and quantity of any offerings)... Vertebrate zooarchaeology may allow us to identify the presence or availability of animal hosts, and (in the case of Yersinia pestis) the existence of any wild rodents that may act as a reservoir for the disease... This must be partly caused by unfavourable preservation conditions for small mammal bones at many archaeological sites, but is, without doubt, also linked to poor sampling and recovery methodology on previous excavations (i.e. lack of sieving). 21 Similarly, the poor preservation of invertebrates, including fleas, limits the usefulness of invertebrate zooarchaeology in the study of ancient plague. 22 Nonetheless, some invertebrates—and molluscs in particular—are well preserved, can be used to investigate past climates, and have been employed to reconstruct sea temperatures through the analysis of changes in the ratio of oxygen isotopes. 23 As climatic and environmental conditions are likely to be key factors in determining the efficiency of disease vectors (such as the ability of fleas to reproduce and survive), it may be wise to invest greater efforts in determining the climatic conditions prevalent during the plague epidemics... All these factors make diagnosis difficult and, when possible, it is based on the location, distribution and nature of the changes... Unfortunately, plague (or any of the alternative candidates) does not appear to affect bone, and cannot be identified skeletally. 41 Remains with preserved soft tissue (such as natural mummification) may help diagnosis but no such specimens appear to have been found. 42 Instead, researchers have focused on trying to extract Yersinia pestis DNA from skeletal remains... What constitutes adequate control samples to test for DNA contamination... Whether soil bacteria are a source of false positive results... If we should be collecting soil samples from the burial sites to include as control samples to test for false positive reactions... Whether two independent laboratories should always be used to confirm the results... No one has attempted to extract ancient Yersinia pestis DNA from the remains of possible hosts, such as rodents, but there is no reason why the DNA should not be present in the pulp chambers of plague-infected rat teeth... Nonetheless, they agree that there is, as yet, no definite proof that the plague of Athens was caused by typhoid fever. 56 Over three decades before the Black Death epidemic, the Great Famine of 1315–17 had devastated northern Europe, causing great suffering and high mortality... Could this explain why the Black Death appears to have had a different impact on northern Europe? Between 1315 and 1317, a series of unusually cold winters and wet summers appears to have caused a succession of failed harvests across northern Europe. 57 Records of wheat prices have been used to monitor the impact of the famine. 58 In London, for example, the price of wheat achieved unparalleled heights in July 1315, rose to its highest level between April and July 1316 and peaked once more during May 1317. 59 The moderately wealthy could not afford sufficient food and many people are believed to have died in the streets. 60 This period is also likely to have had a profound effect on the health of people who survived the famine, particularly the children growing up at the time.
Show MeSH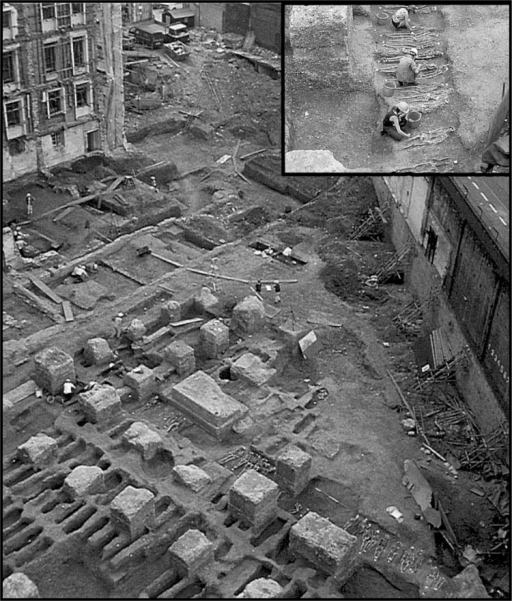 © Copyright Policy
getmorefigures.php?uid=PMC2632866&req=5
Mentions: The Black Death is believed to have arrived in Europe from the Crimea during October 1347. It rapidly spread across Europe, arriving in Weymouth on the south coast of England in June/July 1348, and by November it had reached London.2 In the capital, the death rate rose rapidly from December 1348, reaching a peak in April 1349 and falling significantly by June 1349. The impact of the Black Death epidemic was catastrophic, and at its height, a contemporary observer stated that approximately 200 bodies a day were being buried.3 The disposal of so many dead ought to have left its mark in the archaeological record and, in 1986, a large cemetery was located on the site of the Royal Mint near the Tower of London, in East Smithfield. It was excavated by archaeologists from the Museum of London and, as shown in Figure 1, it contained two mass burial trenches and a mass burial pit, densely filled with several hundred articulated skeletons, as well as many individual graves.4 Written evidence confirms that, with West Smithfield, the East Smithfield Royal Mint cemetery was one of two emergency burial grounds created to cope with the Black Death epidemic.5 It is currently the largest and most comprehensively excavated Black Death cemetery in England, and the majority of an estimated 2400 people buried there are believed to have died from the Black Death, of which over 600 were recovered by the Museum of London.6 Opened in late 1348 or early 1349 by Ralph Stratford, the Bishop of London, it provides researchers and archaeologists with a unique assemblage of people who died at the peak of the Black Death epidemic in London.7 The cause of the epidemic has recently come under scrutiny and the established view that the Black Death was caused by the bacterium Yersinia pestis has been challenged.