Psychobiology, psychiatry, and psychoanalysis: the intersecting careers of Adolf Meyer, Phyllis Greenacre, and Curt Richter.
Affiliation: Department of Sociology, University of California, San Diego, La Jolla, CA 92093-0533, USA. ascull@ucsd.edu
Particularly after his appointment to Johns Hopkins, as its first professor of psychiatry, he dominated psychiatry in the United States until his retirement in 1941. 1 But his influence was almost equally strong in Britain, where his pragmatism and therapeutic eclecticism had a wide appeal. 2 In this paper, we examine some central aspects of Meyer's life and work, and focus particularly on his role as a mentor and patron of the research and careers of two other major figures in twentieth-century psychiatry and psychobiology, broadly conceived... As one of Meyer's most prominent later students commented, until he became aware of these biographical linkages, "I had long been puzzled—since I first met Adolf Meyer and recognized the similarity of his teachings to those of James and Dewey—how it happened that a Swiss had embraced pragmatism, indeed had found in it his natural voice. "7 Kankakee also provided ready access to a broad array of clinical material, allowing Meyer to make some of his few original contributions to the neurological literature, while encouraging him to take a broader view of the problems of psychiatric illness... Meanwhile, the emphasis of the pragmatists on naturalism and on experimentalism as the key to exploring the universe, exercised a profound effect on Meyer... Both Greenacre and Richter were in the early stages of building professional careers, an extremely demanding process from which marriage (and children) could prove a very significant distraction: "I have seen a few happy student marriages, but also [know] how important it is to be free during the hard period during which one is tested out by the hard world for one's final career. " Her own career, he noted with evident satisfaction, was developing well, but Richter's had scarcely begun and seemed far less defined and secure... So far from increasing cures, she found that Cotton's treatments were actively harmful, often fatal... Supported by four volumes of case notes, her report concluded that "the lowest recovery rate and the highest death rate occurs among the functional cases who have been thoroughly treated … the least treatment was found in the recovered cases and the most thorough treatment in the unimproved and dead groups … thorough treatment, including abdominal operation, is not only dangerous to life, but ineffective in the cases of those who survive. "55 Thousands of patients, it would transpire, had been maimed by Cotton's operations, and hundreds had died... The research position I can offer naturally assumes a somewhat different orientation", but he was convinced it could be "an ideal position for you". "Now it is just a question whether such leadership in handling the material appeals to you and whether it would help you overcome preoccupations of memories of the past. "76 The proposal was, from Greenacre's perspective, impossible to accept, even though Meyer had assured her that he had arranged for the departure of Richter's mistress before she would need to arrive in Baltimore, and had emphasized that "I am terribly anxious to make possible a harmonious active working group during the rest of my working years at Hopkins. "77 Though her New York situation was an unhappy one, "I find that going back there [to Baltimore] even for a short time, precipitates a depression that takes several weeks to deal with... Even his formal retirement in the late 1950s brought no let-up in his work... To the very end of his life, and to the evident dismay of the university, which found itself unable to eject so distinguished a scientist from his laboratory (even turning off the heat did not dissuade him from remaining in situ), Richter continued to occupy his space in the Phipps Clinic, turning out papers on growth hormone and cortisol secretion in rats, guinea pigs, and monkeys in his seventh decade on the staff, even as the rest of the building was torn apart and renovated around him... A notoriously controlling figure, Meyer for more than a decade played a large role even in the personal lives of his two associates, a role that was all the more expansive, perhaps, because Greenacre was thoroughly estranged from her parents and, at more than one time in her Hopkins career, emotionally vulnerable; and because Richter had lost his father as a young child... He encouraged her early researches into the neurobiology of syphilis, and then stood in the way of her publishing her results... He constrained her opportunities for clinical work, and failed to advance her in rank or salary, even as her experience grew and her value to his enterprise soared. (Latterly, even he would concede that this might have reflected an unconscious prejudice against a female associate who remained ambitious to develop her career alongside marriage and motherhood.) He prevailed on her to invest eighteen months of her career investigating the experimental treatments of another of his protégés, Henry Cotton, and then suppressed her findings, placing her in an almost impossible ethical dilemma. 92 (The bigger price in this instance, of course, was paid by yet more mental patients who found themselves subjected to maiming, even fatal rounds of surgery, while Meyer remained silent and complicit in Baltimore.) And he allowed, perhaps indirectly forced, her departure from Hopkins and Baltimore when, having been informed of Richter's sexual indiscretions, he kept her husband on the staff, creating an impossible environment for Greenacre... Having both lived for almost a century, Richter and Greenacre had grown up in a world that was unfriendly, even hostile, to the idea of women having active careers in science and academic medicine, most especially if they further tempted fate by presuming to marry and have children... Their own marriage had foundered under the attendant strains.
Show MeSH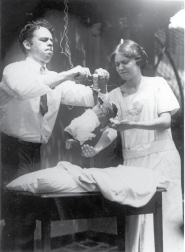 © Copyright Policy
getmorefigures.php?uid=PMC2629172&req=5
Mentions: Finally, we have emphasized the gendered discrimination that marked Phyllis Greenacre's career, and that made her accomplishments the more striking. But precisely because psychiatry was so little valued by the medical profession, it was a niche in the professional division of labour that was in general more receptive than most to women. And that was even more true of psychoanalysis, where a number of female analysts besides Greenacre came to occupy positions of considerable prominence: Helene Deutsch, Karen Horney, Frieda Fromm-Reichmann, and Melanie Klein and her bitter antagonist Anna Freud, to name but a handful of obvious examples. Within American psychoanalysis, Greenacre long occupied a position of great prestige and influence at the very centre of Freudian orthodoxy, the New York Psychoanalytic Institute and Society. And in the 1950s and 1960s, while psychoanalysis occupied the commanding heights of American psychiatry, that meant she was a figure of some moment in the psychiatric profession broadly construed. But the very possibility of such a career and set of accomplishments arose out of her willingness during the 1920s to be silenced; to acknowledge her subordinate state; to abide by the norms that enjoined junior researchers to acknowledge the absolute authority of their superiors; and her decision to eschew the lonely (and usually fatal) role of the whistle-blower.101 Finally, she lived long enough to see her form of science become an anachronism. The resurgence of biological psychiatry meant that the branch of the enterprise in which she had achieved prominence lost its lustre, its intellectual pre-eminence, and its appeal. Greenacre had had her analysands, but, by the late twentieth century, that scarcely seemed to matter.