Advancing science through conversations: bridging the gap between blogs and the academy.
Affiliation: Kresge Hearing Research Institute, University of Michigan, Ann Arbor, Michigan, USA.
Yet both academic institutions and blogs aim to engage and educate the public and advance scientific knowledge and discussion... By combining the credibility of institutions—trusted gate-keepers for scientific truth—with the immediacy and networking infrastructure of blogs, we believe that these shared goals can be better served with benefits to both partners... We propose a roadmap for turning blogs into institutional educational tools and present examples of successful collaborations that can serve as a model for such efforts... Such badges are usually given as awards (such as the "Weblog Awards" [http://weblogawards.org/] or the "MedBlog Awards" [http://www.medgadget.com/archives/2007/12/the_2007_medical_weblog_awards_sponsored_by_scrubsgallerycom.html]), and are awarded to particular outstanding blogs in a variety of categories, such as "Best Group Blog," "Most Informative," and "Best Translation of Published Research. " Traditional blogging awards are conferred by a committee who invites submissions until a deadline, reviews them, and then posts the winners on their Web site... Institutions might find it useful, and bloggers might find it motivating, if institutional blog badges were conferred for particularly insightful posts or as a token for passing their test or review periods... Accumulating these badges would be a public and official way for the institution to reward and validate the blogger, while conferring authority to the blog by letting readers know it has met the criterion for institutional peer review... ResearchBlogging.org, for example, automatically aggregates only blog posts about peer-reviewed research (Figure 2; http://researchblogging.org/) by searching preregistered blogs for a piece of code that's included in an automatically generated reference bloggers can place in posts about peer-reviewed research... Once included, it's then up to the blogger to decide which posts meet a set of detailed guidelines for use of the icon... Dave Munger, the initiative's cofounder and president, describes the project as largely self-regulating... But if groups of bloggers were to create their own initiatives and then seek institutional recognition, they might be able to engage in conversations about science on their own terms while continually proving to the institution—as they already strive to prove to their readers and peers—that the conversations they are engaging in are worthwhile... As part of a thriving online scientific community sustained by unprecedented connectivity, immediacy, interactivity, and reach, bloggers can help academic institutions take advantage of a powerful tool for the dissemination of scientific information and facilitation of conversations about science... In addition to providing a bridge between science communication and the public, institutional blogs could facilitate collaborations of scientists separated by distances as small as a few buildings or as large as the Pacific Ocean... We believe that the ideal relationship, be it blogger- or institution-initiated, is one where blogs are used as forges for developing ideas and forums for the discussion of accurate, interesting, and up-to-date scientific information, with the institution creating links between blogs while conferring authority.
Show MeSH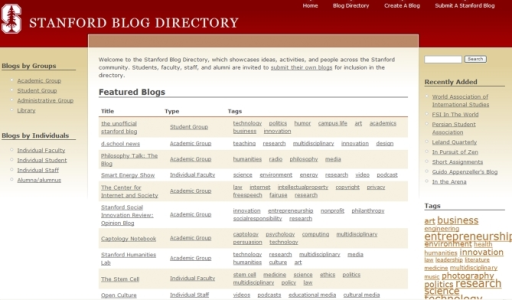 © Copyright Policy
License
getmorefigures.php?uid=PMC2553846&req=5
Mentions: The easiest way for an academic institution to test the blogging waters is to showcase existing blogs written by faculty, students, or alumni. To begin, an institution can either modify its Web presence to include a hub for intra-institutional blogs, or aggregate links to blogs on similar topics. For example, the Stanford Blog Directory, which includes links to internal and external blogs by Stanford-associated faculty, staff, students, and alumni (Figure 1), lists over 150 existing blogs indexed by blogger-chosen keywords and blogger affiliation (http://blog.stanford.edu/). The directory was spearheaded by Stanford Director of Internet Media Outreach Ian Hsu, who hoped that creating a common home for Stanford blogs might encourage faculty to use blogs as a medium for communicating interesting research to lay readers as well as their peers. (For inclusion in the directory, Hsu requires only that a blog be written by a member of the university and not violate Stanford's information technology terms.) This setup benefits both the institution, which gets free publicity for its researchers' work, and academic bloggers, who have a built-in readership funneled straight from the institution's Web page. At this point, however, the Stanford Blog Directory has no mechanisms through which readers can engage in an academic conversation on the hub itself, except for a "featured blogs" category. To create a more dynamic conversation, the site could add a centralized search feature, updated links to the latest posts, or hubs linking blog posts about recent research to news stories and the journal article itself.