More controversy than ever - challenges and promises towards personalized treatment of gastric cancer.
Affiliation: Department of Surgery, Ioannina University School of Medicine, Ioannina University, GR-45110, Ioannina, 45, Greece.
Two recent large-scale trials published in NEJM for East Asian and Western patients strongly support the routine use of adjuvant chemotherapy... However, differences in design, extent of surgery, kind of chemotherapy timing of administration, and survival results in the two trials as well as potential differences in genetic background of Asian and Western gastric caner patients raise critical questions and grow confusion and uncertainty... Local control is now increasingly recognized to have a crucial role in the treatment strategy not only of gastric cancer– but also for many other solid tumor including breast cancer despite the use of adjuvant treatment., Appropriate surgery alone or surgery plus radiotherapy for local control not only reduce local recurrence but also improve overall survival... This high-quality D2 surgery had resulted in a local relapse rate of only 2.8% and a nodal relapse rate of 8.7%... Adjuvant S-1chemotherapy significantly reduced all types of recurrence (peritoneal, local, nodal) but questions arise form the finding that systemic treatment did not improve hematogenous relapse (p = 0.35)... The ACTS-GC study provides some important messages but also raises several questions... First, can the Japanese excellent results be reproduced in Western patients? Sakuramoto and colleagues believe that these results can be achieved in the West if a standardized, Japanese-style D2 surgery is performed, because there is no genetic difference between gastric cancers in Japan and Europe... It should be noted, however, that survival results for gastric cancer even with adequate D2 surgery in highly specialized Western institutions,– are much lower than those reported from Japan., Second, the Japanese study has demonstrated that a substantial fraction of stage II/III patients had a localized nature of disease... Third, the addition of chemotherapy after perfect local and nodal control could increase the survival rate by 10%... How can this small survival benefit be further improved? These rates are currently the best achieved worldwide; those reported from the West are lower despite D2 surgery and adjuvant treatment. –,, These clinical data strongly indicate the urgent need to develop new therapeutic strategies.... How can long-term survival results be improved? This very small subpopulation can be identified from the very large general population on the basis of family history criteria and genetic testing... Tailoring a risk-reducing prophylactic gastrectomy for these very high-risk individuals can save their lives.
Show MeSH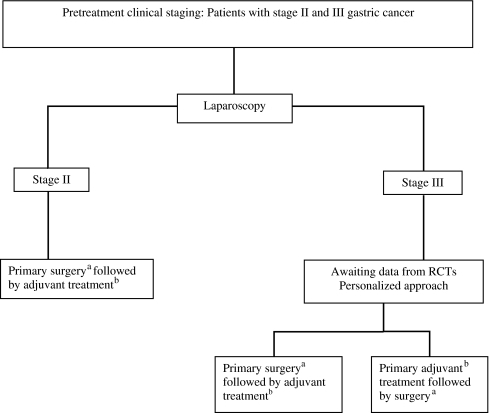 © Copyright Policy
getmorefigures.php?uid=PMC2266788&req=5
Mentions: Although cancer genome and functional studies provide great promise for the future, patients and clinicians are currently face hard decisions: preoperative or postoperative chemotherapy combined with D2 surgery or D1 plus radiotherapy? Considering the preclinical and clinical evidence, a step-by-step treatment-guided algorithm for Western clinical practice is provided (Fig. 1). Laparoscopy is clinically useful to confirm by biopsy or exclude distant metastasis (peritoneum, liver, distant abdominal enlarged lymph nodes) and serosa status (serosa negative or positive) for more accurate staging than clinical staging with endoscopic ultrasonography, computer tomography or positron emission tomography (PET). Analysis of data from randomized clinical trials (RCTs)1–3,39 and descriptive studies show that, first, survival rates for stage II patients are relatively good not only in Japan1,13 but also in the West18,19,40 with appropriate surgery followed by adjuvant treatment. Because preoperative chemotherapy harms some of these patients,22 primary D2 surgery without delay, converting laparoscopy into an open D2 gastrectomy, now appears to be the preferred approach. Laparoscopic-assisted D2 gastrectomy provides encouraging data but feasibility, safety, and efficacy can be ensured at the present time only in a few highly specialized institutions.41 Second, because postoperative S-1 chemotherapy for stages IIIA and IIIB did not significantly improve survival in the subgroup analysis of the ACTS-GC study,1 preoperative cisplatin-based chemotherapy for downstaging and potential early elimination of circulated cancer cells2 could be considered, although no subgroup analysis from the MAGIC trial is available.Fig. 1.