Adjuvant treatment: the contribution of expression microarrays
Although gene expression microarrays provide novel tools and hold great promise in cancer research, achievements thus far in terms of improved prognostication and, in particular, prediction of drug sensitivity have been moderate... To improve clinical therapy, we believe that it is imperative to integrate gene expression arrays with other laboratory methods based on functional concepts... Thus, among patients with locally advanced breast cancers undergoing primary chemotherapy with either doxorubicin monotherapy or 5-fluorouracil and mitomycin given in concert to be followed by tamoxifen adjuvant for 5 years, a poor prognosis was identified among patients with tumours expressing a luminal B profile as opposed to the luminal A group... Interestingly, when the classification was applied to a second cohort of patients with early stage breast cancers who had not received adjuvant endocrine therapy, again the luminal A and B classes were associated with different prognosis; the relative difference, however, was much less than that in patients receiving tamoxifen treatment... Although this could indicate a predictive component (higher sensitivity for luminal A class tumours to tamoxifen treatment compared with luminal B ones), such conclusions should not be inferred from indirect comparison... Subsequently, several studies have identified different gene expression profiles as being associated with prognostication in breast cancer... Notably, however, the various profiles identified differ considerably with respect to genes included, and the extraction of multiple signatures from the same dataset questions the specificity of such signatures... Others have argued that the information provided may not be superior to what is achieved by optimal use of conventional factors... Thus, several studies have explored gene expression profiles that predict responsiveness to different chemotherapeutic regimens, including taxane monotherapy or anthracycline- or mitomycin-containing regimens administered as monotherapy or in combination with other drugs, including taxanes... The general conclusion from these studies may be summarized as follows... Taking a 21-gene expression signature previously shown to be associated with prognosis in tamoxifen-treated breast cancer patients, they reported that the same profiles also predict the likelihood of benefit from adjuvant chemotherapy with a regimen containing cyclophosphamide, methotrexate, and 5-fluorouracil... Notably, they found a high recurrence score to be associated with profound effect of chemotherapy; this is in contrast to the intermediate and low scores, for which no significant clinical benefit of chemotherapy was achieved... Notably, gene signatures have been identified that predict organ-specific metastatic propensity in experimental as well as clinical materials... Interestingly, Massagué and coworkers, in addition, have identified a few key genes from their lung metastases signature associated with growth, invasion and angiogenesis, which play a key role in regulating lung metastases in experimental systems.
No MeSH data available.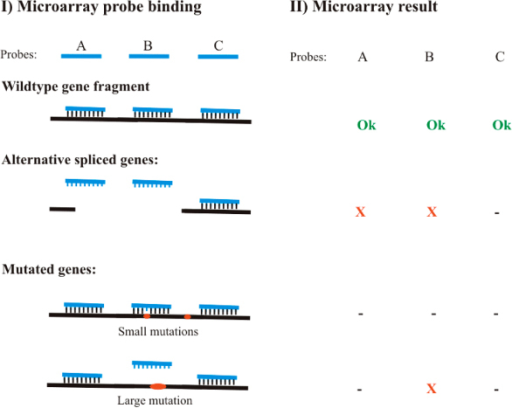 © Copyright Policy
getmorefigures.php?uid=PMC2230522&req=5
Mentions: There are several limitations to the use of microarray analysis as a single method for exploring tumour biology. The spectrum of pathological events that lead to disturbed gene function is huge [16], involving components such as large and small deletions or single base substitutions, mutations that affect promoter regions or splice-sites, as well as epigenetic silencing (Figure 1). In addition, the issue of multiple splice variants generated from the same gene has received increasing attention [30]. Alternative splices may be transcribed into protein products with different biological function [31]; whether such splices are detected together with the main transcript on microarrays depends on whether the sequence covered by the probe is included in the splice transcript and how the mutation affects hybridization (Figure 2). Additionally, the stability of the different splice transcripts and encoded proteins may vary considerably. Finally, many signalling pathways, including activation of p53 [32], involve post-translational modifications such as protein phosphorylations, deacetylations, and so on, meaning that information relevant to changes in biological function of specific proteins is not reflected in altered mRNA expression.