Incorporating molecular tools into early-stage clinical trials.
Affiliation: Brain Tumor and Neuro-Oncology Center, Department of Neurosurgery and the Neurological Institute, Cleveland Clinic, Cleveland, Ohio, United States of America. weilr@ccf.org
Several common genetic alterations, such as EGFR (epidermal growth factor receptor) amplifications on chromosome 7p, as well as losses on 9p (p16), 10q (PTEN, or phosphatase and tensin homolog deleted on chromosome 10), and 17p (p53) have been identified in a significant proportion of patients with malignant gliomas (reviewed thoroughly in )... In secondary tumors, progression from a low-grade glioma to a GBM involves the serial accumulation of genetic alterations that inactivate tumor suppressor genes such as p53, p16, Rb, and PTEN, or activate oncogenes such as MDM2 and CDKs 4 and 6; alterations in EGFR are less common or absent... Frequently, loss of PTEN function is a common feature in both types of GBMs. Response to chemotherapy may be modified by the level of expression of methyl guanine methyl transferase (MGMT)... MGMT hypermethylation decreases production of MGMT, which leads to a diminished ability to repair DNA damage caused by an alkylating agent; presence of hypermethylated MGMT correlated with an approximately two-month improved median survival in patients treated with the Stupp regimen compared with those without hypermethylation... However, promoter methylation analysis of MGMT is highly dependent on the tumor, collection method, specimen quality, and operator, and there is no standard alternative to the Stupp regimen in patients with intact MGMT... The high incidence of EGFR overexpression, amplification, or coexpression of the truncated, constitutively active EGFRVIII in GBMs raised expectations that TKIs of the EGFR, such as gefitinib or erlotinib, would have significant positive treatment effects, while minimizing toxicity compared to other therapies... EGFR activates an intracellular TK that leads to a signal transduction cascade that enhances survival and infiltration of GBM cells in vitro... Overexpression of EGFR correlates with increased cellular proliferation, tumorigenesis, decreased apoptosis, and a poorer prognosis and may be associated, as well, with radioresistance... While the inhibition of EGFR with TKIs showed promise preclinically, these inhibitors have subsequently shown only moderate activity as single agents in patients with GBM and other cancers... These findings spurred the UCLA group to design an important, molecularly focused clinical study, published in this issue of PLoS Medicine, to analyze the effect of rapamycin in a subset of patients with recurrent GBM in whom activity of the tumor suppressor PTEN was absent... A variety of well-designed molecular studies were conducted, including determination of serum and intratumoral concentration of rapamycin; markers of proliferation (Ki-67 labeling); assessment of the impact of mammalian target of rapamycin (mTOR) inhibition as measured by activation status of downstream targets of mTOR, including phospho-S6; and feedback loop inhibition of AKT (see Figure 4A in )... In seven of 14 patients (50%), suppression of mTOR correlated directly with inhibition of tumor cell proliferation, although in several other cases (non-responders), adequate intratumoral concentrations of rapamycin did not translate unequivocally into mTOR inhibition... Genetic investigation of the factors associated with PRAS40 induction during mTOR inhibition identified amplification of EGFR, MDM2, and PDGFRA as more common in the non-responder subgroup, a finding not predicted from preclinical work... Unpredictable results such as this have recently been echoed in three important studies, in which it has been shown in advanced solid epithelial malignancies, such as lung cancer and gliomas, that activation of multiple signaling pathways, as well as alteration of their feedback mechanisms, are common features and that successful treatment strategies must account for these novel characteristics of the neoplastic state.
Show MeSH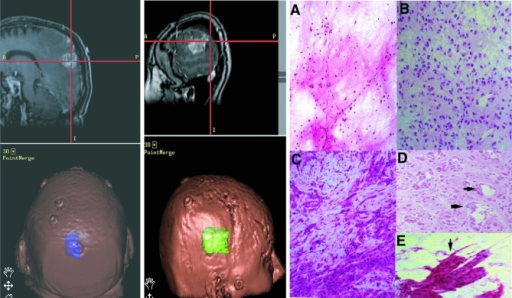 © Copyright Policy
getmorefigures.php?uid=PMC2211557&req=5
Mentions: GBM is an aggressive, primary tumor of the central nervous system [8]. Because of their intrinsic, infiltrative nature, GBMs follow a malignant clinical course. Classified as World Health Organization grade IV astrocytic tumors, GBMs have a pronounced mitotic activity, substantial tendency toward neoangiogenesis (microvascular proliferation), necrosis, and proliferative rates three to five times higher than grade III tumors, the anaplastic astrocytomas. The clinical behavior of GBMs is often mimicked by unusual pathological presentations, which gave rise to the old moniker of "glioblastoma multiforme" (Figure 1). Even with the survival advantage provided by the recently developed protocol of concurrent chemoradiation followed by adjuvant alkylating chemotherapy with temozolomide (the Stupp regimen), the prognosis of patients with GBM remains poor, with median overall survival in the range of 9–15 months and two-year survival rates of 26% in the most favorable subgroup [9].