City chaos, contagion, Chadwick, and social justice.
Affiliation: Department of History, Chinese University of Hong Kong. ianmorley@arts.cuhk.edu.hk
In 1842, a civil servant, Edwin Chadwick, published at his own expense The Report from the Poor Law Commissioners on an Inquiry into the Sanitary Conditions of the Laboring Population of Great Britain, which outlined in detail the wretched social and environmental conditions within the world's first industrial society... So with such a backdrop in mind, this article assesses the role of Edwin Chadwick and his 1842 sanitary report in the lead-in to the Public Health Act (1848), a legislative attempt to bestow social and health equity in Britain, and examines the wider social and medical context within which the world's first modern system of public health emerged... By 1841, immediately before Edwin Chadwick published his Report from the Poor Law Commissioners on an Inquiry into the Sanitary Conditions of the Laboring Population of Great Britain (hereafter known as the Chadwick Report), the quantity of urban dwellers was approaching 50 percent of the nation's population total, and a number of broad developments had been noted about the size, appearance, density, heterogeneity, and complexity of urban places... The view presented by modern medical practitioners and statisticians, despite their limited scientific knowledge, was unmistakable: Urban society was ailing and in need of improvement... The British city was a setting confirmed as unsafe to one's health... The disease, a frightening silent spectacle, was unlike anything known before it... It was a psychological sledgehammer to material progress and all the perceived benefits of modernity... In this manner, the management of poverty through the amended Poor Law combined social, moral, and economics judgments... Impoverishment and disease were viewed as the end result of immoral habits as much as in the presence of miasma... To appreciate further Edwin Chadwick's unfolding approach to the subject of public health and the creation of a paradigm from 1842 to deal with poor urban health, it is not necessary to dwell so much on the limited scientific understanding of the early 1800s, but it is necessary to try to grasp the profundity of doctrinal, cultural, and social turmoil that economic growth had instigated prior... Environmental determinism was a defense for legal intervention, suggested Chadwick... To sit back and do nothing for whatever reason was insupportable... In the case of early 1800s Britain, thankfully, a number of individuals of vision did step forward and provided rational perspectives and solutions to the "Condition of England Question." Central to the British process of dealing with the malformed nature of urban society in light of industrial change and rapid urbanization was Edwin Chadwick, who from the early 1830s initiated mechanisms and investigations to improve the health of the population... Even so, the formative national public health framework constructed in 1848 was able to embrace a plethora of dynamics considered as having a negative impact on people's moral and physical well-being... To conclude, although the chronological frame presented by this paper is limited, massive transformations with regard to urban thinking were made in the 1830s and 1840s that still echo today.
Show MeSH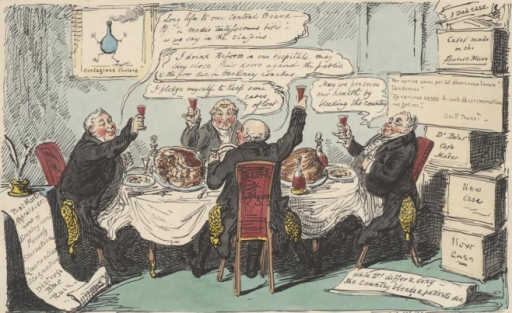 © Copyright Policy - open-access
getmorefigures.php?uid=PMC2140185&req=5
Mentions: Although common illnesses like whooping cough, scarlet fever, smallpox, dysentery, diphtheria, scrofula, measles, typhoid, typhus, or influenza took many lives, it took an epidemic in the early 1830s caused by a disease of overseas origin — cholera — to instigate a new dynamic to urban living and the subject of health [24]. Rapidly attaining an infamous status, a repute transpiring from its seemingly arbitrary manifestations, its virulence, ravaging talent for killing quickly, and agonizingly, cholera prompting municipalities to form Boards of Health — later shown to be inept and corrupt (Figure 5). Nonetheless, cholera also inspired the medical community to further venture into the slums to comprehend its nature, e.g., Dr. Thomas Shapter who mapped cholera deaths in Exeter, in so doing positioning contagionists against miasmatists as of conjecture on its causes and diffusion [25].