Deciphering the function of neurexins at cellular junctions.
Affiliation: Howard Hughes Medical Institute, Baylor College of Medicine, Houston, Texas 77030, USA.
ABSTRACT
---
Recent in vitro and in vivo studies have provided exciting insights suggesting that the neurexin family may function in organizing cellular junctions. This model is supported by the phenotypic analysis of Drosophila neurexin mutations (2). These mutants lack the ladder-like transcellular septate characteristic of septate junctions. In addition, neurexin is required in glia to form the blood–brain barrier, consistent with an ability of neurexins to form transcellular barriers at cellular junctions. Neurexin also localizes protein 4.1 to sites of cell contact, and neurexin mutations show defects in dorsal closure of the epidermis, a process requiring extensive cellular movements and signaling. Fig. 2 presents a model of a cellular junction incorporating neurexins.
Essential questions remain to be answered concerning the neurexins. Foremost, a precise subcellular location of the known vertebrate neurexins is required to determine if they may also be involved in axonal–glial interactions, similar to that reported for the NRX IV homologue, hNRX IV/Caspr. In addition, it will be important to extend the search for nonneuronal neurexins, as a more complete catalog of the neurexin family is required to begin to determine the variety of roles these proteins might play in cellular junctions. Do neurexins also play a role in the MAGUK's ability to cluster ion channels at synapses, or is their interaction with members of this protein family restricted to other sites of cell contact? Do extracellular ligands serve as activators or modulators of neurexin's link to the intracellular environment, and how does the extensive alternative splicing in vertebrate neurexins define or modify these interactions? And finally, what, if any, cellular signals can be relayed through the neurexins? These and other questions should inspire many interesting experiments in the near future, as dissection of the role of neurexins in cell junctions is just beginning.
Show MeSH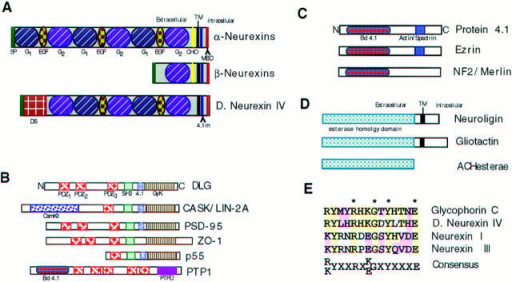 © Copyright Policy
getmorefigures.php?uid=PMC2139837&req=5
Mentions: To date, the neurexin family includes three related vertebrate genes (NRX I, II, and III) (23, 24), a Drosophila gene (NRX IV), and its human homologue (hNRX IV) (2), which has recently been shown to be a contactin-associated protein, Caspr (17, 18). A homologue of Neurexin IIIα has also been recently reported in the marine ray, Discopyge ommata, and a second Drosophila neurexin is being characterized (Yuan, L., and B. Ganetzky, personal communication). As shown in Fig. 1 A, the three vertebrate neurexins encode an α-isoform (1,507–1,578 amino acids, 160–220 kD) and a β-isoform (437–471 amino acids). Neurexins have a large extracellular domain, a single transmembrane, and a short cytoplasmic segment (40–55 amino acids). The extracellular portions of the α-isoform contain three EGF repeats, six repeats with low homology to the G domain of laminin A, and an O-linked sugar domain in proximity to the transmembrane segment. Drosophila Neurexin IV contains two EGF repeats, five laminin G domains, and an NH2-terminal Discoidin domain conserved in hNRX IV/Caspr, but not present in Neurexins I, II, or III. EGF and laminin G domains are present in a variety of proteins that are components of the extracellular matrix or involved in cell signaling, including laminin A, agrin, perlecan, and the Drosophila developmental proteins Crumbs and Slit, and are thought to function in protein–protein interactions within the extracellular environment. The COOHterminal intracellular segment of neurexins contains a conserved four–amino acid tail that functions as a recognition sequence for the PDZ domains of membrane-associated guanylate kinase (MAGUK)1 proteins (21). In addition, the intracellular domain also contains a putative protein 4.1 binding motif.