Liver fluke induces cholangiocarcinoma.
Affiliation: Department of Pathology, Khon Kaen University, Khon Kaen, Thailand. banchob@kku.ac.th
Show MeSH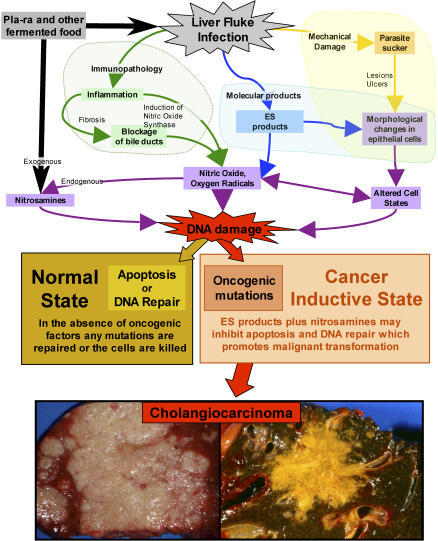 © Copyright Policy
getmorefigures.php?uid=PMC1913093&req=5
Mentions: Multi-factorial aetiology of CCA. Liver fluke–induced CCA is therefore generally accepted to be the result of chronic inflammation [53,58,59]. Several mechanisms by which O. viverrini infection may enhance cholangiocarcinogenesis have been proposed above, and are summarised in Figure 5. Indeed, it is almost certain that a combination of those pathologies described above (mechanical damage, parasite secretions, and immunopathology) culminate in CCA after chronic infection with O. viverrini. The primary pathologic change, i.e., epithelial desquamation, may be due to mechanical irritation caused by the liver fluke and/or its metabolic products. However, immunopathologic processes may contribute to the long-standing hepatobiliary damage. During liver fluke infection, inflammation, periductal fibrosis, and proliferative responses, including epithelial hyperplasia, goblet cell metaplasia, and adenomatous hyperplasia, may represent predisposing lesions that enhance susceptibility of DNA to carcinogens [11,60]. Several N-nitroso compounds and their precursors occur at low levels in fermented food such as preserved mud fish paste, pla-ra, a condiment that is a ubiquitous component of the cuisine of northeastern Thailand and Laos.