Affiliation: Institut für Epidemiologie, GSF-Forschungszentrum für Umwelt und Gesundheit, München-Neuherberg, Germany. m@wjst.de
Whatever does not exist does not have a name (African proverb)... A new survey conducted by Emmanuel Addo-Yobo and colleagues, and published in PLoS Medicine, shows an increase in the prevalence of asthma and allergic diseases in children in Ghana between 1993 and 2003... As in industrialized countries asthma in Africa is determined by genes and environment... The spectrum of pathogens may also be different, with conflicting evidence on worm infection, IgE, and allergy... Recent research in Ethiopia concludes that "There was no reduction in the risk of AD [atopic dermatitis] in relation to intestinal parasite infection; in fact, AD was increased in subjects with Trichuris…... Gene sequence in Africans is more diverse, showing many more variants, but even that may not be a key point... Profound changes in the gene pool may be caused by changes in childhood mortality... This seems a testable hypothesis where even the rise or fall of gene variants in immune defence genes could be monitored... As of the 1980s, there was an overall conviction that asthma had an anthropogenic origin with indoor and outdoor air pollution as the main culprits... Following some overinterpreted epidemiological findings of the "hygienic" phase, there is now evidence accumulating that the asthma epidemic might have an iatrogenic origin... There might not only be indirect effects of improved living standards and better medical care, there are even direct effects under discussion, for example by oestrogens, vitamin D, antibiotics, and paracetamol... Addo-Yobo, personal communication, 2006)... Do African countries offer any unique observations where singular effects of these drugs can be delineated?
Show MeSH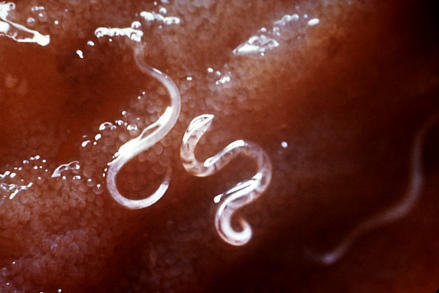 © Copyright Policy
getmorefigures.php?uid=PMC1808099&req=5
Mentions: The clinical presentation of asthma in Africa does not seem to be different from other parts of the world [4], although one study reports later disease onset in Africa [5]. Assumed risk factors are local flora such as Kikuyu grass, Makaore cherry, Tanganyika aningré, and Der néré as well as helminthic infection by Trichuris, Schistosoma, Ascaris, and hookworm (Figure 1). Well-known allergens in Africa are house dust mite, cockroach, and cat and dog dander; a less well known allergen is washing soap. Parental history, female sex, low physical activity, and malnutrition, have been described as risk factors together with pesticides, insecticides, wood or kerosene heating, grass mats, mud and cow dung, smoking, and car and truck diesel exhaust. In the occupational setting isocyanate and latex sensitivity have been reported as risk factors, and poultry workers, hairdressers, gold miners, and wood choppers are reported as having an increased risk of asthma. Annual rainfall seems to have an influence on symptom presentation.