Alligation alternate and the composition of medicines: arithmetic and medicine in early modern England.
Affiliation: University of Illinois at Urbana-Champaign, University Library, 1408 W. Gregory Drive, Urbana, IL 61801, USA. abregman@uiuc.edu
While instruction in the medical applications of mathematics are scarcely to be found in earlier English publications, we shall see that a sudden minor outburst occurred in the 1650s, when three separate arithmetics appeared with chapters on "the composition of medicines"... It was the technique called alligation alternate that was adapted specifically to the composition of medicines in these arithmetics... Using alligation alternate, we have determined that if 6 bushels of wheat, 2 bushels of rye, 4 bushels of barley and 12 bushels of oats are mixed together, the resulting mixture can be sold at 16 pence per bushel. 2 Jonas Moore was the first practical mathematician in England to promote alligation alternate systematically to a medical application... Feingold reports that "over half of the inventories of university men who died while in residence … included at least one or two of the basic arithmetical and geometrical treatises such as those of Gemma Frisius, Recorde, Tunstall, Ramus, Ryff or Euclid. "17 However, detailed material about the medical applications of mathematics was not included in texts by these authors, although we shall now proceed to look at Robert Record in some detail, because he did allude to the composition of medicines... The Præface culminated in a large tree diagram or "Groundplat" of the "Sciences, and Artes Mathematicall". 31 It is strange that medicine was not defined as a separate mathematical art or science in the "Groundplat", since medicine was the subject of the longest and most detailed example of the use of mathematics given in the Præface proper... Leading up to this subject, Dee began by pointing to the use of arithmetical rules, by "all kynde of Marchants". 32 For example, the "Rule of Alligation, in how sundry cases, doth it conclude for them, such precise verities, as neither by naturall witt, nor other experience, they, were hable, els, to know?" But not only merchants, mintmasters and goldsmiths derived benefit from mathematics: And the honorable Physicia[n]s, will gladly confesse them selues, much beholding to the Science of Arithmetike, and that sundry wayes: But chiefly in their Art of Graduation, and compounde Medicines... And though Galenus, Auerrois, Arnoldus, Lullus, and other haue published their positions, aswell in the quantities of the Degrees aboue Temperament, as in the Rules, concluding the new Forme resulting: yet a more precise, commodious, and easy Method, is extant: by a Countreyman of ours (aboue 200. yeares ago) inuented. [In margin: "R.B. "33] And forasmuch as I am vncertaine, who hath the same: or when that litle Latin treatise (as the Author writ it,) shall come to be Printed: (Both to declare the desire I haue to pleasure my Countrey, wherin I may: and also, for very good profe of Numbers vse, in this most subtile, and fruteful, Philosophicall Conclusion,) I intend in the meane while, most briefly, and with my farder helpe, to communicate the pith therof vnto you. 34 Dee goes on to show that when medicines of different qualities (i.e., the Galenic categories, hot, cold, moist and dry) are mixed, it is possible to calculate the quality of the resulting mixture when their quantities are the same... Finally, Willsford offered a "generall Rule", being both an expression of purpose and a disclaimer concerning the inclusion of medical subject matter in a popular text: In all Rules of Alligation: in this last I doe not question the wise Children of Æsculapius, nor the learned Disciples of Galen or Hippocrates, or presume to teach their expert Apothecaries any Rules, but to give an insight of theirs to please some, and assist others, who have more Practice than Theorie, and lesse Art than Experience. 70 Although Willsford's fine Arithmetick was not reprinted, the author went on to edit a later edition of Record's Ground of arts (1662), carrying on the work of John Dee, John Mellis, and Robert Hartwell... Willsford claimed to correct more than 1000 errors which had crept into that work, but did not compose any new content. 71 Willsford's connection with Record brings us full circle, for the innovations of the 1650s do not seem to carry on after the Restoration... After the 1650s, the only arithmetical texts I have found which contained chapters on the composition of medicines were later editions of the Moore and Wingate/Kersey arithmetics, and these chapters tended to be reprinted without change. (A very late exception was Benjamin Donn's Mathematical essays, editions of which appeared in 1758, 1764 and 1769, which I will discuss at the conclusion of this article.) Other arithmetics might include examples that feature "druggists"—for example, Hodder's Arithmetick72 (1661; third edition, 1664)—but without proofs or chapters on the composition of medicines... The Galenic basis for the composition of medicines betrays a certain conservatism on their parts, but at least the methods were available for physicians, apothecaries or even members of the general educated public to deal better with compound remedies... Oil of Tarter per Deliquium, poured on Oil of Vitriol, will produce Heat, by causing the compound to boil, fume, &"... And so we come to the final point: We have only now to add, that neither does the Efficacy of most Medicines depend so much on the different Degrees of Heat and Cold, as on some other Properties peculiar to them; and that our Design in this Scholium was only to produce sufficient Reason for omitting what some ingenious Authors have thought they have usefully inserted, and to shew that such Questions do not admit of an Arithmetical solution. 89 We might apply this to the mathematical applications to medicine found in arithmetics by saying that they no longer belong in the elementary, or "natural" sections but in the more learned, or "artificial" explanations of the subject.
Show MeSH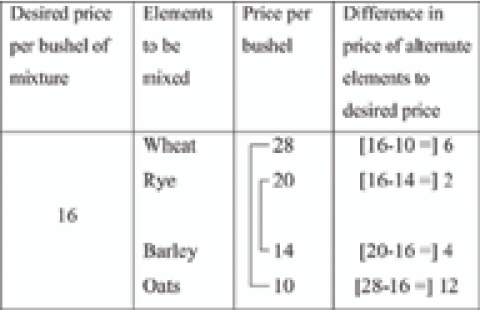 © Copyright Policy
getmorefigures.php?uid=PMC1172291&req=5
Mentions: Alligation was a relatively advanced arithmetical operation, presupposing a knowledge of the rules of proportion. As such, alligation was usually presented near the end of arithmetical texts. Most commonly the examples used to explain alligation involved grains, metals, wines or spices. A typical use of alligation alternate would be to determine the appropriate quantities to mix of various elements each having a different price in order to concoct a mixture destined to sell at a desired unit price. For example, say you are a grocer and you have ample quantities of wheat, rye, barley and oats, which sell respectively for 28, 20, 14 and 10 pence a bushel. For whatever reason, you wish to sell a mixture of these grains at 16 pence a bushel. What quantities of each grain should you mix? The solution of the problem, using alligation alternate, looks like Figure 1.